Koke: "Simeone wants to be more offensive and have a little more ball" | sports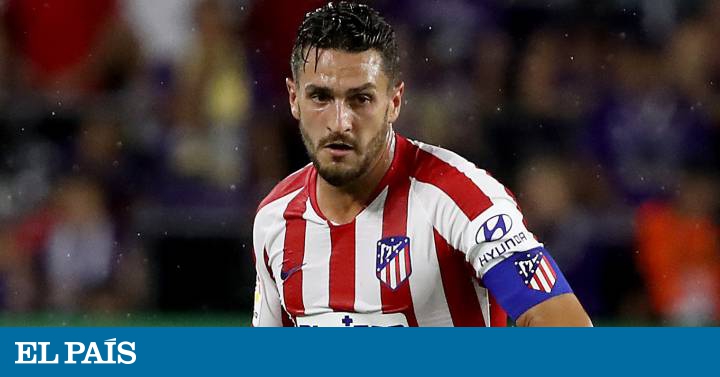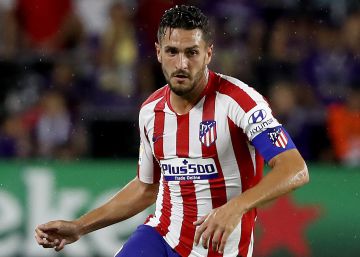 The march of the old guard has raised Koke (Madrid, 27 years old) to the captaincy of this Atlético de Madrid what is the great pre-season feeling: "It's a pride and a privilege, I've been in the club since I was six years old and ten in the first team. I am from the house, I have been able to learn from the best captains that I have been able to have, Antonio López, Gabi, Godín, Tiago, Raúl García … ".
Question. How will you exercise leadership?
Answer. I've always said that I don't have to change my personality, be humble.
P. There are times that a captain has to give voices.
R. Yes, that is part of the role, but not only inside the locker room, but also outside. If I have to do it, I will. Many people say that I am a very good person and that I have to take out that evil.
P. And sometimes you have to grab a partner by the chest.
R. Hopefully you do not have to do it, that everything goes well, but this is part of football. They have always lived a moment of more tension. If there is to do it, I will do it.
P. How do you see this Atlético dazzling in the summer?
R. Very renovated, we are very few since the arrival of Simeone. It is the years that I have been most excited about, although that does not mean that in others I have not done so. New people have arrived, with enthusiasm, humble, eager to work … It is a year of changes that will not be easy even if great players are signed. We are doing a good football and everything is rolling, but all this serves to prepare us for what is coming.
P. Before so much changed what has Simeone transmitted to them?
R. Since I know him he always has the idea of ​​going game by game and what he has prepared is the Getafe game. It is his philosophy and we have always done well.
P. Sounds weird that in the absence of so much time the first League game gets them in the head.
R. Sounds weird, but in the traditional suckling pig dinner that we do in Segovia every preseason directly said so.
P. Have you been surprised by the high level of the team and the new ones in 7-3 at Madrid?
R. Great additions have been made, young people eager, the coach has done a good job with them and we try to help them. We are competing in each training and that is essential for the team to continue growing.
P. Are there any news about the game?
R. The coach has been trying to get the 4-3-3, wants to be more offensive, have a little more ball and try to look a little more up.
P. The 4-3-3 is a system to have more possession.
R. We have ever played it, but we have never worked it as specifically as in this preseason. We did two weeks 4-3-3 and another week 4-4-2. Everything will depend on each game, but we have players who can play 4-3-3 due to their characteristics. Let's see how everything evolves. We have many variants, even one day I told the coach, half laughing, that he could play as a single pivot as Pirlo did.
P. He doesn't have the feeling that he has run too much in recent years.
R. Yes (laughs), many people tell me, but it's my way of playing and I don't know how to play another. I do not feel comfortable if I am more standing, I need to be on the move looking for the ball, help or find better defensive positions and then attack better. I hope I can keep running for another ten years like now.
P. Don't you think that has hurt him to play better?
R. In some moments it may be that if you work so hard you are not so fresh with the ball, but it is my way of playing, I do not know how to play without running to help a partner. If I don't, the team suffers it and I look at this. I will continue doing it because the day I do not, I will not be at ease.
P. Last year they lost a lot of balls and the team was running too far behind.
R. There were even matches in which we conceded many goals. There are seasons that come out like this, it is true that we lost a lot of balls and maybe it is something that needs to be corrected this season when it comes to getting the ball played and doing the cons well.
P. What changes from playing with Llorente to Rodrigo?
R. Marcos is perhaps more positional when it comes to defending, even more aggressive when stealing the ball. Rodrigo likes to be more in touch with the ball, it is to play with more pause and have it returned more expensive. Llorente is more direct.
P. Do you understand that Rodrigo left because his football is better suited to Guardiola than Simeone?
R. He believed that he would not grow here anymore and made that decision. I think he has the gift of playing ball well and here he was going to defensively learn the concepts that he won't have there because City has more of the ball.
P. But the statistics said that Rodrigo was the player who recovered the most balls.
R. Yes, that is clear. Time will tell.
P. When the team folded in 4-4-2 it was very solid, but those of players who supported that structure are gone.
R. You can get the same. When Simeone arrived we didn't have that and instilled it in us. Now you can also work on it. We will not always be able to press up, there will be games in which we have to retreat, be strong behind and then try to go out with Costa, with Morata, with João Félix or with the one that plays up.
P. What do you like most about João Félix?
R. He has a lot of personality, it is not easy to be 19 years old and have that pressure for what has been paid for him. He has to take it off, if he has it, that I think not because what he does is enjoy playing football. It has a lot of quality, but what I like most is its mischief, dribbling … He likes to have the ball, he is not afraid to ask for it. You have to give it some time, if you play two bad games you can't kill him.
P. Juanfran and Filipe, in their best years, allowed the game inside the band midfielders. Do you need dominant sides for that idea?
R. When the season was over I talked to the coach and told him that we had to hit the sides. Arias continues with us and will improve and good investments have been made with Trippier and Lodi.
P. Trippier and Lodi are good forwards, but backwards?
R. That is no problem because the technician will instill it. If you're offensively good, Cholo makes you good in defense.
P. What is the offensive idea?
R. In principle, being vertical will depend on who plays up. If they are Morata and Costa we have to be much more direct, with sides that reach the bottom line and center. If João or Lemar play above, then we will enter more by playing below.
P. What do you think of Griezmann's departure?
R. Soccer gave everything. He will have liked it more or less, but it is his decision and it must be respected. Those who want to be have to be 100%, if not raise your hand and ask to leave. Griezmann is gone, but João or Herrera have arrived, people with enthusiasm that is what we need right now. We who do not want to be do not need it because when it comes to work, the illusion shows.
You can follow EL PAÍS Sports in Facebook, Twitter or subscribe here to the Newsletter.