Koeman: "There is a solution, but it is not from today to tomorrow"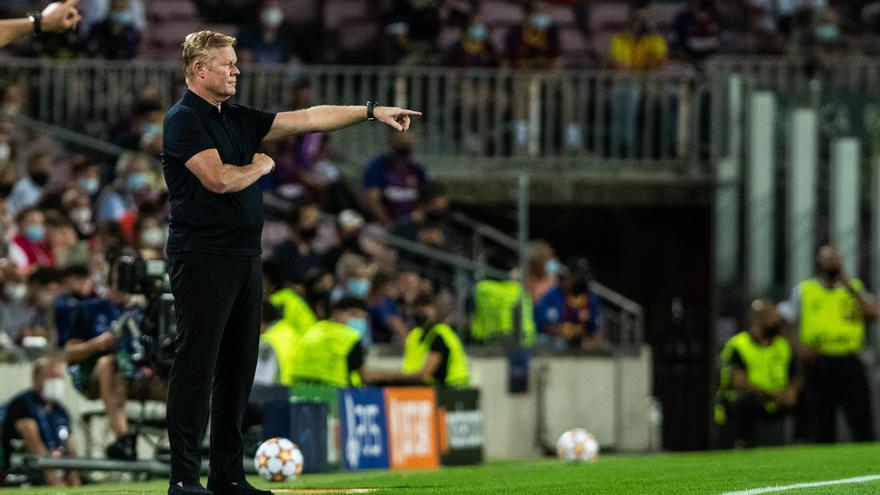 The coach of the FC Barcelona, Ronald Koeman, was convinced that he will be able to overcome the current situation of the team after the defeat with Atlético de Madrid (2-0) on the eighth day of the League and assured that "There is a solution" but it is something that will not be achieved "from today to tomorrow."
"I am sad about the result, in phases of the match we have been good but we have made mistakes in the first goal, We were already talking before the game about how to defend against Atlético and we did not", the Dutchman analyzed in statements to Movistar.
"In the middle of the field you have to follow the man and if they have depth, even more. The 1-0 against is complicated but we had opportunities, not very clear, but there were moments where we could do more damage. They were decisive moments before the match. break. Coutinho's opportunity was good to close the gap on the scoreboard but we have not found him, "said Koeman, who followed the game from the stands due to his expulsion the previous day.
Asked by the lack of goal, the Blaugrana coach agreed with Piqué's words: "It is true that we have not created many chances but we must recognize that creating opportunities against Atlético is not easy because they defend with many people."
"We should have opened the field more, we played a lot in the middle where they are stronger. There is a solution but not from today to tomorrow. You have to work and give young people time and I hope that we will recover the people from above soon and this has also been seen in today's game, "said Koeman.
On the reinforcement words of President Laporta, Koeman was grateful. "Very good contact last night by phone and today in the morning, we have talked about staff matters, the moment of the club and there is clarity in that sense", wakefulness.
"Yes, I think this could be", He added when asked if he believed that this support should have come sooner. "But now we highlight what he has said and that tranquility that we are going to have. The results are always in command. After the break we have three games at home and we have to win them," he concluded.