Koeman, on his ratification: "It was an uncomfortable few days"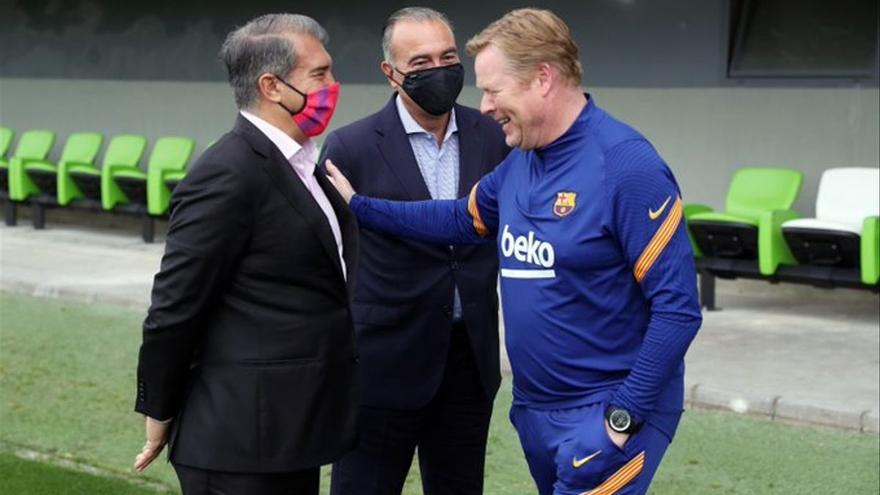 I arrive Ronald Koeman to Barcelona after completing the first part of his vacation in the Portuguese Algarve and in his native Netherlands. Came and found out about Dembélé's injury with the French team that has made him leave the Eurocup with France ("it's bad luck," he said), in addition to admitting the discomfort that was experienced in his conversations with the president Joan Laporta before being ratified in office to fulfill the second year of his contract on the bench at Camp Nou.
"It is true that it has been a week or 10 days a bit uncomfortable for both parties," said the coach in his first statements after the period of reflection that the Barça president marked himself. After those days, Laporta endorsed Koeman's continuity. "But we have had important meetings and I think that both the president and I have a lot of desire to face our next season and hopefully with an audience," he said.
No problems with Laporta
In that sense, Koeman does not believe that there are difficulties in his relationship with Laporta after those days of discomfort: "No, there are no problems. We have analyzed the season despite the last stretch of the League where we were not at our level. But it must be analyze an entire season, at the moment in which we have arrived at the club. In general it has been good, but the important thing is next season".
In that sense, the coach already has four new signings (Kun Agüero, Èric García, Emerson and Depay) with a minimum cost. Just nine million euros has invested the club in the Brazilian side of Betis. Both Kun and Èric and Depay arrive at Camp Nou with the freedom card under his arm. "Memphis is a very good signing, like Kun and like Eric. We are improving the squad. Barça is a big team that must aspire to the maximum and win things, "Koeman stressed, who indicated that" the club is trying to reach an agreement with Messi because for the future of Barça it is very important. "
However, the coach did not want to specify the positions in which Barça still has to strengthen after hiring two forwards (Kun and Memphis), a central (Èric García) and a right back (Emerson). "No, it is not good to talk about positions. We are trying to improve the squad to aspire to the maximum."