Koeman denounces insults of the blue Allan Nyom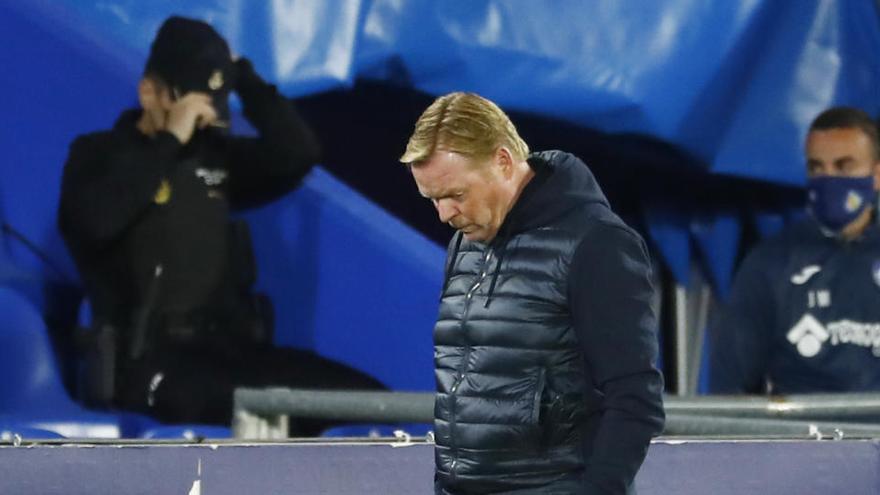 Ronald Koeman, coach of the Barcelona, unveiled this Saturday, after lose 1-0 to Getafe, that the player of the Madrid team Allan Nyom He "disrespected" him because throughout the game he said "two or three very ugly things" to him.
The Dutch coach spoke about the content of a conversation he had with Getafe coach José Bordalás after the crash: "The first thing I have told him is that Nyom has shown me disrespect and he has said very ugly things to me two or three times. I have told Bordalás to talk to his player. "
Later, at a press conference, he analyzed the Barcelona meeting: "We did not go well at the beginning of the second half, turnovers. I don't know if the penalty is, I have to see the image. I think it was a wanted penalty. Then we tried to play more on the attack with the changes we made to play with three defenders. We had few chances, the best in the first half and a bit of bad luck with the ball to the crossbar at the end. Very disputed match, "he said.
He also indicated that he does not like to talk about the referee and said that statistics can create an opinion.
"I do not want to. It is a complicated task for the referee. We try to play to create rhythm and it has been cut a lot. It has been difficult for us to create opportunities to score. I do not like to comment on this. You always have to think about why we have lost and that is more important Then there is a referee, two linemen and a fourth official and a VAR. I don't know if we had VAR tonight, but looking at yourself is the most important thing, "he declared.
In addition, he praised Pedri's performance: "It was good. We have given Coutinho a break for the early season games. Last year he didn't play many 90-minute games and the trip was tough too. We chose to put Pedri, who is showing that he has level ". Bordalás doubts it
Later José Bordalás, Getafe coach, stated at a press conference that he highly doubts that his player Allan Nyom, whom Koeman claimed insulted him during the match, had committed such actions.
At the end of the game that Getafe beat Barcelona 1-0, Koeman spoke with Bordalás and later, before the media, revealed that he told him to speak to Nyom because he had "said ugly things" to him during the 90 minutes. Then, the coach of the Madrid team, answered the Dutchman.
"He told me that. I'm here to talk about football, not controversies. It is true that he told me. I have not spoken with Nyom. I will speak with the boy on Sunday, but I doubt that Nyom, very competitive and who lives the games, I said that, but neither I nor anyone else allow such behaviors. I've told Koeman, who I highly doubt Nyom said any kind of insults. "
Regarding his victory against Barcelona, ​​the first that Bordalás achieved against a great of The league, indicated that his objective is neither to win the Barça team nor the Real Madrid nor to Atlético, but get beat in every game.
"It is true that we had not beaten him. It is not easy to beat a team at Barcelona's level. We had a great game. I told my players that we had to be daring, daring and we have been. We have minimized the virtues of Barcelona It is true that they had a stick of Messi and one of Griezmann. In the second half we corrected the ending of the actions and we had chances to be the just deserving of victory", he pointed.