Klopp puts pressure on Madrid: "From experience, maybe he's a favorite"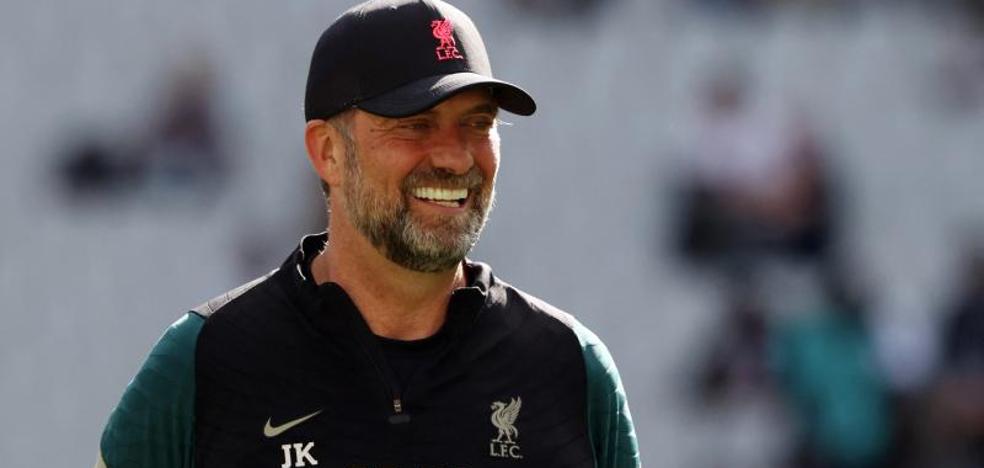 Final
«I have lost many finals in my life and I have also won them. The problem is that we play against a rival that has never lost one, "says the Liverpool coach
Jürgen Klopp faces his fourth Champions League final, the third with Liverpool whom he catapulted to the title in 2019. An old fox in these battles, he knows that going undercover can be a good formula to reduce the tension of his men in the hours before . And that's what he did at the press conference he offered at the Stade de France, putting the pressure on Real Madrid. «Seeing the history, the experience, the way in which Madrid comes back, I would say that maybe Madrid is the favorite. But we are on the same level. If we play our match, we are a difficult team », pointed out the German in an appearance in which he sowed doubts about the recently implanted turf of the Parisian coliseum and complained again about what happened four years ago at the kyiv Olympic.
"Both teams are very technical. We would love, in a dream world, to have the best course we have ever had in our lives and it is probably not the case. If you win, the field is not interested at all. I don't know how bad or how good it is. Maybe it's fine, but apparently it's not like that, "said a Klopp on the first of these matters who would fold candles in a row so as not to be branded a complainer and, perhaps, to put on the bandage before the wound. "Normally that a field is new is good news. The problem is that this is new from yesterday and we don't know how it's going to respond. My first feeling has been good. And no matter what happens, it will be the same grass for both teams. We would play on any grass, we don't care », he limited.
Klopp again insisted on his belief that talking about revenge for the 'orejona' that Real Madrid raised in kyiv is not the best idea to face a new appointment in the heights with the Chamartín team. "What Salah feels is normal, he was injured very early in 2018. That can motivate him, it's true. But getting revenge for that final in kyiv is not the only motivation. We don't forget what happened, of course we don't, but we can't boil it all down to that either. There are many reasons to give everything tomorrow. Taking revenge on 2018 is one, but not the only one," he said.
Of course, he lamented, once again, the accumulation of events that affected the 'reds' that night at the end of May 2018. «We reached the final with three wheels, we had important players coming out of injuries, what happened With Salah, Karius was under tension and shouldn't have played... Well, you learn from everything. I have lost many finals in my life and I have also won them. The problem is that we play against a rival that has never lost a Champions League. Someone told me that the more you win, the more chance you have of losing. Hopefully it will be like this with Madrid tomorrow, "said the Teuton.
"We must be ourselves"

The Stuttgart coach played hide-and-seek with the situation of Thiago and Fabinho, two footballers who arrive touched at the stake. «I see Thiago well, Fabinho has trained well. Let's see," he pointed out.
He defended that, regardless of what happens in the Champions League final, Liverpool's campaign, champion of the League Cup, of the FA Cup and second in a Premier in which they battled until the end with Manchester City, is of extraordinary brilliance. «In sport you are judged by the result, by whether you win or lose. Any fan knows that this team has already had an exceptional season, but in the end, despite everything, everyone will look at the color of the medal tomorrow. I am proud of this group that has taken me to so many finals," Klopp said.
Lastly, he appealed to his squad to be faithful to its principles as the only possible way to defeat Real Madrid. "If I did something abnormal, they might think I'm nervous. We are not here by chance, but because we deserve it. We must be ourselves also at the highest level. We are a difficult rival. You can talk about Madrid's achievements, you could even write a book about it. But I repeat, Liverpool is a great team and wants to prove it tomorrow », he stressed.