KLM: A Dutch airline asks a mother to cover herself to breastfeed on a flight | Society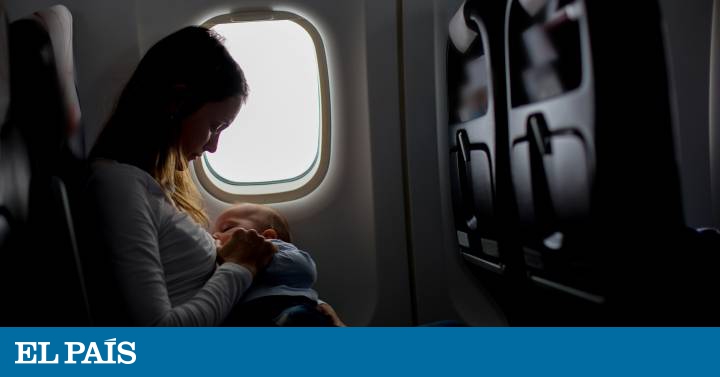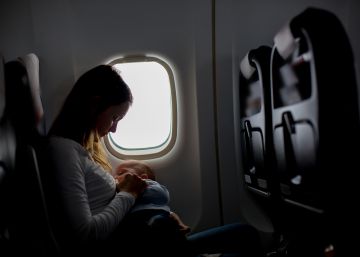 KLM, the Dutch airlines, They allow breastfeeding on board their planes, but with conditions. If someone is uncomfortable with the situation, the hostesses can ask the mother to cover herself while feeding her child. So they told Shelby Angel, an American passenger on a flight she made in June from San Francisco to Amsterdam with her one-year-old daughter. No one complained during the trip, as she explained on Facebook, but the flight attendant's warning to the mother has now reached social networks and KLM has become the target of criticism. The company issued a statement on Thursday clarifying that "mothers are not obliged to cover themselves and we do not want them to feel judged for doing the most natural thing in the world, so our cabin staff can suggest options to ensure their privacy."
The Dutch company did not want to make further comments and has been referred to the official note, posted on its website, "which summarizes our rules and position: find a solution acceptable to all and to ensure safety in the air," according to their spokesmen. The statement adds that "our desire is that everyone is at ease, and of course, that the mothers of our youngest passengers can breastfeed. " Possible solutions include relocating the passenger who may complain, and of course, trusting his crew to make suggestions to the mothers. The tweet that has caused the stir in social networks was the first response KLM gave Heather Yemm, a British researcher interested in dementia and cognitive problems, as indicated in his Twitter account, which echoed the complaint of Shelby Angel . The American mother refused to cover herself, arguing that "my daughter does not like it and she would get nervous". He filed a formal complaint and then wrote the following on Facebook: "Choose airlines that respect the autonomy of the body and the right to take care of your children as you see fit."
The WHO recommends exclusively breastfeeding babies up to six months, and the Netherlands National Organization of Midwives does the same, remembering that it is "a sensible and essential decision for the child's health". The incident with KLM has led other airlines to clarify their policies in this regard. "We support mothers who breastfeed, at any time, and passengers who feed their children are welcome on board," reads the information posted on their website by EasyJet. On the other hand, Iberia, explains in a telephone conversation that "mothers and infants travel in special seats, with a crib, located in the front of the plane, and there they can breastfeed without problems; You only have to warn when booking. "