Kirk Douglas, the legendary actor, dies at 103 years old | Culture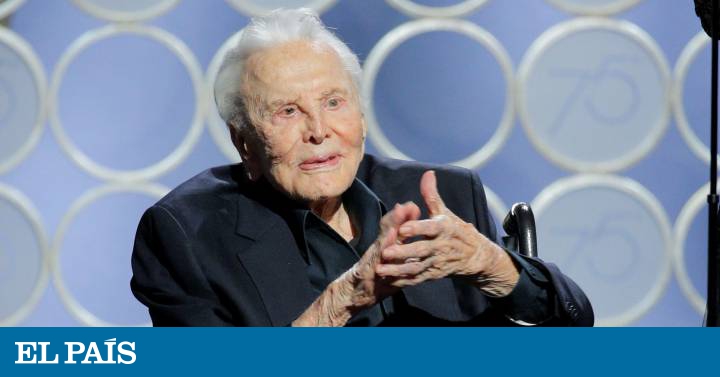 Kirk Douglas, one of the last great stars of old Hollywood, has died this Wednesday at the age of 103, according to several media reports in the United States and his son Michael has confirmed to the magazine People. "With tremendous sadness, my brothers and I announced that Kirk Douglas left us today at the age of 103," says the statement that has also been provided to the magazine by actor Michael Douglas.
"For the world it was a legend, an actor of the golden age of cinema who lived well into his golden age, a humanitarian whose commitment to justice and the causes in which he believed marked a pattern to which all of us should aspire. But for me and my brothers Joel and Peter was just dad ", follows the note of the son of the legendary actor, the man who embodied Spartacus for the story.
Issur Danielovitch Demsky, known as Kirk Douglas, was born in Amsterdam, a town in the State of New York, in the United States, on December 9, 1916. His family was of Jewish Russian origin emigrated in 1908. His father was a ragman left the family home when Douglas was five years old. He had six older sisters. He had to work from a young age to help his family financially and combining it with several jobs, he studied at the University of Saint Lawrence, where he graduated in Letters.
He subsequently studied at the American Academy of Dramatic Arts in New York. In 1941 he was mobilized joining the Navy during World War II. He was a communications officer in an anti-submarine unit. He returned to New York with wounds of war and there he began acting in plays thanks to the support provided by actress Lauren Bacall.
In 1946 he debuted in Hollywood with The strange love of Marta Ivers from Lewis Milestone. He worked on more than 90 films and directed two films. He has shot under the orders of the most famous directors, such as Vincente Minelli, Jacques Tourneur, King Vidor, John Huston, Billy Wilder, Otto Preminger, Elia Kazan, Howard Hawks and William Wyler. With Stanley Kubrick he starred Paths of Glory in 1957 and Spartacus in 1960, emblematic film of his career, produced by the actor and in which he was rehabilitated – thanks to Douglas's personal commitment – to screenwriter Dalton Trumbo, retaliated by the maccarthysmo, by allowing you to appear in the movie credits. Douglas made seven films in the company of actor Burt Lancaster.
Kirk Douglas was nominated for an Oscar three times: in 1950 for The mud idol by Mark Robson, in 1953 by Captives of evil and in 1957 by The crazy red hair, both of Vincente Minelli. Finally, the Academy of Hollywood gave him the honorary Oscar in 1996. In 1981 he received the presidential medal of freedom, the highest decoration of his country, in 1990, the French Legion of Honor, and honorary gold bear of the Film Festival of Berlin in 2001.
He married Diana Hill in 1943 and they had two children: Michael and Joel Andre. In 1954 he remarried Anne Buydens, with whom he was the father of two children: Peter and Eric Anthony, already deceased. In 1991 he was injured when the helicopter he was traveling in crashed into a small plane at the private airport of Santa Paula (California). In 1996 he suffered a stroke that severely affected his speech. As a writer, in 1988 he published The Ragman's son (The ragman's son), his autobiography. In 2009, at 92, he took the stage, of which he had been retired for five years, with Before I forget, a 90-minute monologue that he wrote about his life. In 2012 he wrote I am Spartacus, a book in which he reviewed the vicissitudes of the filming of the Kubrick movie. He published a blog from 2008, first on MySpace and later on The Huffington Post, which had great success. Douglas was a member of the Democratic Party and a convinced philanthropist, donating since 1990 more than $ 40 million to a clinic for the treatment of Alzheimer's patients.