Kiko Hernández breaks into 'Save me' after the death of a close friend: "I need to rest"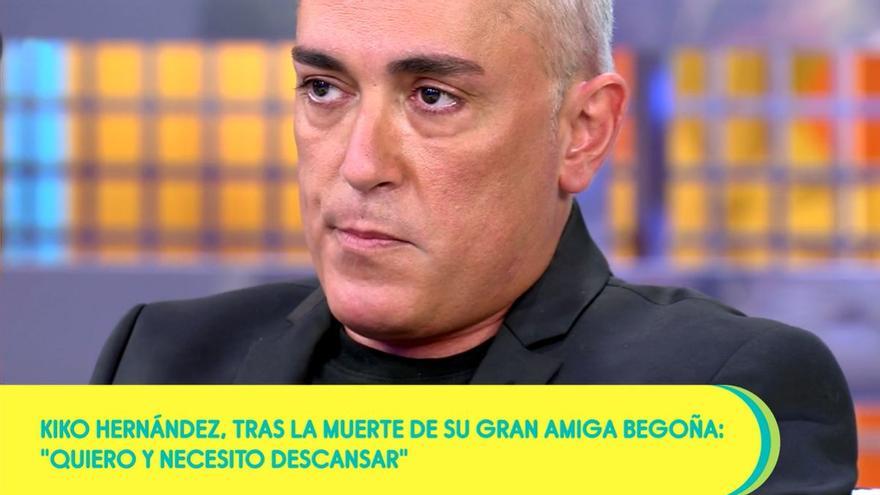 Kiko Hernandez has collapsed this Wednesday on the set of 'Save me'. Three and a half months after the death of Mila Ximenez, the collaborator has lost another of his great friends. This is Begoña Sierra, a well-known businesswoman and founder of Las Vegas bingo in Madrid. In the program this Wednesday, the talkative has explained how he feels after this new setback and has ended up leaving the set visibly affected.
"It was like my second mother. In that it was a very long and very hard illness, for me it was unexpected. Just as there are times when you expect it and that they sedate you, in this case it was not like that," he began by explaining later about what Jorge Javier Vazquez will be interested in how you are. "He had met her on the same Monday to see her and suddenly she passed away", has regretted.
Kiko, who has sent all her support to Begoña's family, is going through a very difficult year. "I can't take it anymore," said the commentator with a broken voice: "A duel with another joins me and there comes a time that you burst. I'm not into taking pills, but on Monday I took several lexatins because I didn't even know where I was. "
The former 'Big Brother' contestant recalled that, just a few days before Mila's death, an aunt of hers had died. In the midst of this grief, he has now suffered the loss of another very special person to him: "I'm not used to death, and suddenly so many people die … It's terrible".
Excited and with difficulties to speak, Kiko has announced that he wants to temporarily withdraw from television: "I've been thinking about it for several days, but I want to rest for a while. I know that Begoña told me never to leave 'Save me', but for my mental health , I need to stop. Yesterday I had weird ideas in my head and I need to stop a week or a fortnight to breathe and do a process that I did not do with Mila or my family member. "
"I want to disappear. Before Begoña died I said I wanted to rest, now this has happened and … There are times when you don't even feel like getting out of bed. I can not afford that, "he added before leaving the set to try to compose himself.