Khachanov leaves Kyrgios without semifinals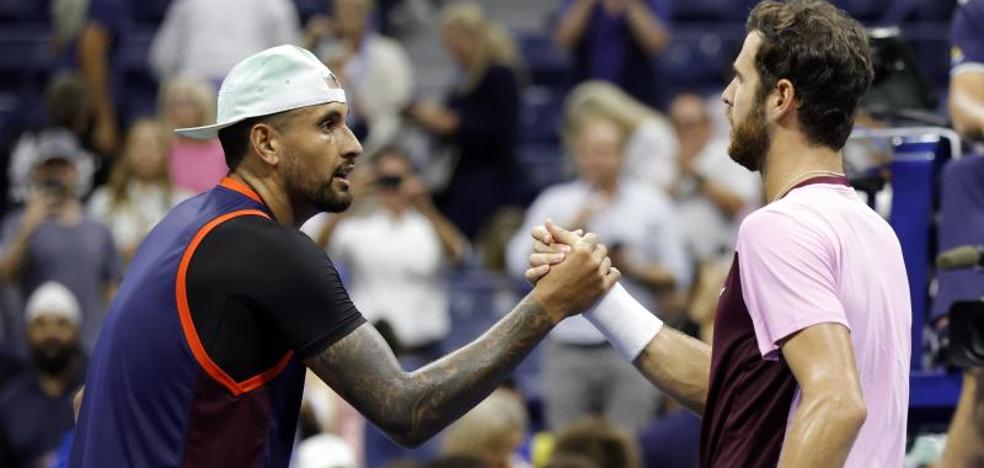 Quarter finals
The Russian eliminates the Australian and will face Ruud for a place in the final
Nick Kyrgios' dream of becoming a Grand Slam champion came to an end, for the time being, in the US Open quarterfinals. The Russian Karen Khachanov won the duel between the two strikers (5-7, 6-4, 5-7, 7-6 (3) and 6-4) and will play his first semifinals in a Major.
The Moscow player, who had never made it past the third round in New York, achieved the best result of his career in this type of tournament after placing thirty aces and 63 winners against Kyrgios. In a swinging match, with alternatives for both, Khachanov, a former pupil of the Spanish Galo Blanco, finally awakened a talent that had been talked about for a long time, but had never ended up exploiting.
In three hours and 41 minutes and against a Kyrgios who landed 75 winning shots, Khachanov adds one more victory to his two weeks in New York, in which he had a placid path, boosted by the withdrawal of Jack Draper in the third round, until he had to eliminate Pablo Carreño in five sets in the round of 16.
The Russian ended the adventure of a Kyrgios who, for the bookmakers and before the elimination of Rafael Nadal and Daniil Medvedev, was the favorite to win the tournament. The 27-year-old Australian had never had such a favorable picture to achieve a Grand Slam, not even at Wimbledon, where he reached the final, but there he ran into Novak Djokovic.
"I'm broken. For me this tournament was all or nothing. I feel that I have failed, I feel like shit, as if I had let people down », said Kyrgios, who also pointed out that he had knee problems in this last match. Still, it's a positive US Open for Kyrgios, who will be back in the top 20 in the world next Monday. It will be the first time that the Australian has stepped on these positions since February 2020.
Khachanov will face another rookie in this round in the semifinals, Norwegian Casper Ruud, who quickly defeated Italian Matteo Berrettini (6-1, 6-4, 7-6 (4)). Ruud completely dismantled the Italian striker's game to reach the semi-finals in New York for the first time in his career. The Norwegian remains in the shortlist to become number one in the world and will need to win the tournament or Carlos Alcaraz lose in the quarters or semifinals to achieve it. In this scenario, Rafael Nadal needs the elimination of Ruud in the semifinals and Alcaraz in the quarters or semifinals to stay first in the standings.
This Thursday's duel between Khachanov and Ruud will be the second of their careers, after the Norwegian won in three sets at the Masters 1,000 in Rome in 2020.