Kevin Spacey reappears by surprise in Rome | Culture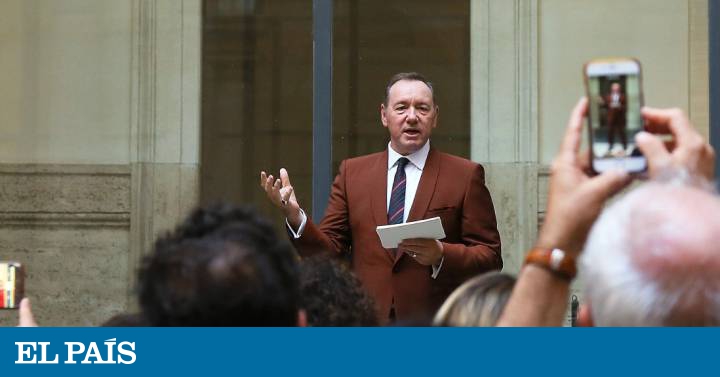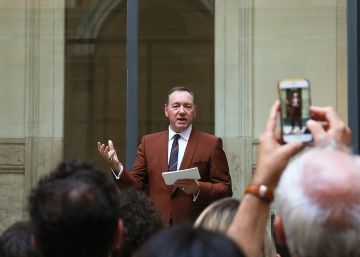 Actor Kevin Spacey has reappeared in public in Rome after two years of silence. He did it by surprise, last Friday, in an act at the Roman National Museum reading before a small audience a series of poems about a dejected and lonely boxer, who inevitably recalled his personal situation, after accusations of alleged sexual assaults that They have laid down their career. A couple of weeks ago, on July 18, the Nantucket Prosecutor's Office (Massachusetts) dismissed the charges of alleged sexual assault that the actor would have committed against an 18-year-old in 2016.
Spacey's comeback caught everyone by surprise. The museum had just announced a few days earlier on its website that an Oscar-winning artist would read in public some works by the Italian poet and writer Gabriele Tinti, but did not give the name of the interpreter. Tinti explains to EL PAÍS that he contacted the actor a couple of months ago to make the proposal, which consisted of reading the series of poems inspired by the Greek sculpture of the Boxer resting. The idea was, in that way, to give voice to the statue, tell its story and give it a new life. He thought of the interpreter "because he is a great actor, the best living actor of our generation," he explains. But he emphasizes that the text, which speaks of loneliness, fragility and the weight of a dramatic life, wrote it several years ago and, therefore, is not "at all" inspired by the actor's story.
Spacey appeared on Friday by surprise on stage, serious, concentrated, in a suit and tie, placed next to the imposing bronze sculpture, which shows a wounded boxer, consumed and dejected after the fight, with his bloodied face and turned towards another side and began to recite loudly. "I am exhausted, shattered, how long will it resist my body? How many blows can you take? "Say some of the verses. "I shook the country, made the sands vibrate, shattered my opponents. I turned on the darkness, picked up insults, forced applause. Not everyone knew how to do that "; "You have to suck a hero's heart while it is still beating." "I look at myself and see a man, only a man."
The play, which had already been read by other actors such as Robert Davi or Franco Nero, represents, according to its author: "To all of us who fight against small big things, discouragement, but also the great desire to be in the world and to live". It is, in short, "a hymn to life." Tinti also wonders why the boxer is portrayed with his head turned: "Do you hear a judge's verdict? Or a call to fight? Is it a look at the inciting crowd? Or a silent question to Zeus in search of an answer?
Spacey, 60, read the monologue twice. The first, before a small group of people, and the second in front of a somewhat wider audience, of about 150 curious who had gathered in the courtyard of the museum. When he finished reading, as Tinti explains, the actor talked to his friends in Rome who had gone to see him, visited the gallery and took pictures with the audience. "He is a person who loves art, of great generosity and great humility," he says. And he adds: "I was very serene about what happened to him."
Gabriele Tinti is a 38-year-old Italian poet, writer and art critic who has written different works inspired by large sculptures of ancient art such as the Discóbolo, the Fano athlete, the Suicidal Galata or the marbles of the Parthenon.
(tagsToTranslate) kevin spacey (t) reappear (t) surprise (t) rome (t) actor (t) read (t) monologue (t) public museum (t) (t) reduce (t) two (t) week (t) withdraw (t) charge (t) case (t) sexual assault (t)



Source link