Ken Follet chooses Galdós for the summer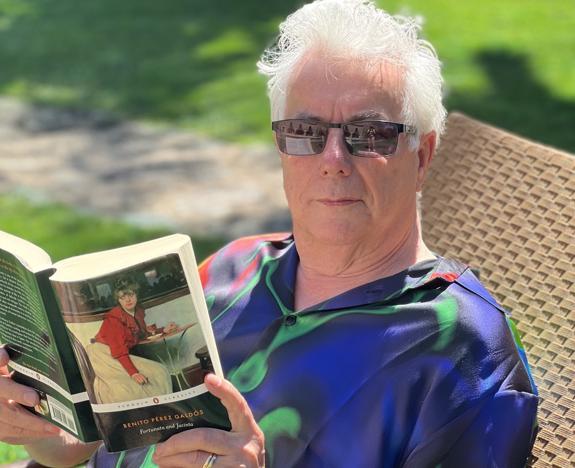 The famous writer is spending a few days off in Spain
the author of
The pillars of the earth, Ken Follett, has boasted on Twitter of his latest reading while enjoying a few days off on the peninsula. It is nothing less than
e of one of the recognized works of the canary Benito Pérez Galdós: Fortunata and Jacinta.
His recommendation hasn't gone unnoticed by the online community, who soon started recommending other titles and investigating a writer forgotten for decades. Precisely, in 2020 the centenary of Galdós was celebrated in style to vindicate his extensive work and his relevance in the literary world.
Fortunate and Jacinta It is considered the most important narrative in Spanish after Don Quixote for its portrait of the bourgeoisie of the 19th and 20th centuries, in a context in which it was making its way towards political and social control while Madrid was being built as a city.
A life of poverty and loneliness

Benito Pérez Galdós took time to be recognized. He died at the age of 77 on January 4, 1920 in Madrid as a result of
health problems that dragged after suffering a hemiplegia. She had lost her sight, suffered from arteriosclerosis and hypertension, and also had economic problems.
Historians say that he was a lonely and shy man, but at the same time cordial. His family sent him to the capital
from Las Palmas de Gran Canaria as soon as he finished high school to get in the way of an infatuation with a cousin of his. A decision that would cause him great bitterness for many years.
I study law and he witnessed a time of great social and political changes in the big city that he reflected in literature while living austerely in a hotel room belonging to his nephew.
Known are his swings with the Galician writer Emilia Pardo Bazán, reflected in the letters that were exchanged with mutual admiration. However, they did not have a faithful relationship.
Galdos became
language academic since 1879 and candidate for the Nobel Prize for Literature in 1912. He spent his last years linked to politics, being elected representative of the courts for Madrid in 1907. Two years later he presided over a
republican-socialist coalition Along with Pablo Iglesias, founder of the PSOE, although he ended up distancing himself already accused of illness and blindness.
Despite everything, the Canarian won his candidacy as Republican deputy for Las Palmas de Gran Canaria in 1924. The year that coincided with the creation of the
National Board of Homage to Pérez Galdós made up of illustrious characters such as Eduardo Dato, José de Echegaray, the Count of Romanones, Jacinto Benavente or Mariano de Cavia... An initiative that aimed to raise funds to help the writer's battered economy.
Other Galdós titles
Mrs. Perfect

the disinherited lady

The National Episodes

the unknown

Reality