Katrina Abuid: "The main difficulty in painting a seascape is knowing how to 'see' the water"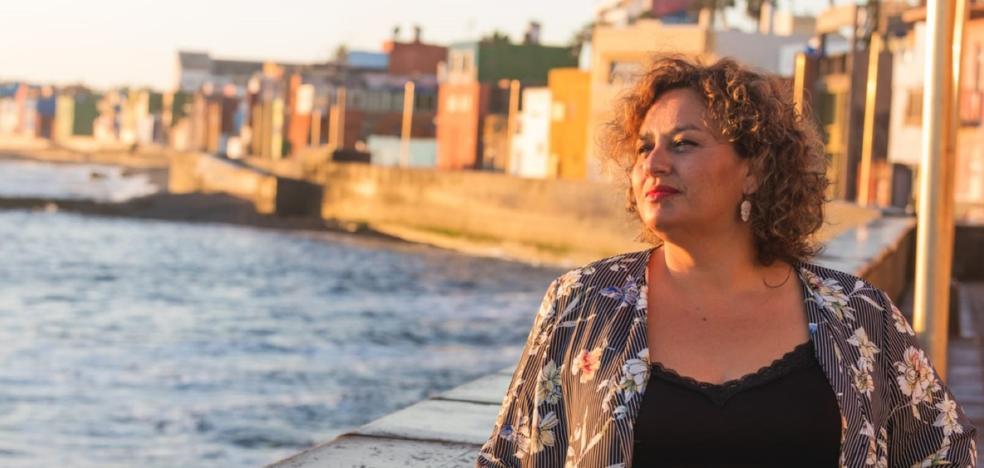 The painter and illustrator presents 'What is not mine', a retrospective exhibition of her work, at the Antonio Padrón House-Museum in Gáldar
Katrina Abuid likes to introduce herself as
"explorer of the world" From his native Lanzarote, he assures that he has already painted his entire world without brushes. Her childhood as an asthmatic girl led her to find in painting the way to accommodate the soul and the body. After studying decoration and advertising arts, she found, thanks to illustration, a way to capture her artistic concerns on paper and make it her profession.
Supported by the collective '8 boxes'an association that brings together several women who develop different artistic disciplines in the Canary Islands, presents at the
Antonio Padrón House-Museum-Indigenist Art Center 'What is not mine', a retrospective of his work and his evolution as an artist. The exhibition is open with free admission
until October 2.
Although it may seem like it, Katrina Abuid is not a stage name. «
I am named after my paternal grandmother, who was a Palestinian Orthodox Christian., from a small town between Bethlehem and Jerusalem", explains the artist. «
My mother, however, is a Canarian from Guanarteme. and I have the influence of those two cultures».
Childhood in 'El Puerto'

His childhood in 'El Puerto', as the conejeros call the capital of Lanzarote, had a determining element that marked his destiny. "I was an asthmatic girl, asthmatic of those trips to the emergency room at dawn and eucalyptus incense," explains Katrina Abuid. "So, when I was a child, as soon as evening approached or when four clouds appeared in the sky and the weather cooled down, my mother, fearing an asthma attack, would send me indoors.
. As between four walls there was not much to doI had to improvise and one of the things I could do was take some crayons or crayons and start drawing».
like the
asthma persisted, over time she became interested "and became an explorer of the world that was behind a blank sheet," says the artist. «When you can't breathe, you have to relax because if you don't block the air intake. As she needed that air, she asked my mother to bring me scissors, colors, paper...
That despair made me find my own air».
Later, and after finishing his studies at the
School of Arts and Crafts Pancho Lasso, in Arrecife, Abuid chained jobs unrelated to art, "until, by chance, they hired me to illustrate two books, one on botany and the other on ancient nautical." This encounter with illustrative work was the key for her to understand that art had to be much more than a hobby for her. She became her profession. «
When you work on what you like, it seems that you don't work and I looked forward to Mondays; that contract was the best work experience of my life and since then I have had the opportunity to exhibit on several occasions", she explains. «After that, it was clear to me that I wanted to dedicate myself to painting as long as possible».
techniques and styles

Katrina Abuid has gone
exploring different artistic techniques and styles, from the realist to the impressionist. "For me, the purpose of painting is to explore, to play, like when I was a child, and every minute spent on it is a gift," she says. «Since I can remember, I have painted everything around me without brushes, exploring how light envelops and changes objects or how their shadows are projected».
This curiosity in the world of art is transferred, in his case, to the search for his place in the world and his own artistic voice. «Yes, because what I feel in my life I reflect in my works, making me understand life.
Painting has always been a channel where my voice can be freely expressed, played and explored», confesses Abuid in a more personal tone. In the exhibition 'What is not mine' he assures that he can finally show «my evolution as an artist, from early works to other recent paintings».
Wild nature is the protagonist of many of his worksespecially in the case of seascapes. The representation of the ocean, especially water in all its states, almost seems to have become an artistic obsession. «With the water I can relax and enter my world. I begin, without meaning to, to explore its forms, its light, its ever-changing colors", the Lanzarote-born painter tries to explain. «
The ocean is the place where I enjoy the mostalthough that does not make the sea my leitmotif, because, deep down, my leitmotif is just what I am feeling at that very moment, no matter if the medium is a forest, a portrait or a seascape».
For that same reason, he confesses that he is unable to frame himself within a defined pictorial style, he does not like labels. «
Today I can be an impressionist, tomorrow a realist and the day after I do an abstractbecause that is precisely the freedom that painting offers you».
'What is not mine' includes a participatory experience in his work, through a workshop that proposes learning to represent the states of water on an oil canvas with different approaches. This is quite a challenge for any artist and Abuid has delved into the complexity of it. "The main difficulty is knowing how to 'see' the water," explains the artist. «
The water is constantly changing; the water is neither blue nor green, it takes on the colors of the objects and environment that surround it, and makes the bodies that are in it and on it change the shape".
An artist who premiered at the Victoria Club and who has participated in local collectives and in Italy

Katrina Abuid was born in the capital of Lanzarote, Arrecife, and studied decoration and advertising arts at the 'Pancho Lasso' School of Arts and Crafts, in the same city. She has worked as an illustrator through several projects commissioned by the Cabildo de Lanzarote for publications on botany and ancient nautics.
His first solo painting exhibition ('In my way') was at the Real Club Victoria in Las Palmas de Gran Canaria. The same exhibition was exhibited by the Maspalomas Gran Canaria Tourist Board.
He has also exhibited in 'Co-art' (Las Palmas de Gran Canaria) the solo exhibition 'Meanwhile', and has participated in the collective exhibitions 'Rastrillo del Arte' and 'Con las', both also in 'Co-art '.
At an international level, he has participated in several collective exhibitions in Italy. These are the collective exhibitions 'Hideaway' and 'Ego', at the Palazzo Ducale in Genoa, and 'Senso Unico', in Milan, at the Cael Gallery.
She is one of the founders of '8 Cajas, Cultural Association', a group born in Las Palmas de Gran Canaria, the fruit of a dream shared by a group of women artists from the world of painting, writing and photography.
They carry out festivals, fairs, collective exhibitions and all those activities that serve as a tool to spread art among society.