Katir, silver in the 5,000 meters, completes a historic day for Spain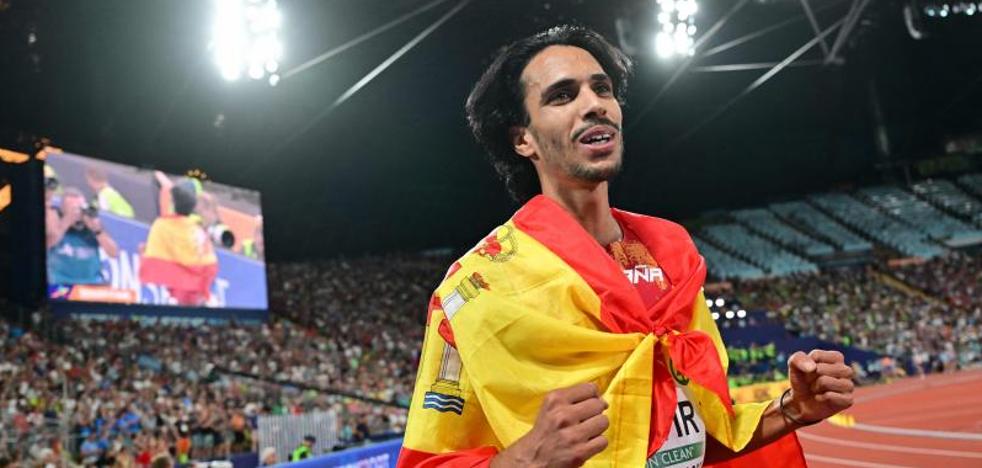 European
The Murcian fights until the end for the gold, which is won by the Norwegian Jakob Ingebrigtsen in a very high level test
"Eugene's medal is just the beginning," Mohamed Katir (Mula, 24 years old) warned less than a month ago. Some had been accusing the Murcian athlete for a long time that he was only concerned about brands, fame and money. They said it, above all, because last year, in the short span of 33 days, he broke three national records in an unrepeatable season on the air: 3:28.76 in 1,500 (erasing Fermín Cacho from the lists), 7:27.64 in 3,000 (to Isaac Viciosa) and 12:50.79 in 5,000 (to Alemayehu Bezabeh). They complained that in the big championships he was not the same as in the rallies, as if the medals did not motivate him so much. As if his eighth position in Tokyo, in his debut at the Games, had no merit.
It's a lie that Katir is only motivated by records, like so many other things that are said about him. Like that thing about his father arriving in Spain in a small boat. It was not so. He left Alcazarquivir, near Larache, with his papers in order and a work contract in Huesca. Until there went, traveling by road, the father of Katir. He then settled with his whole family in Mula and there, recruited by Cristóbal Carlos Ramírez, president of the MulaSport club, he began to forge himself as an athlete. For a long time he fought to represent Spain, but his nationality never came. He did want medals, but he couldn't hang them because he didn't have a federation card.
The nightmare is over and in this 2022 he is getting even. He was bronze in 1,500 at the Eugene World Championship (United States), in a distance that the Federation has not allowed him to run in this European in an incomprehensible decision that someone would have to try to clarify. And this Tuesday in Munich he achieved a historic European silver in 5,000, in a memorable final, in which Gabi Lorente's pupil was the only runner who really stood up to the Norwegian Jakob Ingebrigtsen (Sandnes, 21 years old), the athletics superstar world.
beautiful fight

With a time of 13:22.98, the best for a Spaniard in the history of the Europeans, Katir did not wrinkle at any time and always followed in the footsteps of an Ingebrigtsen who could only get rid of the man from Muleño in an impressive start in the final stretch. All the other competitors were falling like ripe fruit before the pace imposed by the Norwegian in the last kilometer. Everyone except Katir. Ingebrigtsen won (13:21.13). The Italian Yemaneberhan Crippa, bronze with 13:24.83, was never in the fight for a gold medal that Katir dreamed of at times.
A crash by Frenchman Hugo Fray with four laps to go destabilized the race. He touched Katir, whom he later accused of throwing him out. The judges did not see it that way and the Muleño's money is not in danger. The Italian Crippa took advantage of those moments of confusion to start shooting, then seconded by Katir and Adel Mechaal. That movement did not please Ingebrigsten, who jumped into lane two to get first and head the last eight hundred meters.
Katir's confidence and good legs made Ingebrigsten squeeze himself to the maximum in the last lap, although the gear change that the Norwegian printed in the last corner was impossible for the Mula rider to follow, who reached the finish line as exhausted as he was happy to achieve a silver that tastes like gold.
Until the last lap, Adel Mechaal tried, but later fell to fourteenth place, even behind the third of the Spaniards, Abdessamad Oukhelfen. The glory went to Katir, the best Spanish athlete of the moment. No one can argue with this anymore.