Kamila Valieva is exhibited in Beijing 2022, between tears and doubts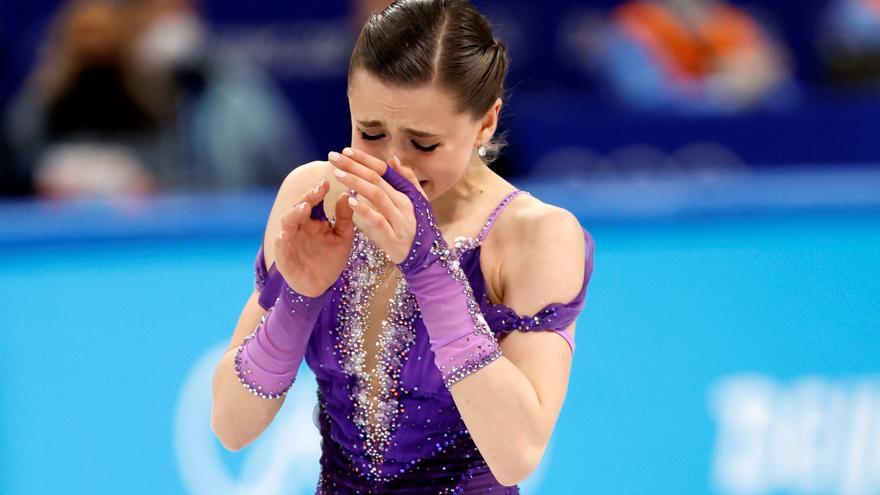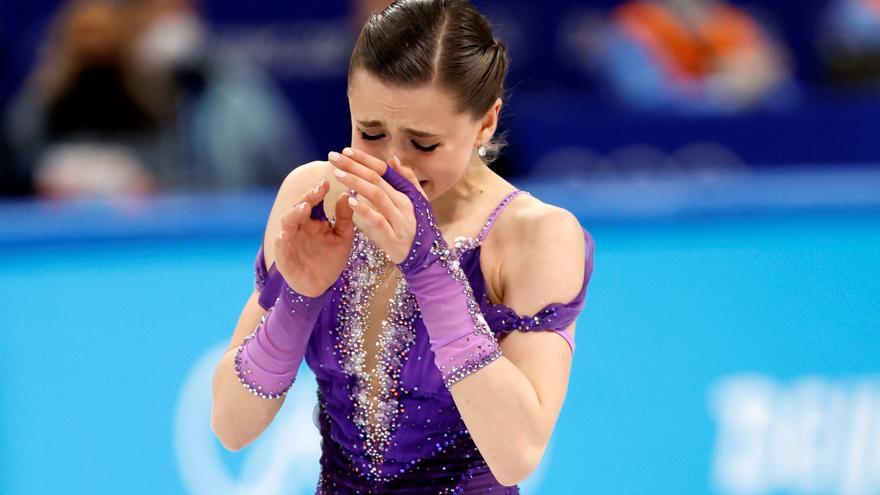 Tears in the eyes and applause to the few spectators, standing up, who congratulated kamil valieva at the Capital Indoor Stadium in Beijing. Thus ended the performance. "Poor creature!" exclaimed Javi Fernández, the only Spanish Olympic medalist in ice skating, as a Eurosport commentator. The young Russian skater cried, 15 years old, a teenager who was called to leave Beijing 2022 as the queen of the Winter Olympic Games until the mess for a positive doping control he has put it in the center of the target; looks of pity, stupor, anger and even affection.
Valieva, despite a small mistake at the beginning of his program, he showed that he was a skid ahead of all his rivals. She arrives at tomorrow's free program (from 11 a.m.) as the leader of the classification and as the top contender for a gold medal that she will not receive, nor will her teammate from the Russian team, or rather from the Russian Olympic Committee (ROC). ), Anna Schcherbakovathe world champion, nor the bronze the Japanese kaori sakamotowho with an exquisite program left off the podium, at least provisionally, the third of the Russians, alexandra trussovawho suffered a fall, which deducted points, at the beginning of his performance.
"Kamila relaxes me if I see her skating," he commented Javier Fernandez with admiration The Russian pianist's 'In Memoriam' was playing Kirill Richter Y kamila she glided across the Beijing ice in her purple dress and white skates to begin regaling viewers around the world and the few who watched her from the stands with her collection of triple jumps, of course the 'triple axel' , which he executed with that relaxation that captivated Javier Fernandez in his TV booth.
She moved and the public applauded her at various stages of her program, the short, something like a carpet on the ice that has already put her on the path to a gold medal that, if she receives it, doping through, will take time to hang a few months and a lot of office fighting. Did she dope herself? Did she take a drug that really isn't much of a performance enhancer? Was it an error, a mix-up of a pill or traces of medication in a glass or crockery at home due to the treatment her grandfather received? Is Russia, which competes without a flag, once again at the epicenter of suspicion?
The training
kamila, in her sneakers, warmed up her moves in the locker room as less-skilled figure skating competitors glided across the ice as if opening for her show. It was not the last, there were still three skaters left to show her skills, but no one could beat her. She received congratulations from her coach, Eteri Tutberitzea former figure skater, Muscovite and about to turn 48 years old, who lived almost a decade in the United States, is considered the best trainer in the world and who is also the technique of the other two Russian Olympic figure skaters, to whom she shows the way to be skating stars at the Moscow Sambo Club.
TO Valieva His nerves did not fail him. "He is a minor, but that he is not awarding medals? What are the rivals going to say about him? This has neither head nor tail", he exclaimed. Javier Fernandez, before the young skater sprang into action. She then turned herself in, doping or not aside, with her magic on the ice.
the russian defense
From Russia It was defended that everything was due to an error, to an ingestion of traces of trimetazidine and that his grandfather, with coronary problems, uses medicine. In Spain, for example, it is marketed in tablets for the treatment of angina pectoris under the following brands: Trimetazidine Cinfa, Davur, Pensa, Ratiopharm and Rimafar. It is not recommended to take it to combat vertigo or dizziness (skaters spin around a lot) because it can cause tremors, in young, healthy and athletic people, too? These are the issues that are up in the air.
innocent or guiltythe skater who has been allowed to compete so as not to clip her wings with a hasty sanction at age 15, will be the star tomorrow to leave Beijing as a queen, without a medal, sure, but without a crown?
Precedents
There are precedents, athletes who have been forgiven after testing positive and later defending that they had accidentally doped. There is the case, for example, of the Russian athlete Sergei Shubenkov, who was world champion in the 110 meter hurdles. He defended that the diuretic that had appeared in his urine, and that it was a positive as a cathedral, was due to the remains that had remained in his mouth after biting the pills that his three-month-old son took so that he could swallow them. They believed him and the ice did not melt under his feet.