Kamal, Rida, Brahim and their gang open the way to a new life in Castilla y León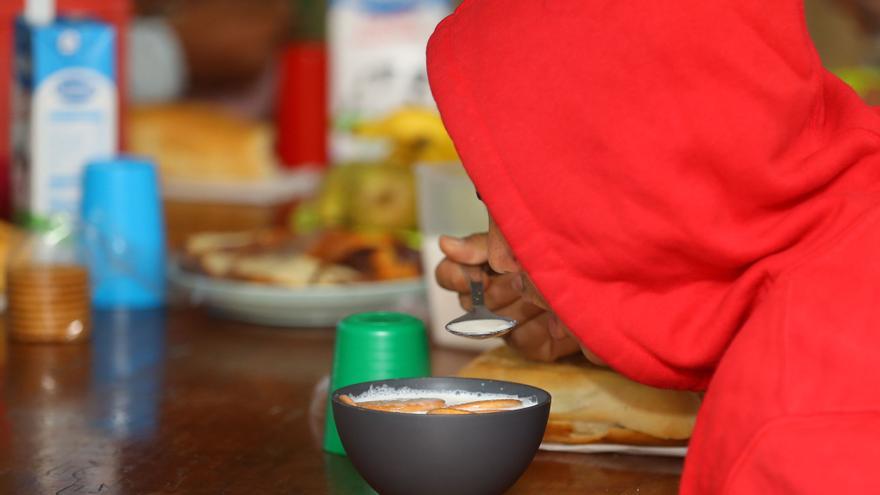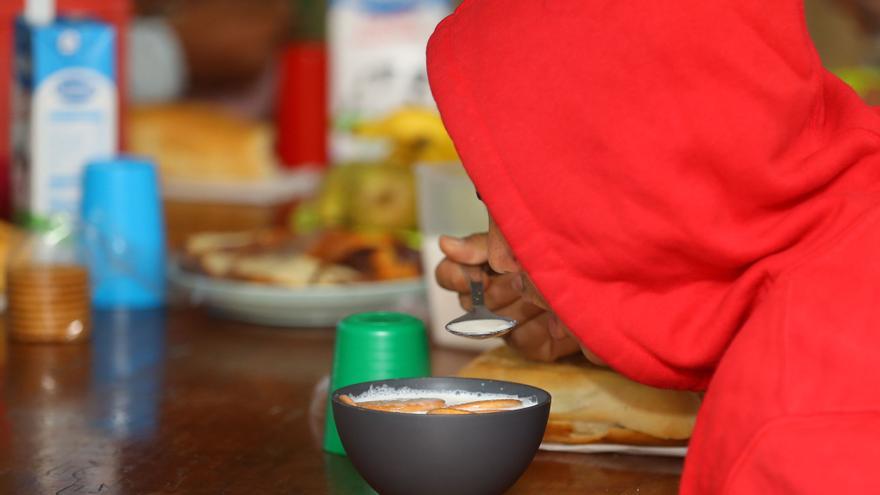 In the room they've shared for months Kamal, Rida, Brahim and his gang has gotten up early … a lot. The suitcases are packed; the coats, ready, but some of these children have not yet made up their minds about their new life, so Abdullah that he won't be able to walk around Palencia in March with those flip-flops he's wearing.
After months of asking for help from the rest of the autonomous communities to share the guardianship of the almost 2,700 unaccompanied immigrant minors that have arrived on the islands since the end of 2019, the Canary Islands Government sent this Wednesday to two centers in Palencia and León ten Moroccan boys between twelve and fourteen years old who arrived in small boat to the islands a long time ago, some a year ago.
There are nine men and a girl who are fully integrated into the customs of Spain, they have been in health centers for months. Gran canaria Y Lanzarote, where they have learned Spanish, in some cases they have resumed their secondary studies and have understood that they still have a long way to go to do the first thing that comes to everyone's lips when asked: work to help their families.
Welcomes them Castile and Leon, the first community that volunteered to help Canary Islands with the integration of these minors, and they go to small homes of a maximum of ten children, almost family members, very different from the one that Kamal, Marwan, Rida, Addelhakim, Brahim and Abdallah have shared until a few hours ago. The six boys leave the center of Santa Brígida, which until today was guarding 101 minors.
"Thank you Bandama, thank you." It's almost the first thing you hear them say when they get up from their bunks and start tidying up the room. It is their gratitude to the center that has taken care of them in recent months, but it is time to wake up, hurry up and have breakfast, just one hour before they are picked up to go to the airport.
Their educators have already explained to the six of them what the cities that are going to become their new home are like in a few hours, but it seems that Abdallah has understood Valencia, not Palencia. His monitors tease him about it, because the boy insists on traveling in flip-flops and there is no way to make him change his mind.
You will find out when you land in Madrid, they tell you. But it turns out that the boy is not stubborn. The thing will have its explanation when they are about to embark and he confesses that he does not really have shoes. The ones he had he has given to a colleague who stays in the center. He already leaves and it is enough for him, he feels lucky.
With one leg in a cast
Kamal has a reputation for being mischievous. It is not known if the idea came from him that three of his traveling companions wear their hair painted green, but his leadership is evident. He is one of those who has been in the Canary Islands for the longest time, he arrived a year ago, at this time he was already in school and is leaving the islands with one leg in a cast. "It was skiing," he jokes. Actually, he fell on some roller skates.
Of the six, Abdallah is the oldest in the archipelago. He landed a year and three months ago in Lanzarote and he speaks Spanish well. "We came to have a better future, to study, to work and to help the family," he says. "This is a handsome center, handsome friends."
He's going to miss them, but hopes to see them all again sooner or later. In case anyone has doubts, remind those present of a proverb from their land that, translated into Spanish, says something like "Men can meet again; mountains cannot."
"I want to live here. In Spain there is a future, because in Morocco … In Morocco there are fights, many problems with the police and robberies," says this boy, who left eight brothers in his country.
His friend Rida thinks the same, who did not want to stay in Morocco "to smoke." He is 14 years old and arrived in Lanzarote in a boat with 32 other people on board. He remembers that he was very scared, that they were five days at sea and that only one person knew how to handle the boat, but he does not want to talk much more about it. It still costs him.
The person in charge of the center that has taken care of him in Santa Brígida, Enrique Quintana, clarifies that it is something common. He has more than 20 years of experience educating boys from the boats and has seen it forever: the journey through the ocean is a trauma that is difficult to forget.
"I have boys who arrived in 2002 and 2003, who are now adults and who today tell me: not even for all the gold in the world do I get on a boat today. It is a trip in which they are very afraid, not only because of what It means the journey itself, but rather because of what it means for a minor to be separated from his family, "says Quintana.
Nightmares after the patera
"Sometimes, when we take them to the beach, they tell me: These are not waves, the waves are inside, they are big like mountains. They also remember the darkness, the fear of being run over by a ship at night. In their first weeks after many have nightmares, they wake up thinking they are in the sea. It is something that fades over time, but it never goes away, "he emphasizes.
Quintana is proud of the boys he sends to Castilla y León, although he cannot forget the bad moments either, the days they lived not so long ago, when in the Canary Islands xenophobic threats circulated with force on social networks and demonstrations were called in some neighborhoods against immigrants. In their center – as in others – they were forced by security to ask their children not to go out on the street for several weeks.
The director of Child Protection of the Government of the Canary Islands, Iratxe Serrano, is also happy that, at last, offers of help from other autonomous communities are beginning to come true. Castilla y León will take on 25 boys (ten now and 15 later) and other regions will take over more groups, to add some 200 minors.
Serrano acknowledges that it is a relief, because his department currently protects some 4,300 minors with different problems, 63% of them immigrants, although he recognizes that the transfers will be much less than the 800 they expected. In addition, he is happy that the ten who lead the way will be received in small centers, almost families, where their full integration will be much easier.