Junk food brands idyll with Ibai: "It's inconsistent, but it works for them"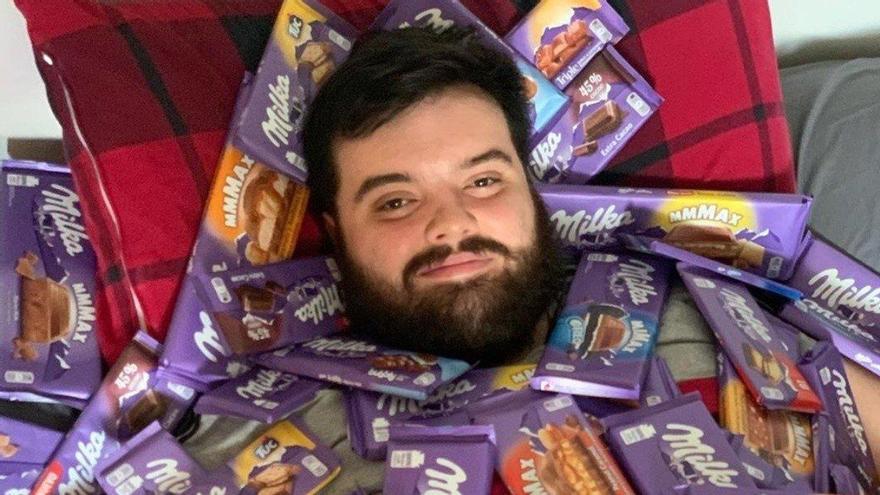 July 26, 2020, eleven o'clock at night: "I, Ibai Llanos Garatea, 25 years old, resident in Barcelona, ​​I promise to donate 6,000 subscribers to the Papo MC channel if on July 26, 2021 I don't weigh 90 kilos or less".
Same day, barely a quarter of an hour later: "I, Papo MC, promise that if on July 26, 2021 I don't weigh 90 kilos or less, I will donate 6,000 subscribers to the Ibai canal".
Papo MC – Alejandro Andrés Lococo's stage name – is an Argentine rapper and influencer. At the time of closing the deal, Papo MC weighed 130 kilos and Ibai (Llanos, a native of Bilbao and a well-known Spanish streamer), around 150. He had reached over 160. They both bet down to 90 in a year in exchange for 6,000 subscribers, the equivalent of 30,000 euros. On July 27, 2021, when they settled the bet, Papo MC weighed 87.5 kilos and Ibai Llanos 130.
"I don't weigh 90, but I'm in one of the best moments I've ever been in," said the Basque. "I have lost between 18 and 20 kilos. I feel like I have to go up to the next level to get closer to 100. "Immediately afterwards, Papo MC took out a huge check for 30,000 euros —which, he said, in Argentina they give him for a two-bedroom flat— and Ibai congratulated him. "It is 'paid'. I just lost '30k'. From here my congratulations and congratulations to Papo ".
During the first months of dieting, Ibai's followers could see her commitment to starting a healthy life, including sports and eating, and her difficulties to ditch junk food. With the naturalness that characterizes him and that has made him an idol in our country, Llanos narrated how difficult it was for him to get rid of sugar, industrial pastries and processed dishes at once.
The young man, he said, could always eat what he wanted and keep fit because he played soccer every day. "It didn't matter if I got a McDonald's on a Saturday and a Burger King on a Thursday, because I was always spending more than I was consuming." When he stopped doing it, he began to gain weight. And when he wanted to recover the figure, he realized that it was not easy at all.
"Imagine how difficult it is for a person who probably has a sugar and processed food addiction to have all of this suddenly taken away from them. It's harder than it sounds. You have anxiety about eating. Your body asks for sugar because you give it sugar all the time. He asks you for shit. He asks you for things that are not good for a diet. It is okay to eat a pizza or a durum, but it is okay to have it once in a while, not every day (…) I go to the kitchen, see a donut, a pizza or a cocoa shake and eat them. Now my body says, 'Ibai, what are you doing to me? I was happy!' Well no, you're going to take the ass ", explained when starting the diet.
Despite the fact that Llanos, who has not wanted to make statements to this newspaper, has never stopped showing the harmful effects of processed foods and industrial pastries, there are many unhealthy food brands that sponsor him.
Namely: Domino's, Cola Cao, Doritos, Milka (sent him a shipment of chocolate), Pepsi, Donettes, Grefusa, El Pozo King (brand of hamburgers and snacks from El Pozo) and, although it does not fall into the food category but into the drinks category, Mahou. On his recent World Balloons —A championship in which 32 kids from all over the world participated in the game of not dropping a balloon to the ground — we could also see Mentos already Airing.
The young man has marked red lines – for example, in an interview with Jordi Évole he claimed to have rejected advertising of betting shops, for hooking young people, and from a bank, because in the future it could evict – but it has justified food sponsorships.
Sources from the agencies' sectorinfluencers'They explain that Llanos moves so much audience that they choose what they want to do, and with what brands, and what not. They point out that an annual contract with him can range between 300,000 and 350,000 euros, which would be added to the income he receives from Twitch, owned by Amazon: Two millions of euros in the last two years according to a recent leak of its database.
"We are playing open football," he commented after broadcasting Messi's first game with PSG. "That has a price that we cover with brands (…) In Movistar you pay 100 euros a month and it is not that there is no advertising, it is that there is advertising of wines and betting houses. I think it is respectable, although I would not do it. But if I'm giving you football for free, allow there to be brands so that I don't have to give myself 200,000 bucks in a game. If I have to eat a Donette, then I eat it".
"Ibai is the goose that lays the golden eggs. It will explode. It is incoherent, but it works for brands", considers Mònika Jiménez, doctor in audiovisual communication from the UPC and researcher on the effects of the media on Eating Behavior Disorders . Although Llanos charges against junk food because it is addictive and because it prevents him from losing weight, these companies fit in with advertising with him. The 'influencers' reach young people better than anyone. They are a reef.
"It's like Aitana, the OT singer, with McDonald's. She recognized that she couldn't eat her own menu because she was celiac," adds Jiménez. "I do not know if McDonald's has responded, but they launch the campaign, assume the crisis and there it is. For a certain audience it makes all the sense in the world to advertise on 'influencers'. It is more effective than television. "
Aitana was criticized for promoting a 1,510-kilocalorie menu. "It is necessary to stop the promotion of unhealthy products by famous people", wrote the nutritionist Julio Basulto.
Spain is the second OECD country with the highest rate of childhood obesity: a 18% among children between 7 and 8 years old, only behind Cyprus, which is why nutritionists and public health specialists are calling for the advertising of unhealthy foods to be regulated.
From Arena Media, the communication agency that has devised Domino's campaigns with Llanos and with other influencers such as Rubius, WillyRex, Lolito and Vegetta, acknowledge that the appearance of the pizzeria on the Basque's New Year's Eve had a "beastly" repercussion. And that the idea that he and his companions created own pizza —Months before Aitana did the same with McDonald's — was another bombshell.
"It is an ad-hoc action for Domino's that goes beyond communication. It is creating a product. It involved many hours of work," Íñigo de Luis, director of strategy at Arena Media, explains in a statement to El Periódico de España. "The reach was brutal, for the presentation of the pizza on Twitch and for the conversation it generated, not only when announcing it but through every consumer who shared the pizza. We can proudly say that that first weekend was the best-selling pizza. "
What if they prohibited it?
The Minister of Consumption, Alberto Garzón, has said several times that he wants to stop the advertising of junk food for children. In line with what the experts promulgate, Garzón affirms that the advertising of these products "has pernicious effects on the health of minors." The Ministry has already banned celebrities from appearing in betting advertising.
"The issue of junk food marketing is heavily worked on in the scientific community. It has been shown to have a negative impact on health, especially in kids. It is also counterproductive for Ibai: he tries to eat healthier and they pay him to consume these products They are torpedoing him, "says Carlos Fernández, a doctor specializing in preventive medicine and public health. "Until The OMS has recommendations for limiting this type of advertising. The younger, the more manipulable you are. And Ibai has a large audience young and under ten years old. "
"Ibai tries to eat healthy and they pay him to consume these products. They are torpedoing him" Carlos Fernández, medical specialist in public health
In Spain, food advertising —healthy or not— it is not regulated. It is self-regulating. Companies sign a code that they agree to abide by.
The code is called PAOS (Food and Beverage Advertising Directed to Minors, Obesity Prevention and Health), it was created in 2005, it was revised in 2012 and, among other points, it establishes that well-known people or characters cannot appear among the children's audience (for example: presenters of children's programs, figures of films or fiction series, etc.) in the advertising of food or beverages.
The rules apply to advertising directed at minors up to 12 years of age in traditional media and up to 15 years of age on the internet. That is if they did, they would not sponsor Ibai Llanos. Although the exact ages of his audience are only known by him and his agencies, and it is difficult to measure how many are under 13 years of age because theoretically until that age accounts can not be created in most social networks, the 'streamer' has recognized that his public are "lads". Industry sources add that it is a very young audience. Pepsi, one of the brands that sponsors him, assures that he only works with 'influencers' who "accredit having an audience over 16 years old among their followers."
"There is no limitation. Any children's television channel is full of junk food ads, "adds Fernández." What you want is to regulate it. In Portugal, the United Kingdom and other countries there are already experiences. "In Chile, they banned the inclusion of commercial hooks in bad products for children and the Kinder Surprise and Happy Meal toys disappeared (there, the Happy Meal). Years later, McDonald's improved the qualities of the Box – less cheese, less potatoes, less sugar – to get the toy back.
Catering and food are among the five sectors that invest the most in advertising, both traditional and digital. If it were regulated, "the income of some influencers could be reduced. But it doesn't have to affect everyone, because not everyone has a minor audience. And, even so, on YouTube you can mark if the content is aimed at adults, "says Blanca Formáriz, director of operations of 2btube and president of the influencers commission of IAB, the advertising employer." We are in favor of the regulations, both content and advertising. And if they are equated with traditional media, it builds trust in advertisers and society. "
The food industry employer, FIAB, tells El Periódico de España that it is working on updating the PAOS Code, which to date "has proven its usefulness."
"It is a hypocritical code," Jiménez sentenced. "The food lobby is very powerful. I started working on this issue in 2006, not only because of the impact on childhood obesity but also because of the potential Eating Disorders. The intentions are good, but neither this government nor the previous ones have done anything. "In the absence of regulation, concludes Fernández," there is also the possibility of counterexamples. Like when Cristiano Ronaldo They put Coca-Cola on him and he said no, he drank water".