Julieta Serrano: "I had to have freed myself sexually much earlier" | Culture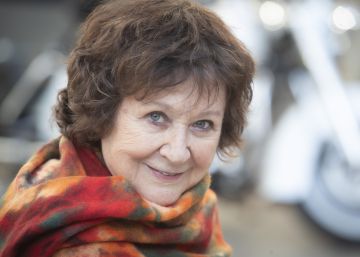 This interview was simple and complicated. Fun to the laugh and touching to the lump in the throat. Sweet and, also, a bitter dot. La Serrano – 70 years of boards on his back – picks up the phone, quotes at his house – in a stately building near the Spanish Theater bought by a cooperative of actors when the neighborhood was a nest of junkies -, and offers himself to the Talk with the illusion of a meritorious. It is she who warns that from time to time the saint goes to heaven. And, yes, it goes, indeed. But, ask him what he is asked, he returns to his refuge. His time as a draftsman in the "Morató Workshop, Sumptuous Enamels", where he began working at age 15 to help in his house of losers of the War in the Barcelona of the 50s. With the leftover of this conversation you could write a novel , a play, a movie. Too bad about the space corset.
Because Google says so; If not, I would not believe that he is 87 years old.
I've always looked 10 years younger, like my mother. Not before, but when you turn years you end up seeing her in the mirror. And, although she was very cute and I've never been beautiful, I didn't like anything: we had a difficult relationship.
Mother-daughter rivalry?
No, I have always been very close to women. From the Morató workshop, where we were 10 or 12 girls and we helped each other. I unconsciously learned to be a feminist. And then in the theater. In this profession, in which it seems that there is a lot of rivalry between women, I have never had it, it must be because I was a feist.
Why is it so bad?
I was a shy girl, sick of shyness, the war marked me a lot, and the amateur theater where my father took me, saved me. There I found Nuria [Espert]. I was 13 years old and she 11. I have had very beautiful friends and have suffered other things that I have not suffered. On the one hand, I have not felt so entertained, but instead I have had a very good relationship with women. I wore braids until I was 16, and because I said I was already going silly. But I don't want to talk about war, which seems to be the victim.
The same now you seem younger than a beautiful friend.
Look, you're going to laugh, but when I turned 60, all my friends had a facelift, and I considered doing it. But then I said to myself: they will not take me either for the roles of young or for those of old. I think it was better not to operate, because somehow, it was more real, I was maturing before the public and I didn't lose jobs.
Girl, woman and Mrs. Almodóvar from the original Pepi, Luci and Bom, actress Julieta Serrano (Barcelona, ​​87 years old) picked up the Goya in January for best supporting actress for 'Dolor y Gloria'. Before and after that "happy" accident, a lifetime dedicated to the tables.
In 'Pain and glory' is the mother of Almodóvar. How do you make mothers without having been?
I always thought I would have children, but I think it was a fantasy, because I have channeled all my energy into overcoming my shyness and insecurity. For me the theater was a therapy. Many times they thought she was a lesbian.
And it bothered him?
Berta Riaza and Alicia Hermida were like two little mothers to me. Berta is my neighbor, she lives upstairs, she is six years older than me. Since we were such friends, the theater people said we were bowling. It bothered me when I knew what it meant, because I didn't even know it.
And if it had been, what?
That's what I say, but I was ignorant. I knew there were ladybugs, and in the theater I had many gay friends. Precisely because the repressed, like Alicia, Berta and I, tended to get together with the ladybugs, which were also hidden.
What makes you laugh?
I have been a sad girl.
Also a sad woman?
Shy and repressed. Until I tied the blanket to my head.
That when was it?
Do you want me to tell you when I fucked?
Only if he wants to. I meant when the mental reflex was removed.
Oh no, I'm ashamed to say age. But late, too late. It was a struggle with myself. I envied my friends who were free and had the courage to go to bed. But I repressed myself for fear, for ignorance, for cowardice. Creatures today do not know what they will say.
Was sex a revelation?
It was a disaster, badly, secretly. But I said: we must continue, we must continue, because this is very good. It took me a long time to free myself sexually. I took the last car, but I didn't miss the train.
How do you see today's girls?
Fantastic. Before, this theater was immoral. The men had to dedicate themselves to having a home, and some children. The women, or you were getting married, or you were a nun, or a whore or an actress. And actress was a great outing.
An intermediate thing.
I was a little bitch, I had to start first. Seen today, I had a great life.
What is your happiest time?
From 40 to 50 years. When I started with professional theater, I was happy. He had got things he craved. I knew perfectly well in the drawing that she was a wonderful copyist. As an actress, I am very intuitive, I have not gone to any actor school. When Narros and the school started, everyone was 10 years younger than me.
Would you have liked to be born later?
Yes, those ten years, to have taken the train a little earlier.
What do you dream of waking up with?
With achieving serenity, peace, with having a relationship with the people you meet. And above all I dream that no disease of those terrible ones will obfuscate me.