Juanma Latorre: «Music is sometimes a lifeline for those who make it and listen to it»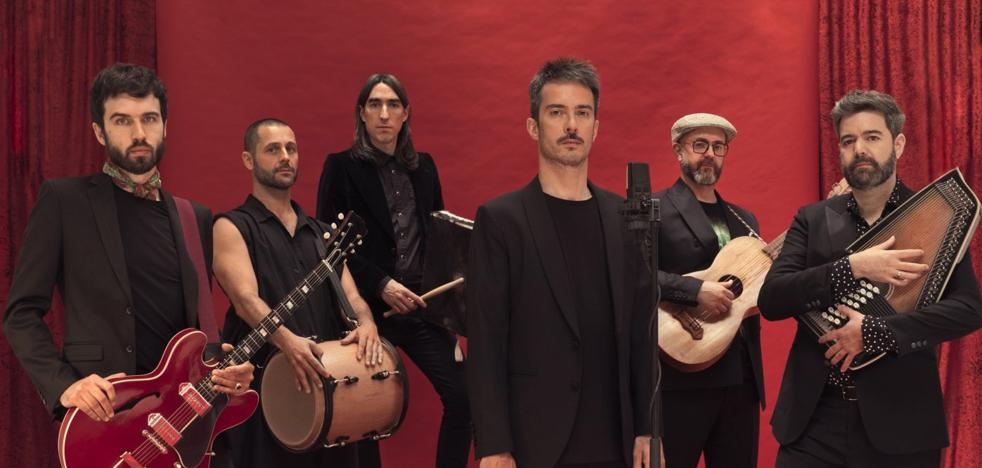 The Madrid band Vetusta Morla presents their album 'Cable a Tierra' live this Friday at Canarias Primavera Live, in Telde
Valuing tradition, roots and folklore from a contemporary perspective floats in each of the songs on the new album by the band from Madrid
Vetusta Morla, 'Cable to Earth' that this Friday they will present within the Canarias Primavera Live, a festival that takes place in the
Auditorium of the park of San Juan de Telde.
"Throughout the album floats an idea. It's a big, ugly word, but it's actually pretty and smaller than it looks:
transcendence, but without a spiritual or religious sense. It is about being aware that we are treading in the footsteps of the people who came before us and that we are leaving a path for those who come after us. This idea of ​​continuity, that we draw from the past and project ourselves into the future, is very important to us. It is understood in many ways, including the musical.
Who does not want to be significant for the listener? What's more beautiful than seeing your band's name written in a bathroom? We've felt it as a band and as fans. Songs like 'At the end of the escapade' reflect that idea of ​​transcendence reflected in the bands, in the roots, folklore and tradition", he explains
Juanma Latorre (guitar and keyboard), member of Vetusta Morla together with Pucho (Juan Pedro Martín, voice), David García 'el Indio' (drums), Jorge González (percussion), Álvaro B. Baglietto (bass) and Guillermo Galván (guitar).
A great success

'Cable a Tierra' has been a huge success since its launch at the end of last year.
The risk and novelty assumed by the Vetusta It has been very well understood by their followers who not only idolize them but also grow in number with each new listen.
«The album has not only worked very well, but we have perceived that there was a certain need among the public of this land, of that
anchor that the disc speaks of. I'm not only saying this because of the sales and the direct ones, but because there is a movement to recover the
folklore, roots and very powerful tradition. Contextualized in the 21st century, without a museum intention, which is also necessary, but with the idea of ​​relocating them and making them significant. Our way of living and understanding art had forgotten certain things that, in reality, we falsely think correspond to
certain musical genres and eras. The feeling of belonging, tribe, community, identity and transcendence are inherent to the human being", defends Latorre.
very intuitive

From an exploration
part of the local with a universal vocation, from the folklore of this and the other side of the Atlantic, the ten songs of 'Cable a Tierra' have been born. And without looking for it. "For us, almost always
everything comes naturally and intuitively. We never sit down to plan in the artistic part. It's happening. It is true that the common thread soon appeared on this album. That allowed us to adjust the rudder halfway through the process. I remember that moment perfectly.
It was when the first two songs on the album were born, 'Puñalada trapera' and 'La virgen de la humanity'in a single week", recalls the musician from his home in Madrid.
The creative process of this new album was also necessarily new. "We have made the
necessity virtue and not being able to see each other or get together, due to the pandemic, we have learned other technological tools that have allowed us to compose from a distance. That has allowed us to have
very nice finds», he underlines.
That teleworking was previously tested for the soundtrack of the feature film
'The daughter', by the filmmaker Manuel Martín Cuencawhich has 'La Reina de Trincheras' as its main theme and an experience that she recognizes was very enriching for the Vetusta Morla.
«We would like to continue working for the cinema, but we have to wait for the opportunity because we are very exquisite and we want the project. It has opened up a world of possibilities for us and working with Manuel Martín Cuenca was very simple. The work we did for
'The daughter' was absolutely key for 'Cable a Tierra'. It helped us gain skills and with the music of the film the idea of ​​the roots and the tradition of the album began to emerge, since the action of the film takes place in a natural setting and all that atmosphere had to be captured. Without 'La hija', surely 'Cable a Tierra' would not be the album that it has finally been».
He acknowledges that composing during confinement was complex, because everything was collapsing around him.
We all experience that feeling in one way or another. because we felt that the world was ending or at least our way of living. But music is sometimes a lifeline, not only to create a beautiful piece of art.
It is both for those who make it and for those who listen to it. It happened to us, although it is true that at the initial moment the shock was so great that it was impossible to sit down and create. It took a bit of time to do it, but once we got some perspective, the music helped us
overcome the bad drink», confesses Juanma Latorre.
Very powerful direct

Vetusta Morla's concerts are not typical experiences. They could even be defined as immersive experiences. Juanma Latorre recognizes the importance of this section in the band he is part of. «The live show of 'Cable a Tierra' is something
certainly spectacular. We have a very experienced team in the performing arts and a set of screens has been created that is fully integrated with the music, which works in favor of the story. I think we have reached the highest degree of spectacularity. We also have a folklore group that accompanies us, although it does not go to the Canary Islands, because being a festival we have to adjust to that format.
For us, the direct is a ritual, it is to gather the tribe around a verbena to celebrate that we are well and alive", explains Latorre about an event in which they share a poster with Fuel Fandango, La Pegatina, Pedro Pastor and Monkey Faces.
the treble

That folk formation to which Latorre alludes has a very Canarian guest, the timple. «I have known him for many years, from a trip I made to
Lanzarote where I went to several concerts and discovered it. In our concerts he plays it
Charles Smith, that is from Palencia but that hits everything that is traditional instruments. He premieres one that a Canarian luthier made for him, it is a delicious instrument that, due to its tessitura, fits very well within rock and contemporary music bands, because there are not many who are capable of positioning themselves as he does, "he emphasizes.