Juanjo Oliva: "I'm not interested in designing a garment that you're going to wear twice" | Fortune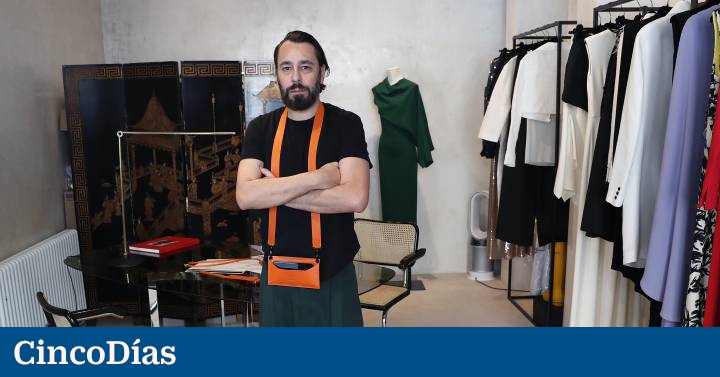 In a corner of the store, in the Madrid neighborhood of Las Salesas, between dresses and sketches, Juanjo Oliva (Madrid, 1971) hides a space to serve the sewing clients, finalize their creations and expose their ideas, although she confesses that to draw the collections, prefer the tranquility of your home at night.
The designer defends that fashion, like cities, housing and transport, has to adapt to the way of life of citizens. "In the forties they wore gloves a lot, not now, among other things, because we could not answer the phone," he illustrates. For this reason, he has made a collaboration with Samsung that he has just presented on the Mercedes-Benz Fashion Week: a series of accessories to carry the Galaxy S10 + and the Galaxy Watch Active watch. "There are things that we no longer do because we are always with the mobile in hand", Jokes while continuing to review his sketches.
Precisely, this constant evolution is one of the things that attracts you in this world. "Fashion is one of the disciplines that most evidences what a society is like", That is why he does not understand that there are still man-woman barriers or that certain colors are assigned with the baby's gender. "Fashion is always a choice, it should not impose on people what they have to wear. That we are not yet at that point is something that surpasses me, "he acknowledges. Although progress has been made in this regard, the designer insists that it is an issue that should progress much faster. "You do not have to take a step back or to gain momentum"
Also bet on a timeless wardrobe and collections that do not vary so much from one season to another. "A garment that you are going to put twice and then discard is something that does not interest me or design"He says. That is why it invites you to make more thoughtful purchases, and therefore, more sustainable ones. "I started in Zara, that's why I know what I'm talking about," he laughs. And although he believes that no one in the industry thought that it could accelerate so much, he seems concerned that technological progress is ahead of society. He also fears that the political situation affects consumption habits and remembers 2018 as his worst year, even harder than the last economic crisis, because They raised a 35% the rent of a space that was housing, workshop and office without any explanation. "There are many more people in this same situation, there are more expenses and salaries do not rise," criticizes the creative, who believes that the law of rent should be reviewed and control the bonds that are requested. "I'm with many more projects, but I have to be at the bottom of the canyon as I have never been before because if I do not have the feeling that it does not come," he says.
When it comes to work, he hates routines and believes that "a designer should not need anything more than his head to work" And his team, made up of eight people, to develop the projects. He prefers the pencil for the warmth of the paper, although he is discovering the world of tablets: "I am very messy and I am always losing the drawings, so they seem very practical". It also celebrates the good moment of Spanish creativity and the new generation of designers: "I believe in replacement, we can not always be the same". Behind him, 20 years with his brand and 30 fashion shows.
(tagsToTranslate) juanjo oliva no (t) interest (t) design (t) garment (t) go (t) put (t) two (t) time (t) carry (t) 20 (t) year (t) mark (t) finish (t) do (t) 30th (t) catwalk



Source link