Juana de Grandes: "José Antonio Labordeta was always an honest man and true to himself"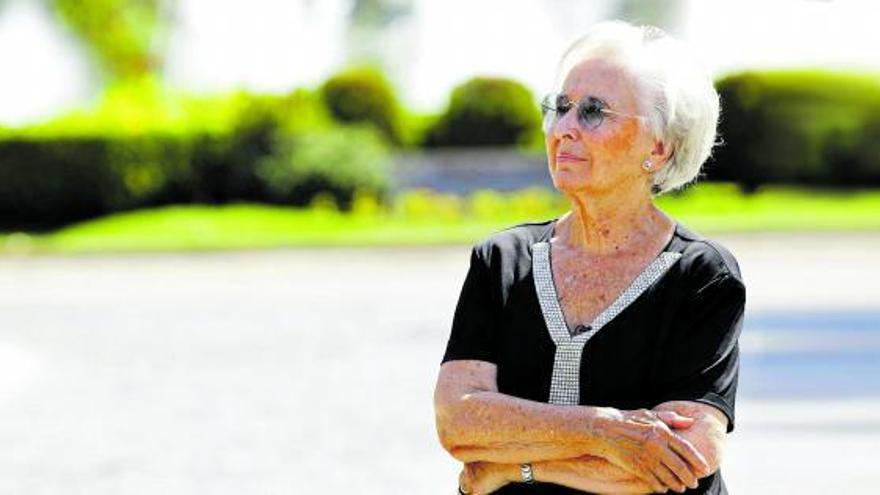 Ten years without José Antonio Labordeta. How do you remember those days of personal and collective mourning?
I remember those days as if they happened last week. Undoubtedly the pain subsides, but the moments remain. I continually remember the farewell of José Antonio with his soul friend, Eloy (Fernández Clemente), when they took him out of the house on the stretcher on the way to the hospital so that he would never return. How they waved goodbye, saying their final goodbye. The last three days at the Miguel Servet were downright tough. We knew it was the end, but I like to remember it calmly.
"From the taxi that took us home I began to hear the 'Canto a la libertad' from all sides. I thought he was going crazy, because his voice was coming out from all the streets and bars"
On those days, people went out to the streets and expressed their affection as has rarely been seen in Aragon.
He died at a quarter to one in the morning from Saturday to Sunday. After doing the necessary procedures, I returned home very affected. It was two in the morning and from the taxi that took us home I began to hear the 'Canto a la libertad' from all sides. I thought I was going crazy, because her voice was going out in all the streets and bars. I saw a lot of people because it was still a pleasant night in Zaragoza. I arrived at my house and in the inner courtyards I also heard their songs. I thought it was a dream of mine, but it wasn't. I felt very accompanied in pain. It is difficult to explain the feelings in the burning chapel, with so many lines of people and so many flower arrangements. I was stunned. But the last straw was when at night they told us that people were not leaving and asked the family if we would go out to thank us for so much affection. That cannot be explained, it must be lived. They were floods of people. (Juana gets excited).
How would you define Labordeta?
If I had to describe it, I would use his song You see. He defines him perfectly, he was just a man. I would like to be reminded that way. He was just a man, a weary wolf, a summer gone. For me he was not the popular man, I never felt that way until he died. For me he was my husband, my partner since I was 19 years old, the love of my life and the father of my daughters. A normal man that we never mythologize at home.
What remains of your legacy 10 years after your death?
This is how we continue to see it at home and this is how I would like it to continue, but I would like it to live on in later generations. He devoted himself fully to Aragon with great enthusiasm and spent a large part of his life for his land. He has also left precious poetry, unforgettable songs, he worked in politics, which was perhaps the hardest stage … José Antonio's legacy is beautiful. He was a deeply generous man to everyone.
Precisely, the foundation that you preside is in charge of preserving that legacy. Do you feel supported enough?
I am very grateful. Anything seems enough to me and almost everything seems excessive. They gave us a space to locate the foundation in which I feel good. They give us resources for all the publications and projects that we do. We administer very strictly until the last euro, and if we have to put in some money we put it out of our pocket. I can't speak ill of anyone. Yes, sometimes you leave some institution, especially private, a little low, because you see that they swim in abundance and sometimes they skimp on minimal amounts for culture. It hurts you, but I am grateful to everyone, and especially to the friends of the foundation.
Indeed, the friends of the foundation are an important part of it. Whoever wants can be done at www.fundacionjoseantoniolabordeta.org, right?
There aren't many, that's the truth. We thought at the beginning that many more people would support with their contributions, whatever they were. But those who are there are so real and so involved that I really appreciate it all.
"Every year we do a great concert in the park that this year cannot be done because under my responsibility nothing will be organized that could pose a risk to health"
In ten years, the foundation has organized many activities, and with Gaizka Urresti they are preparing a documentary whose filming has been interrupted by the pandemic but which is well advanced. Would you highlight any activity?
Every year we do a great concert in the park that this year cannot be done because under my responsibility nothing will be organized that could pose a risk to health. We also deliver awards annually that in the words of the actress María José Moreno is the most beautiful cultural event that is organized in Zaragoza throughout the year. There have been many presentations, congresses, publications of books and records, comics, workshops for children … The documentary is paralyzed by the pandemic but we are throwing out the rest. From what I have seen, it is a journey through the history of Spain and even Europe or the world. Because José Antonio was not only concerned about Aragon. I think the documentary is going to be very interesting.
Two cities marked him. How important are Zaragoza and Teruel in your work and life?
I have once said that Zaragoza was his faithful companion, the Pyrenees his girlfriend and Teruel his lover. He chose Teruel because he was director of the Eduardo Valdivia Institute, the Aragonese storyteller. He encouraged him to ask for that institute, because he really had options to go to the Seu d'Urgell, where he had done the military and liked it a lot. I am sure that if Valdivia did not appear I would have gone to La Seu and the story would have been different. Teruel marked him, without a doubt.
Do you think about how he would view current politics?
I think about it many times, but I don't know what he would think. I just know that he was always true to himself and honest. It never lurched. Not everyone can say the same. I do not go into whether or not he was right or wrong in his arguments, but he was absolutely faithful to what he thought.
He broke molds and pioneered a way of doing politics. Do you think it would have a place now?
If you go through the session diaries, they are all very similar in language. They are like lessons learned. José Antonio was the opposite. He spoke as if he were in the dining room of his house. There is an anecdote that I like to remember. Rubalcaba, whom I have loved very much, always told me the same thing: José Antonio was special. When we had meetings with a specific time, he would come in, say everything he had to say bluntly and we had half the time left to talk about other things. It was like that. He did not go around with nonsense or florilegios.
As he called himself, a Bedouin in Congress …
It is the Bedouin, without a doubt. I have written that I wonder why he chooses that town. If because of its love for the Monegros or because it is a people that loves poetry. Or maybe both. He had a hard time at that stage, although he also made great friends. Of course, it dried. In those eight years he did not write a line.
The Song of Freedom was proposed as the hymn of Aragon. What do you think that the initiative did not prosper?
I don't go into that. What I like is anonymity, going out into the street and getting lost in the city. José Antonio was not concerned either. If there is already a hymn, it would seem to me that removing it would make the people who composed it ugly. I am delighted when I see that people sing it and make it their own, like Ya ves or Somos, that first person plural that José Antonio liked to use so much.
One of his virtues is that he always connected with younger generations.
Yes, he was always very generous. He had a great time with them, I think because they were more fun than our generation.