Juan Sánchez Limiñana: "Not knowing who Carlos Gardel is is an attack on culture in general"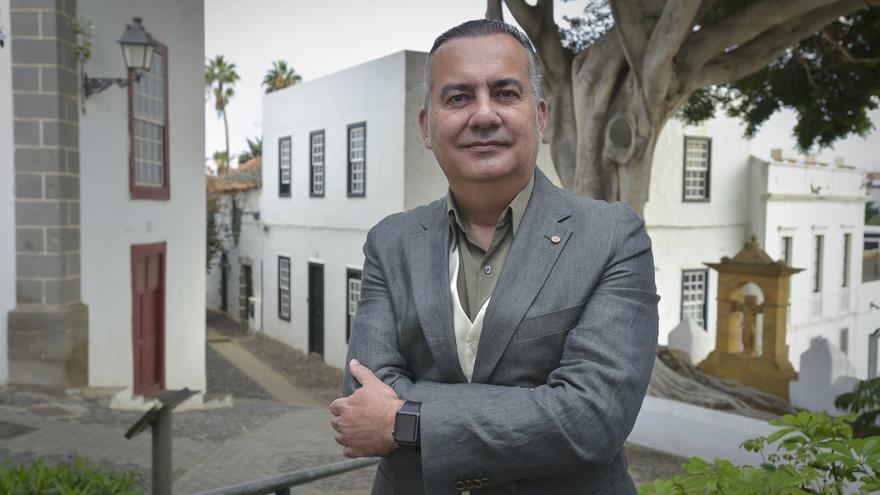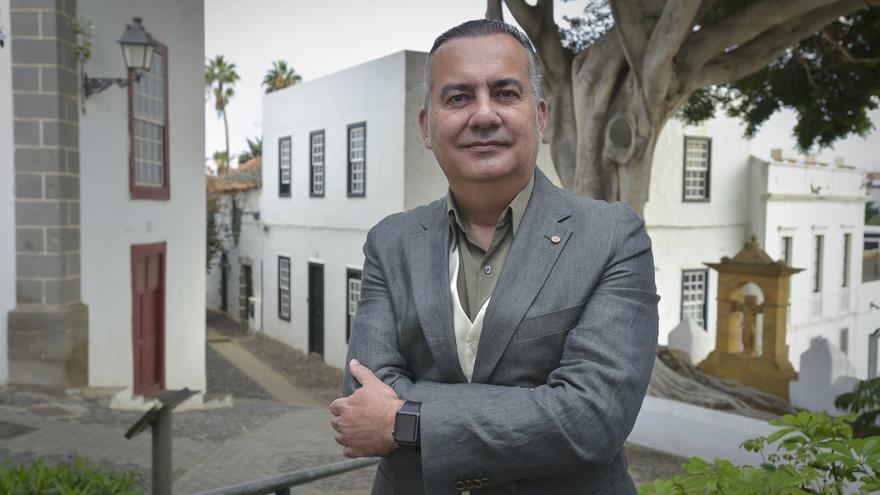 Juan Sánchez Limiñana, known as 'Juancho' (Las Palmas de Gran Canaria, 1967), is a criminal lawyer who discovered his passion at a very young age: music. To fulfill this dream, he first had to study for a career, that was the deal with his father. However, he fell in love with Law while he was studying it and now he presents his new single 'Volver', which is available on almost all music platforms.
How was your passion for music and tango born?
I grew up with South American music because when I was little my father sang tangos. He, although he was an aviator, had several opportunities with record companies to dedicate himself to being a singer, but of course, his passion was flying and in fact he dedicated himself to that, in August 2021 he died. He sang very well. When I was little I played the Walkman with the cassettes and I always went with one of Carlos Gardel until I was a teenager and it broke. I only had two, one by Elvis Presley and another by Gardel, for me there was no other music. I have loved tango since I was a child.
And why study law and not music?
When I was growing up they deceived me because my parents told me that they thought it was fine for me to dedicate myself to music but that I had to study a degree first and that's why I did law. And I made a big mistake: I was awarded the Extraordinary End of Degree Award. And, being number one in my promotion, Bacardi rum gave me a prize of 100,000 pesetas and I didn't even go to pick it up.
Why?
Because I went to Barcelona and started working in gambling dens, I was already happy, I said I had done my job. My father almost killed me, and I told him that this was the deal and now to sing. I was there for about four weeks, time passed quickly. There was a rum store owned by some friends -which still exists- and I brought them a box of rums from here, which at that time was not easy to get, because my father was commander of Iberia and I didn't pay a ticket. I left them there because it was an exotic drink and I spent it in that place, it was my office, I used to sing there. It was a paradise. People came looking for us to go bowling, places where these bohemians were open until six in the morning and I did a few first steps there.
So how did you end up with an office in Telde?
My father brought me and I got into an important criminal law office here and to date he dedicated me to this because the profession hooked me, but I never left music.
And how did you jump into tango?
The vicissitudes of life make me meet Arístides Fernández Tite, a well-known Uruguayan guitarist who is highly specialized in tango. It was he who told me «you have a good voice for tango, why don't you join me and we practice, we do things». So I spent five years with martial discipline two hours a day, three times a week studying. He taught me everything he could, history, performers, authors, interpretation and even some basic guitar chords. From there came a record called Tango jondo without the support of a record company and I started to play gigs.
And then?
A second album came called Bad luck, which I presented at El Corte Inglés, which was a success because the top floor was full and I said: «what are so many people doing here». Then I began to sing with a guitar and we sold the entire very modest print run, I think 500 copies, and that was because it was a friend who did me the favor of getting us into El Corte Inglés. Then I left music for a while because tango wasn't very commercial and there wasn't much outlet.
How does it come back?
I was once in the City Hall of San Bartolomé de Tirajana doing some negotiations for a group of workers and someone told me: "Aren't you the lawyer who sings tango?" And I told her "no", but she insisted and she told me that she had attended my presentation at El Corte Inglés. Well, before leaving the Consistory they call me and tell me that I have to do a performance, they didn't let me say no. I had no idea what to do and I remembered that a year before when I was auditing an American company, the person in charge told me: look, and how do you handle music? Well, it turned out that he was very fond of tango and understood it, he talked to me about authors and told me that he couldn't give up music. Then he gave me the number he told me he was the best musician in the Canary Islands, I kept it in my file and didn't call him. Well, when they told me about the City Council I remembered him and asked him if he could appear with me, it turns out that it was the pianist Alexis Canciano. I told him that he wasn't a professional, that he hadn't sung for a long time, that it was a commitment and that a company gave me his phone number. He told me that he was in Munich, Germany, and he couldn't come but that he should explain to him what music he was making to find someone for me and I told him that I was tango. After this he asked me if I was the lawyer who sang tango, I said yes and he replied that he would do the concert for me, he asked me the dates and told me that he would arrive a week before for the last one they had given me to choose from.
And what happened?
He arrived with violinist Ismel Leal and bassist Carlos Meneses. In one day we prepared 20 songs, they were very good musicians. I told them that it was not guaranteed that they would come to see us but that I would pay them and when we arrived at the Maspalomas Cultural Center and there were a lot of people, I had a blast. So much so that I recorded a video with them on YouTube with 80,000 views. Along the way I met David Navarro who runs DN7 Music events and he told me he wanted to do a project with me, at first I dedicated myself to helping him bring out boys from the Canary Islands like Juanfran with his reggaeton, as well as others. Well, at one point, David tells me that bachata hits and that it can be done with tango, that he could cover it. So we entrusted it to DJ Glass, with whom we understood each other very well, especially the fact that tango was not denatured but that he gave it a base with a digital audience that tango does not have. And so comes Back.
So, is Gardel your favorite singer?
The 'Polish' Goyeneche, it seems to me that he is one of the artists worldwide who has known how to manifest the best expression. Nobody has his phrasing, neither in tango nor in any other genre. He was a person who conquered by speaking and that is what I like about tango, that it allows you to interpret freely and with great purity. There are people who do very well in this genre, what happens is that it is not very salable digitally.
Do you think then that tango is not valued by young people?
You have to reinvent yourself and look for something with which to rescue tango for all audiences. You ask a young man under 25 years old about Carlos Gardel and he doesn't even know who he is. And I think that not knowing is an attack on culture in general. In fact, once I asked a nephew if he knew who Julio Iglesias was and he told me that the father of Enrique Iglesias, when he has been a reference. No one has sold more tango records than him, despite not being of that genre. He has always offended me that a person from our country, who has come so far, is criticized so much and little less, that he has been left aside as if he were not a singer of great virtues.
And with bachata do you seek to reach more young audiences?
I am convinced of it, in fact, and in addition, the not so young public is preserved.
Is it difficult to emerge in the Canary Islands as a singer?
It is complicated because there are not many venues, the theaters are very fair. And finding a way out is more difficult, although social policies in recent years are positive, such as the grants and projects of the Cabildo de Canarias that give young people to make themselves known.
Do you have other themes?
I have one called Night Hours. And there are two more songs that we will release soon, then we will see.
Any concert this year?
Surely something comes out of the hand of the DN7 Music label with which I am working. Things will come up for sure. The problem now is Covid-19, which seems unbelievable that there are still many people who have not been vaccinated.