Juan José Hidalgo: the penultimate flight of the falcon | Economy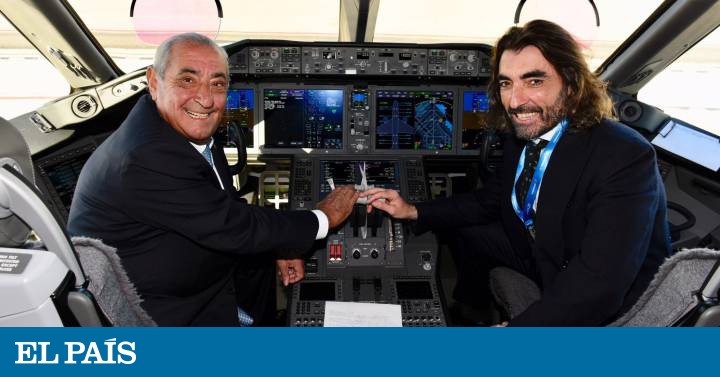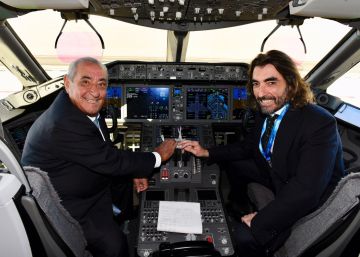 Juan José Hidalgo Acera He is one of the few remaining businessmen of what are called facts themselves. He was the eldest brother of nine from a family in Villanueva del Conde (Salamanca), where he was born in 1941. Tired of selling rabbit skins or helping his father in the establishment he owned, at age 19 he decided to leave town with a suitcase of those of cardboard and with the hair cut to the zero ("I wanted to leave there even the lice") in search of another life.
He arrived in Zurich, where he became successively cowboy, pawn mason and painter. In the first years he sent all the money he earned to his mother for the support of the large family, until in a piece he earned enough money to buy a Mercedes with which he began to transport emigrants between Switzerland and Spain and trace what would be his Business success adventure. Del Mercedes went to the bus (in whose hallway he slept); and from the bus to charter charter flights with Aviaco. Remember that Christmas made 88 bus transfers and another signed 40 flights in three days.
It was then the last sixties and the business, already quite buoyant, ended the first oil crisis in 1973. But with the funds saved and an irrefutable entrepreneurial spirit, he bought the Antillana company, in what would be his first contact with The Dominican Republic Then he set up Oasis (the same one that, once sold, would be involved in the murky businesses of Mario Conde).
His passion for commercial aviation was consolidated with the acquisition of Air Europe in 1991 to a British group with which he had committed 500 million pesetas to charter two planes ("if he didn't buy it he would have lost them"). And he had the fortune (for some vision) that the celebration of Expo 92 in Seville and the liberalization of European airspace, which ended the monopoly of flag companies (in the Spanish case, Iberia), became a catapult to launch the company to compete with the big ones. In parallel, he created Viajes Halcón, the agency with which he served his fleet and which also became one of the most active (the character Curro who appeared in his publicity that had to be searched in the Caribbean was famous).
The group, which he called Globalia, it shot itself. So much growth he won intimate enemies to which he does not stop throwing flowers as soon as he gets rope, especially the Alsa bus company and the Marsans group, whose owners, Gerardo Díaz Ferrán and Gonzalo Pascual, used their relationship with power to put impediments But Pepe Planes, as he began to be known between affectionate and derogatory (depending on who used the nickname), he knew how to wait and face the bad times, such as having declared in the National Court for alleged irregularities in discounts to Balearic and Canary residents .
He has also had disaffection in his family, due to the clashes between his children (María José, Cristina and Javier), habitual in acts of the pink press and whose mother (Eloísa Gutiérrez, whom he met in Switzerland) separated in 2013. The following year he suffered a heart attack, from which he recovered and does not prevent him from continuing to play golf, his great passion together with cards and betting.
While his group was growing, Hidalgo got into the world of football, which he knew nothing about, as he has acknowledged. He took over the Sports Union Salamanca, which served his buses, with the intention of removing it from the hole; but he ended up being president 14 years. He wouldn't know football, but he soon learned to handle the threads with cheap signings and expensive sales. It was the time of players like Catagna, Pauleta, Brito, Giovanella, Makukula … The involvement with their land has reported a place in their town and a street in Salamanca.
He has not stopped traveling to Santo Domingo, where he already has six hotel complexes (BeLive brand). Spend there between three and four months a year. His attachment to the Caribbean land, where he is worshiped and known as "Don Pepe," has reached such a point that he adopted dual citizenship and was appointed honorary consul.
With 78 years and being the main fortune of Castilla y León (270 million, according to Forbes, which will now multiply) can be withdrawn peacefully. But he says he will not be missing things to entertain. Take note in Renfe, because he is keenly aware of rail liberalization.
A whole character, which is reflected in the documentary The hawk's flight.
. (tagsToTranslate) juan josé hidalgo (t) penultimate (t) flight (t) falcon (t) entrepreneur (t) start (t) business (t) transfer (t) emigrant (t) bus (t) be (t) big (t) fortune (t) spain



Source link