Juan Hernández regains his shine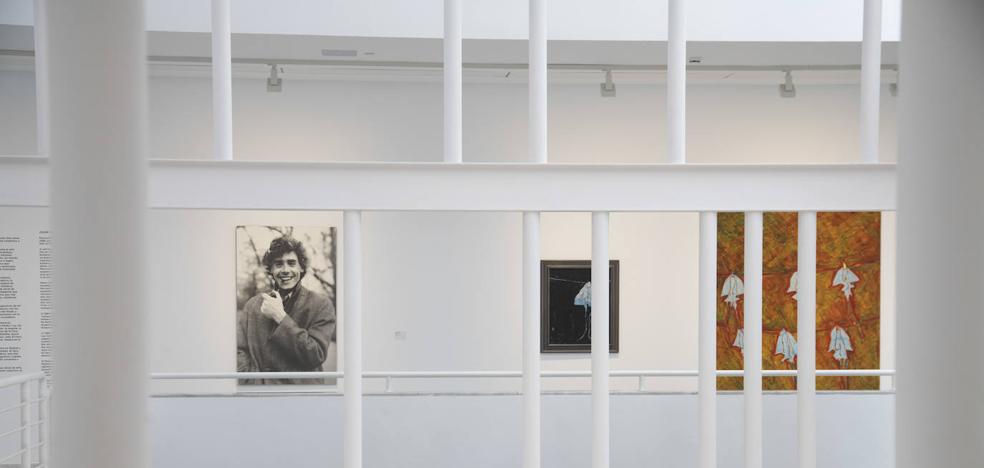 A retrospective with more than 70 pieces shows the pictorial universe of the artist from Gran Canaria who died, at the age of 32, in an accident in 1988
A traffic accident on Paseo de Chil ended the life of
John Hernandez in 1988, when this artist from Gran Canaria
he was 32 years old and he was developing a prolific pictorial career with his own voice that glimpsed a bright future. The public spotlight has been restored after many years of silence for his rich creative world, initially in black and white and then very colorful, thanks to a retrospective with more than
70 pieces that from this Wednesday and until
next september 18 can be seen in the
Atlantic Center of Modern Art (CAAM).
The exhibition 'Juan Hernández' is based, in addition to the work of this self-taught artist considered one of the most brilliant exponents of the generation of the seventies in the Canary Islands, on the work of the
curator Carlos Diaz-Bertranain the installation that signs
Miguel G. Moralesand in the involvement of the artist and great friend of Hernández,
paco rossiqueand the writer
Juan Carlos of Sancho.
"Despite his regret, Juan Hernández embodied the image of a romantic artist with a tragic destiny," Díaz-Bertrana explained.
a recovery exercise

The curator stressed that this project has tried to "rescue the lost memory of all the work of one of the best-known artists of his generation, together with
Fernando Alamo, Juan José Gil and Gonzalo Gonzálezamong others".
Juan Hernández was the youngest and his break into the world of art was "brutal", with a
Informalist type series in black and whitewhich is now exhibited in part at the CAAM, just as it is repeated in the rest of the series and stages of this ill-fated creator.
CAAM rooms with paintings by Juan Hernández. /

arcadio suarez

After a trip to Paris, when he was in Madrid, the islander Juan Hernández receives
"a splash of color" that remained forever in his paintings, as Carlos Díaz Bertrana emphasized.
«It is a neo-impressionist trend, with the
Seurat's oblique brushstroke and also very interested in
Matisse's explosion of color it totally changes its initial line", he assured.
Evolution

The restless spirit of the person who starred in his first solo show at the Casa de Colón with the series 'Vegetal' in 1976 is gradually reflected
«in a debate between figuration and abstraction, where it stays in an intermediate term»with a series of accompanying objects such as a lamp, a chair, a table, a coffee pot or a lemon, as can be seen in this CAAM retrospective and with which he seeks his
own "poetic"as the artist himself recognized.
What he saw influenced him, Díaz Bertrana recalled, and when he went to Madrid "the yellow disappears because there was no beach there." His creations become "more melancholic and gloomy", he comes into contact with different creative movements in which he integrates naturally, and launches "towards a revision of the history of art, specifically of the 16th and 17th centuries".
At that moment, he fixes his gaze on «two classic themes, such as
still life and allegory», the first especially from Zurbarán and the second inspired by Tiziano.
Painting by Juan Hernández, present in the exhibition. /

arcadio suarez

In his last two years of life, back to his native island, he develops from a series of pictorial research starring the
Maspalomas Lighthousewhich was exhibited in the knocked down
Insular Center of Culture (CIC)which had a text by Manuel Padorno and included more than fifty pieces.
"We also include his latest series, the sea," the commissioner said on Wednesday.
reopening of CAAM

The exhibitions by Juan Hérnadez and Myriam Mihindou star in the reopening of the main headquarters of the CAAM, after a closure of eight months due to works to change all its
electrical and lighting system. Remains pending
still updating the two glazed structures of its roofwhich will be undertaken in the summer of 2023, Orlando Britto, director of the CAAM, advanced yesterday.
The Myriam Mihindou exhibition, whose pieces come mostly from the Maïa Muller Gallery in Paris and from private collectors, has had a budget of
€108,500. The cost of 'Juan Hernández' amounted to
€77,900. It will have a
seminar, july 14in which Samir Delgado, Carlos Díaz-Bertrana, Marcos Hernández, Juan Carlos de Sancho and Paco Rossique will take part.