Juan Grande unleashes himself and thrashes at the start of the phase for permanence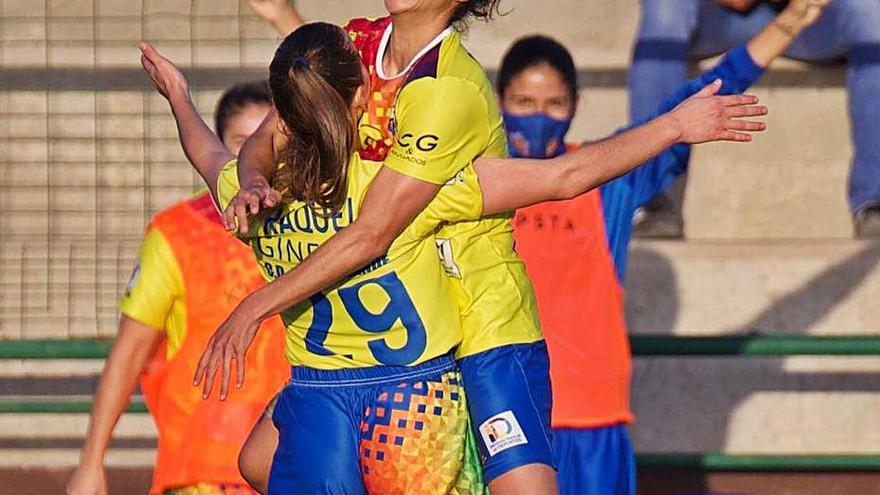 The Ginelux Juan Grande starts the second phase of the Iberdrola Challenge on the right foot. María Pontejo's team won three vital points for the permanence in the visit of Juventud Almassora to the San Bartolomé de Tirajana site (3-0). It is the third consecutive victory for the yellows since the arrival of Pontejo.
The Gran Canaria went to rest with a two-goal advantage, thanks to the performance of Raquel Quintana and Mar Rubio. After the break, Cora established the sentence on a day in which the win could be greater.
Shortly after the start of the contest, Juan Grande went ahead on the scoreboard with a powerful shot by Raquel Quintana, from outside the area, which slipped into the Castellón goal. Almassora was betting on exerting high pressure, but María Pontejo's squad felt comfortable on the San Bartolomé de Tirajana enclosure, and was able to extend the distance with a header from Mar Rubio, which crashed on the crossbar. After half an hour, the Gran Canaria returned to caress the 2-0, with a header from Aitana, at the exit of a corner thrown by Alba Quintana, repelled, again, by the wood.
Cristina Recalde deactivated Almassara and immediately afterwards, Mar Rubio widened the distance for the Gran Canaria with a shot, from the front, that landed on the goal of Fatima. After the break, Cora headed the net for a direct free hit by Morán. Juan Grande had everything under control and even fell a little short on the scoreboard.
Femarguín SPAR's turn
For its part, Femarguín SPAR Gran Canaria visits Córdoba Femenino in their fiefdom with the mission of getting the maximum possible points (9.00 am). "The team is growing individually and collectively, it shows and we are improving even if the victory resists us. We are clear that there are eight goals ahead where we have to go for the three points, "said Kim Xina.
Data sheet
Ginelux Juan Grande 3 – Joventut Almassora 0
Ginelux Juan Grande: Recalde; Carla (Mariola, 85 '), Cora, Aitana, Daysi, Morán (Acuña, 62'), Eliane, Raquel Quintana (Gisele de Win, 85 '), Fanny Godoy (Monique Fischer, 76'), Alba Quintana and Mar Rubio (Cristina Perdomo, 62 ').
Joventut Almassora: Fatima; Luzme, María, Yannel (Sheila, 68 '), Alba, Paula (Akari, 68') Iris, Anna, Msipa (Yana, 57 '), Wanda (Agueda, 53') and Anabe (Aida, 57 ').
Goals: 1-0.- (5 '): Raquel Quintana; 2-0 .- (43 '): Mar Rubio. 3-0: (55 ') Cora.
Referee: I took Alonso. He admonished Morán and Carla; and to Wanda and Yannel.
Incidents: Campo de Juan Grande before about 130 spectators.