Juan Grande beat Lleida and remain undefeated (2-0)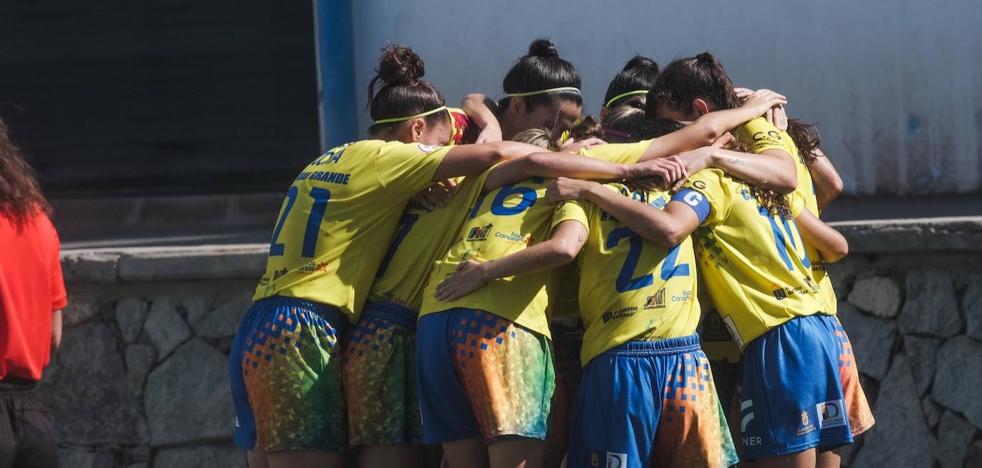 First Federation
The team from Gran Canaria celebrated their first league victory this Sunday with goals from Mar Rubio and Yanira Morán
The Ginelux CD Juan Grande Feminino beat SE AEM de Lleida this Sunday (2-0)on the second day of the First Women's Football Federation, and continues undefeated and unbeaten at this start of the season in the second national women's category.
The Gran Canaria team, who equalized goalless in Eibar on matchday one and then eliminated CD Femarguín from the Copa de la Reina (0-1),
celebrated its first league win with goals from Mar Rubio and Yanira Morán, the second from a penaltyboth in the first half of the clash played in Castillo del Romeral.
The visiting team started the match better, and also had a clear chance at Astrid's boots, in the 12th minute,
that the Paraguayan goalkeeper Cristina Recalde rejected.
The Catalan team forgave in that actionbut Juan Grande did not, in the 15th minute, when captain Mar Rubio took advantage of a short clearance by goalkeeper Laura Fernández, shot by Yanira Morán from outside the area, to put her team ahead on the scoreboard .
Before half an hour of play, in the 28th minute, a left-footed shot by Ana Lizarraga inside the area was intercepted with her right arm by visiting captain Nadia,
a clear penalty that Yanira Morán was responsible for transforming into the second goal for the yellowswith a powerful right hand to the top corner, just before the necessary hydration break on a very hot day.
In the second part,
the Catalan team had their best chance in the 59th minute when Irisat an empty goal, sent the ball to the post.
SE AEM further reduced their chances of getting into the game when they were sent off in the 73rd minute
his right back Cristina Muñoz seeing the second yellow card.
Juan Grande maintained its comfortable advantage until the end to score the first victory of the championship and look at the top of the classification, with four points added out of a possible six.
DATA SHEET:
Ginelux Big Juan Feminine: Recalde, Alba S, Cora (Fanny min. 87'), Nuria, Daysy, Morán, Eli (Kia 73'), Anna (Raquel min. 73'), Alba Q.(Arisleyda min. 87'), Mar Rubio, Irina (Valeria min. 65').
AEM SE Lleida: Laura M., Cristina, Nadia (Iris min. 46'), Astrid (Patricia min. 68'), A. Gómez, Yiyi (Lara min. 78'), Jeni L., Astudillo, Tamara (Minori min. 46' ), Anita (April min. 68'), Laura.
Goals: 1 - 0 Mar Rubio (min. 15'), 2 - 0 Morán (min. 29').
Referee: Melissa Lopez
Incidents: match corresponding to the second day of the 1st RFEF League played at the El Castillo Municipal Stadium with a capacity of 200 people.