Juan del Castillo Westerling, Europeanist and first island cartoonist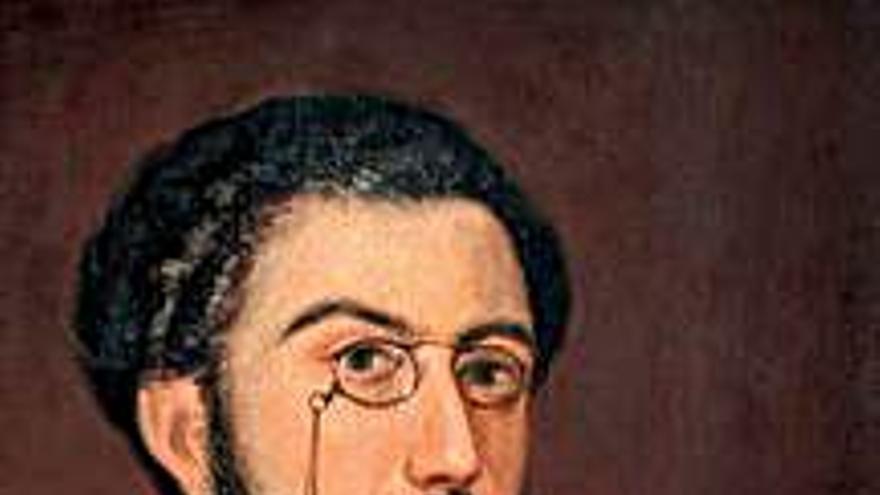 The artist was a privileged observer of the convulsive society of the XIX
Allen explains that "this book, which I began to co-write with Iván del Castillo, a direct descendant of Juan del Castillo Westerling, is a first biography of a 19th-century Canarian illustrated and painter, of a progressive man. He recounts his life from the beginning of his education in Las Palmas de Gran Canaria in the 1840s. Then he recounted his experience as a student in Cádiz. As for his training, what stands out the most was his time at the San Carlos School of Fine Arts, where he became, being a disciple of Federico de Madrazo, a painter who, if he wanted, could have been a professional ".
However, he did not live on painting. He would take portraits. He painted his entire family and, to a lesser extent, devoted himself to landscapes. "He will like to paint roofs, roofs on buildings," says Allen. The most important thing for the History of Art in the Canary Islands is that "he became the first cartoonist and representative of satirical watercolor in our entire tradition. During his time in Madrid, in the 1950s, he thoroughly studied all his social types, the characters. And he began to take portraits that, in some cases represent pure caricatures and, in others, men, especially, but also some women, from a very specific time. Through watercolor he does what Galdós would later do in his National Episodes, although he limits it to a specific decade. He was a privileged Canarian observer of the convulsive society of the 19th century ". The aesthetics of his painting went back to the early days of the Spanish romantic school, with purist lines, "not so his caricatures, which are realistic and more direct art."
The book that was presented yesterday is intended to bring together the catalog of the work exhibited at the Casa de Colón and to be an introductory biography to the life of Juan del Castillo. "In this sense", the author of the volume remarks, "it should be noted that he was also a deputy, a politician from the moderate party, the one from the more conservative Bourbon restoration. And in that order of things, it should be mentioned that he worked for Sagasta in the Canary Islands. On the other hand, he also turned out to be an eminent scholar of botany. He wrote with important botanists, such as Linden in Belgium, and exchanged information on Canarian endemisms with European colleagues. He became close friends with the directors of the incipient Botanical Garden of Puerto de la Cruz. In addition, he had next to his house in Vegueta a garden with a greenhouse that had an extraordinary collection of orchids that people could visit ".
He also collected art. "He made a series of very important purchases, such as Flemish paintings and works by Italian authors from the 17th century. He befriended Canova's disciple, Rinaldo Rinaldi and, in this way, he succeeded in having the busts of his parents and a brother sculpted in marble ". He also collected manuscripts that he bequeathed, to a large extent, to the Canarian Museum. "We are talking about an enlightened Canarian friend of the Millares Torres brothers, open-minded, knowledgeable about the Spanish 19th century and its limitations and political upheavals and very well connected in Madrid society by his relatives and by his ability to make friends. She met the family of the Empress Eugenia de Montijo because she went to the social gatherings organized by her mother ".
The book-catalog is intended to highlight the work of Juan del Castillo that is in private collections and is unknown to the general public. "His facets as a painter, portraitist, watercolorist and cartoonist stand out. He was dedicated to this art when he had free time, but could not in times of much political activity. I think that he saw himself as a person with ideas to improve his society and act in it through European programs in a Canary Islands, still, in 1850, very backward in relation to the history of the continent and its dynamics ". He was a versatile man. "In addition to botany, he was very interested in agriculture, the improvement of cultivation techniques in relation to the large lands that his family had."
In the 2019 exhibition, unpublished paintings were presented, "basically of his relatives, created in oil: the fourth count, Agustín del Castillo and his wife, Ana Westerling Massieu, his brothers and a cousin, as well as a couple of self-portraits, but also there are other people, known or not, who emerge in his cartoons and who are more important than the works to his family ". "During his training period as a painter at the Madrid Academy of Fine Arts, he was a prolific copyist of the Prado. Copying was part of artistic learning at the time. So he did it using Murillo and Luis de Morales. These paintings have also remained in the private collection, as well as landscapes with biblical references. It was very typical of the XIX century that the works were kept in the houses and that little production was derived to museums ". "With my book I intend to make known a character with relevance in his contemporary world who, if not, would have been lost forever so that one more link in the history of his time in the Canary Islands would be missing, which has been rewritten upwards for 50 years" .
In the monograph there is a considerable part of his work, not all "because there is still another in collections that could not be used for the 2019 exhibition, but his main oil portraits and the photography of all the covers painted in the decade do appear. of the 50 of the residence of the counts of the Vega Grande de Guadalupe, as well as all the known cartoons. The pictorial catalog of the work is quite extensive, but no book is seen as definitive because other curiosities by Juan del Castillo have been appearing. After the pictorial monographs, it is necessary to elaborate the reasoned works, but in the first ones you can already appreciate the register, the style as a painter, perfectly well ".
Westerling traveled a lot in Europe, both in Italy, London or France "however, I think his references were some Spanish romantics, although he hadn't said anything about it. In this sense, I would highlight the somewhat neoclassical realist school of Madrazo father and son, on the one hand, and on the other, the painting of the Nazarenes, who were the German romantics who lived in Rome. Undoubtedly, there are also references to the French and English school of all the Italian painting of 1700 and, probably, a sculptor like Bellini or Canova himself are also in the background of his inspiration ", points out Allen.
"With art he found himself. It was something he did with pleasure and pleasure, however, with demands because he was a very meticulous man who detailed all his paintings very well, dated them and, if he had to change a canvas, he would say so. Art was the moment of its authenticity, as for everyone who practices it. Without neglecting other responsibilities, I think it was the best moment of his intimate life ".
These responsibilities included the policy to which he dedicated himself from the 1960s to the 1980s, where he covered various positions. "But later he leaves her radically because he is disappointed." "He was also the administrator of family assets. Although he was not the older brother but the second, he was in charge of correctly managing multiple possessions. In addition, as I already mentioned, he was professionally dedicated to agriculture and his passion for botany. Between his greenhouse and his painter's workshop I consider him a very authentic person, someone always very busy ".