"Joy is a form of resistance", says Luis García Montero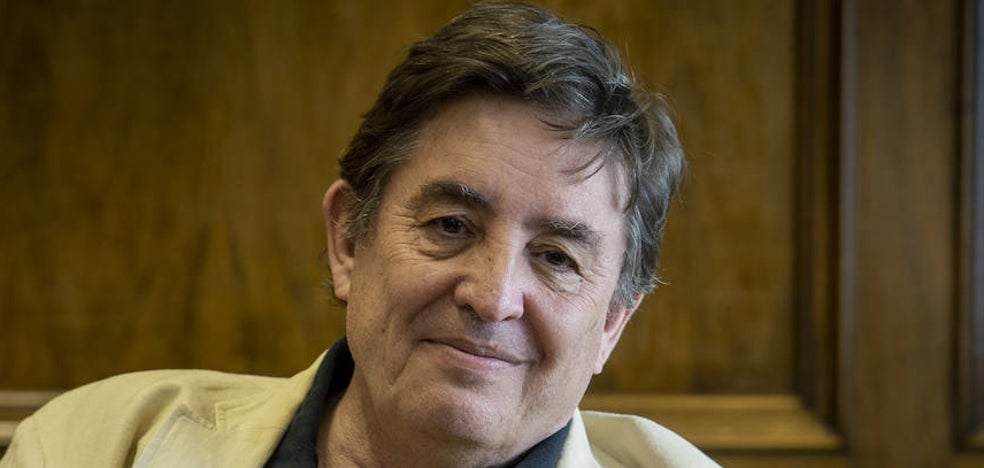 "We must challenge the gods and dogmas, like Prometheus," says the poet-writer, who dedicates a book to the titan who stole fire from Olympus / "You have to make an effort to understand the other, the opposite and the enemy, placing yourself in their place, as Antonio Machado requested
Almudena Grandes (1960-2021) liked to talk about joy more than happiness. It was a fetish word for the writer, which led to the title of one of her novels, 'Inés y la alegría'. For her widower, Luis García Montero (Granada, 62 years old), it is too. "Joy is a form of resistance," says the poet, writer and director of the Cervantes Institute hours after Grandes was named Madrid's Favorite Daughter in an emotional act at the Spanish Theater. He presents 'Prometheus' (Alfaguara), her new and miscellaneous book, a reflection on human and divine memory around the mythical hero who dared to challenge the gods and steal their fire to give it to humans and suffered the wrath of Zeus
"I have reasons for that joyous resistance, to seek in the affection of the people, in Almudena's work and literature, reasons to resist," explains García Montero. Her heart does not harbor the slightest animosity towards those who disdain the writer and her memory. And she demonstrated it on Monday in the tribute that neither the mayor of Madrid, José Luis Martínez-Almeida, nor the deputy mayor, Begoña Villacís, wanted to attend. The writer confirmed again the affection of his countrymen and readers towards his former wife and elegantly avoided entering the rag of laziness.
«I was surprised again by the affection and reaction of the people, which stopped any anger. Almudena had many readers and they always responded to her call", recalls the writer, who thanks her admirers "for applauding so hard and not showing an ounce of anger, or a bad manner, and defending joy".
The nomination as Favorite Daughter of her city is added to the accolades accumulated by Grandes in these months. Ciempozuelos will dedicate a street to the writer and there are already Almudena Grandes libraries in Alcorcón, Móstoles, Getafe, Leganés and Granada. But García Montero was especially moved when the name of the writer was added to the Atocha station. «The train was vital for us. When I lived in Granada and she in Madrid every weekend or she went down or I got on a train that brought us together », he says excitedly.
Balm

"Writing is the best balm against pain," concedes the poet and narrator to whom writing has helped him cope with sadness in a "bad streak" in which he also lost his father. «Writing is negotiating with oneself and with life. It allows you to recover its meaning and maintain hope », he observes. "The bad thing is that the pain anesthetizes you and paralyzes you," he says.
He believes that, as Prometheus did, "it is convenient that we challenge the gods and their sacred truths, the dogmas, to forge our own destiny." "If we stop telling each other stories around the fire, if we cancel our past, we also cancel our future," he says.
In a book that includes the dramatic version of Prometheus that he made for the Mérida festival, packed with reflections and poems, García Montero speaks «of the falsification of words such as freedom, which are poisoned from within and used as a synonym for the law of stronger".
"You have to make an effort to understand the other, the opposite and the enemy by putting yourself in their place," he says, quoting Antonio Machado, "who said that the important thing is to prevent my enemy from being right." "We have to think about what to do to prevent him from being right," he says. «Literature puts you in the place of the other, makes you understand others but without leaving them without a place», he concludes.
He also speaks of 'empathy', a neologism that poses a different defense of the homeland. «There are Spanish politicians who fill their mouths with the word homeland and then go out to Europe or approach North Africa and make statements that can be understood as true betrayals of the interests of Spain. There is a very petty vision of politics and, in the face of that, I like empathy.
The posthumous novel by Almudena Grandes, in November

'Everything is going to get better', the novel that Almudena Grandes wrote during the pandemic and that made her park the sixth installment of her ambitious 'Episodes of an endless war', will appear in November, one year after her death. "In a science fiction key, he talks about the risk that the confinement would lead to a dictatorial system," says his widower of the fiction that Grandes left practically finished. «She asked me to give it to Tusquets, and that is what I did. If she had come out earlier she would have been involved in some controversy, while with the distance she will generate attention for herself », says Luis García Montero.