Josu de Solaun: «My mother loved music and it is because of her that today I am a musician»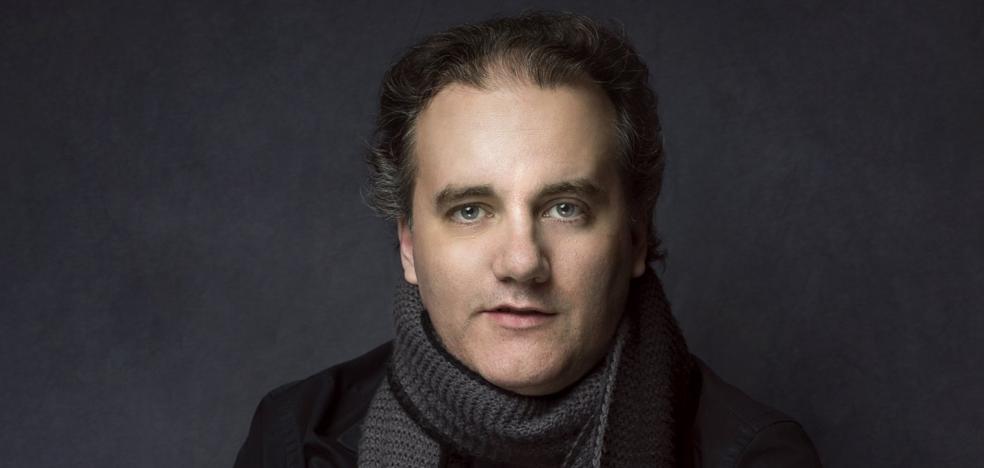 The pianist stars this Friday in the OFGC subscription concert, at the Alfredo Kraus Auditorium, together with the director Jean-Claude Casadesus
The pianist Josu de Solaun (Valencia, 1981) has become an international phenomenon, especially after winning the first prize in 2014 at the 13th George Enescu Competition, held in Bucharest. This Friday faces
Ravel's 'Concerto in G'starting at 8:00 p.m., in the Alfredo Kraus Auditorium, within the subscription season of the
Philharmonic Orchestra of Gran Canaria (OFGC).
Regarding the piece with which he premieres at the Las Canteras promenade, the instrumentalist points out that it is
«a piece of musical syncretism».
"It's like a real
mosaic or even a 'collage' of different fragments of musical culture: traditional Basque txistu music, Harlem jazz, Andalusian cante jondo, French can-can and a small tribute to Satie in the second half as well as a tribute to urban-Mediterranean hubbub in the last time", says the Hispanic-American artist who has lived in Spain since 2019.
When asked about the difficulties that this work may entail, Josu de Solaun is very clear. «
All music demands the most from a person. In the case of a teacher like this, even more so. It is a perfect score, without a single extra note, like everything Ravel wrote », he points out.
double premiere

He acknowledges that until this Friday he had not played with the French director
Jean-Claude Casadesus, which premiered last year at the head of the OFGC in another subscription concert. "It's a very beautiful event in my musical life," he points out about what will take place on the stage of the Alfredo Kraus Auditorium.
After his first rehearsals with the Gran Canaria formation, Josu de Solaun qualifies as
"a luxury and an honor" the fact of power
"make music with them". «I have known the trajectory of the orchestra and its excellent reputation since I was little. The rehearsals have been wonderful, full of concentration », he acknowledges.
When he was a child and music knocked on his door, he remembers that he opted for the piano "because of his
polyphonic ability and the wonderful repertoire written for this instrument.
Only one distant ancestor in his family was professionally linked to music, but De Solaun acknowledges that his mother's musical passion was key to his becoming an international performer.
"I am the only musician in my familyexcept for an ancestor who was a composer of liturgical music: Constantino Castellote Alcarria.
my mother loved music and it is because of her that today I am a musician, being what she always wanted to be and could not be because of her life circumstances, "he explains.
Characteristic

When facing his profession, this pianist is clear about the principles or virtues that cannot be lacking in his day-to-day life: «Devotion to music,
humility, vulnerability on stage and ability to deliver».
Regarding his referents, Josu de Solaun replies that he has «many!», despite what some pianists end up listing: «
Horowitz, Rachmaninoff and Cortot are my three great piano inspirations. But also Friedman, Hoffman, Moiseiwitsch, Lipatti, Lupu, Barenboim...». At four hands, he assures that he would like to play a piece with «Evgeni Bozhanov, Vadim Chaimovich, Olli Mustonen or Ivan Klansky, live pianists that I love».
Contemporary music attracts him and lists the
composers you are interested in: «José García Román, Oscar Colomina, Gustavo Díaz Jerez, Manuel Comesaña, Vicente Chuliá, Hermes Luaces, Alexis Soriano, Josep Lluis Galiana, Mateo Soto, Abraham Espinosa, Carlos Rojo, Pascual Gimeno and Christian Roca».
upcoming recordings

He advances that among his upcoming record projects are «the three
Liszt concertos (1, 2 and 'Totentanz' with the Moravian Philharmonic)».
Tonight's evening at the Alfredo Kraus is completed with the performance of two more pieces, under the baton of Casadesus. Its about
'Prelude to a Faun's Nap'by Debussy, and the symphonic poem
'The Cursed Hunter'in commemoration of the 200th anniversary of César Franck.