José Sánchez, of JSP, dies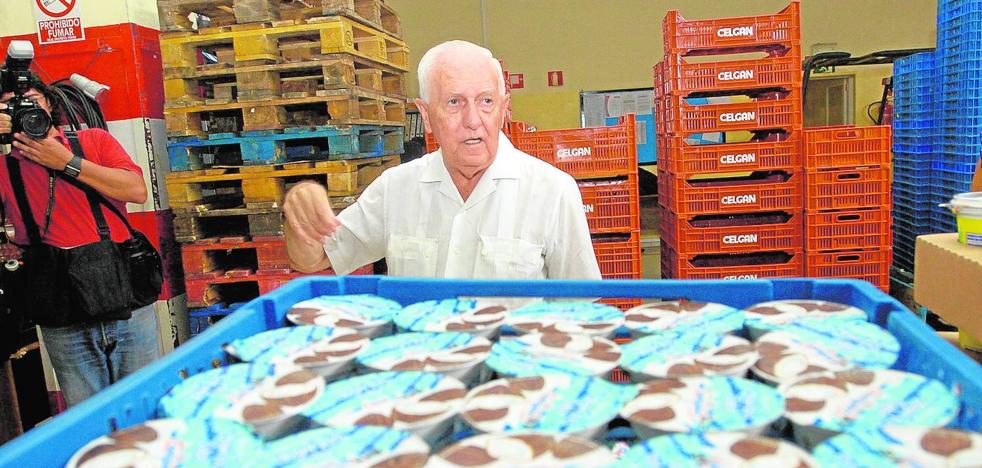 Made JSP an industrial benchmark
José Sánchez Rodríguez, a businessman from Gran Canaria, died this Thursday at the age of 84 after a long battle against illness.
At the time, it made JSP an industry benchmark.
the beginnings

The company, recalled José Sánchez, «was born in the offices of my father, José Sánchez Peñate, who worked in the Nestlé delegation in the province of Gran Canaria. Shortly after the civil war, he became independent and set up his own office as a commercial agent. He was a commercial expert and specialized in sales. He had commercial skills and opened a national representation office in his own house, rented precisely to Nestlé ».
This is how José Sánchez recounted the origin of the company in the book '20 success stories'.
hard work since young

"I don't have a career. My only career, very important, is the 40 years of worked history.
I studied high school and one year of industrial expertise. Then I went to work with my father. We had our differences of opinion, but there is no doubt that he was a very independent and very commercial man, and the clients appreciated him very much. With the stabilization plan and the beginning of relations with the European Economic Community with Ullastres, the Franco government allowed a quota for imports of food products and cars.
The firm José Sánchez Peñate (JSP) began to market powdered milk, Dutch cheese, condensed milk, foods that were hardly produced in Spain because the agri-food industry in the 1960s was still undeveloped. We created a foreign department, which I took care of while my father continued with the national one».
powdered milk

As for powdered milk, this is how the business recounted: «Initially, the powdered milk came from Holland, Belgium and Ireland. The one from Ireland had vegetable fat, which was very important to us. We bought the Belgian from a manufacturer called
Comelco and from there came the Comila brand. Health approved a law for food products to be packaged and we decided to set up the first packaging machine, in partnership with our clients and friends, the Molina company, which was represented by Spar and had a very simple German machine, whose brand name was Plasic Bli. We packaged each kilo of powdered milk, first in plastic bags and later in aluminum bags that were then distributed by donkey carts."
national expansion

In 1964, with the collaboration of his son Mr. José Sánchez Rodríguez and with the participation of the Molina family, José Sánchez Peñate
began in Gran Canaria the journey of JSP, SA. in the milk and milk products sector. In 1965,
JSP opened its first branch in Tenerife to later, little by little, spread to the rest of the Canary Islands and the peninsula.
Barcelona, ​​Seville and Madrid They were his first delegations. The packaging of powdered milk was followed by the installation of a coffee roaster in Tenerife at the end of the 1970s. «Later, the consumption of bottled liquid milk began and Tetra Pak, the cardboard container, arrived on the market. We are torn between two possibilities: bringing the packaged milk from Ireland,
that milk with vegetable fat brand Millac, very famous there, or blend the powdered milk. We opted for the second because it was more competitive and in the mid-1980s we set up a powdered milk blender factory. The problem was the water. We wanted to mount it in Gran Canaria but the island's water in those years caused many problems.
I went to Tenerife to study how breweries stored and used water».
yogurt business

Regarding yogurts, José Sánchez recalled that it was very difficult for them to get the factory off the ground: «We got it thanks to Dr. Javier del Barro and Rafael Plañiol, an executive director of Asesores Bursátiles whom Santiago Eguidazu authorized to take responsibility for this JSP project and its reorganization.
Activities on the peninsula were immediate and JSP opened a commercial gap in the vending and coffee sectors.
In Madrid he installed a coffee roastera packaging plant for vending products, automatic dispatch machines, and a frozen cake factory.
Landing in Madrid

«In 1975 we decided to settle in Getafe (Madrid), because it is the center of Spain and it is more comfortable to distribute. We also opened a delegation in Barcelona and Seville. In Getafe we ​​started renting and then we bought a small warehouse in the Los Angeles industrial estate, then two small Marcos warehouses, where we bought 20,000 meters for our current logistics platform. There we built a very important cake and pastry factory, a coffee roaster that we are modernizing now, and
We manage all vending operations, the supply of food to the automatic vending machines of the operators, who have them everywhere: in supermarkets, in industries, in offices... We supply coffee, instant milk, cocoa, lemon tea, etc.» . Like other companies, JSP made the leap into tourism: "I like it, if I can", confessed José Sánchez, "having majority partnerships because I have always been in favor of investing, growing and developing, and I cannot be aware of partners who They want to share the profit.
Today in companies you can not share the profit, you have to distribute very little because you have to specialize companies and you have to improve them. That is what our family has done, even at the cost of having to remake already corporate pacts and agreements, like the ones we had with the Molina family. The difference in criteria finally led us to control 89.5% of the company in order to maintain our desire to reinvest." He also invested in the bakery sector to produce pre-baked frozen bread.
humility and vision

In the aforementioned book, the interview ended in this way, almost prescient:
«When I die, my children can do what they want. I don't believe in family protocol. Do you remember that we had a ruler who had everything tied up and tied up nicely? When he died, everything was unleashed. Or is it not? I prefer to say that we have professionalized the company. My father and I did it when we had problems with some associates of the Molina family.
We have a good executive team, very short because we are very austere. In austerity is continuity and our company has no luxuries, the offices are simple. Most of the great Spanish businessmen, before and now, are simple and hard-working people. When I see an excessively dapper kid, I say to myself: "Bad!". I like people at work to take off their jackets and if you have to help a worker in the warehouse, help them. I do not like the arrogant and proud. In the company there have to be simple people who get together with the workers, who eat with them. In our company there is no private dining room,
everyone has to eat in the public dining room. Why would someone have to eat in a private dining room? If you want to eat, do it here like everyone else, take your tray and pay your four euros for food. Some of my children are in the company and, like me, they work happily, they have their salary, their livelihood, they are prudent people, middle class, with their home, an adequate car but without great luxuries. Even I only use second hand cars. I like having friends with good cars and when they want to buy another one, they call me and I buy it second-hand at a good price. If it is second hand, it is already worth 30% less. Let them call me, if I need it, I'll buy it (...)
I work every day at all times, because I have to work a lot. Six hours of sleep is enough. I have the virtue of being able to sleep anywhere, so I fall asleep, rest 15 minutes and recover a little, because I can do it. I have a clear conscience. My father also slept very well, and my mother, and my aunt, who was a hard worker, too, and my brothers and children. Even though I have approximately 1,000 employees who get paid every month, I sleep very well... I have to keep the company going so that the families who work with us don't see each other.
Are unemployed at the moment:you have to be responsible«.