José Sacristán, excited, draws memories and humility upon receiving the Goya of Honor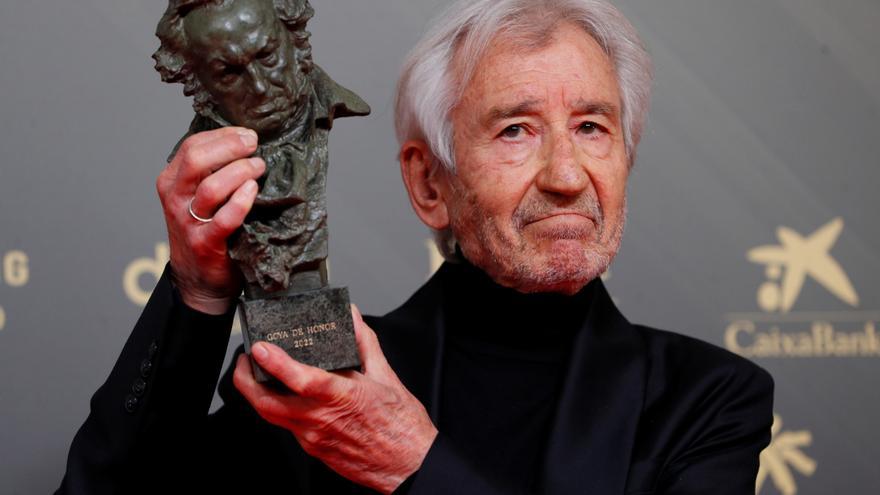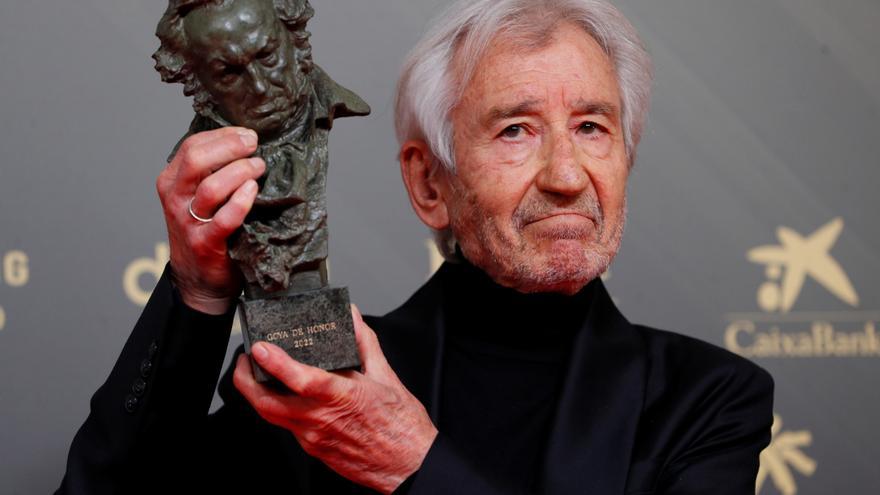 Joseph Sacristanone of the great names of the Spanish scene, has collected this Saturday his Goya Award of Honor excited but aware of his trajectory, and has pulled so much memories like humility to accept the award.
Sacristán (Chinchón, Madrid, 1937) has remembered his town and his people, their effort and their hope, the countryside, where there is a time to till the land, another to sow the seed and another to reap the fruits.
"Thanks to everyone who, with their trust in my work, allows me to continue ploughing, sowing and harvesting," said the actor, who, as always in his speeches, He had affectionate words for his parents, Venancio and Nati.
[Consulta los ganadores del los Premios Goya 2022]
Also to his children and his wife, Amparo. "Without his love or his care, I would have no choice but to call a halt," said Sacristán, before recalling that he was one of the founders of the Film Academy.
A brief moment in a long gala to honor an actor who has received the Goya of honor for "representing us in a unique way in so many unforgettable titles that are part of our intimate memory", according to the Film Academy.
Sacristán is "a model of dedication, passion, ethics and professionalism for all young filmmakers." Awarded the 2021 National Film Award, he has been "playing responsibly" in film, theater and television for more than sixty years.
Mythical titles of Spanish cinema
Protagonist of legendary titles in the history of Spanish cinema such as 'Beehive' (1982) or 'the heifer' (1985), Sacristán remains active in film, theater and television.
His most recent works include series such as 'High seas' or 'Velvet' and films with directors such as Carlos Vermut, Isaki Lacuesta or Javier Rebollo.
And in theater, he has been since 2018 with 'Señora de rojo sobre fondo gris' by Miguel Delibes, and now he is preparing 'El Hijo de la comedian', a tribute to his great friend Fernando Fernán Gómez.
mechanic trade
In its beginnings, it simultaneously his job as a mechanic in a workshop with the scenein which he made his debut thanks to director José Luis Alonso as meritorious at Madrid's Teatro Infanta Isabel.
In 1960 he joined the Teatro Popular Español company, in the cinema he landed with the popular 'La familia y uno más' (1965), by Fernando Palacios and in the seventies he participated in some of the most representative comedies of the time ('The art of getting married', 'Sor Citroen' or 'How is the service', among others).
At the same time, he revealed himself as an excellent dramatic actor with groundbreaking titles such as 'A Man Called Autumn Flower' (1978), by Pedro Olea; 'The Deputy' (1978), by Eloy de la Iglesia, and the most representative film of the contradictions, frustrations and desires of the average Spaniard at the time, 'Asignatura pending' (1977), by José Luis Garci.
He has worked with the vast majority of the great Spanish filmmakers: Luis García Berlanga ('La heifer', 1985, 'Todos a lacarcel', 1993); Mario Camus ('The hive', 1982); Pilar Miró ('The Bird of Happiness', 1993); Javier Rebollo ('The dead and be happy', 2012); Carlos Vermut ('Magical Girl', 2014) or Kike Maíllo ('Toro', 2016).
Argentina
developed a part of his professional career in Argentina, where he became popular in 1978 with 'Solos en la dawn'. And he shot with Adolfo Aristarain two of his most acclaimed films: 'A place in the world' (1992) and 'Martin (Hache)' "(1997).
In addition to his acting career, he has directed 'Soldados de lead' (1983), 'Cara de acelga' (1987), where he was also responsible for the script together with Carlos Pérez Merinero, and 'I'll get off next time, ¿ and you?' (1992), adaptation of the play by Adolfo Marsillach in which he had also starred.