José Riquelme: «In some of my paintings there is something of the liquid lava that reached Tirimaga»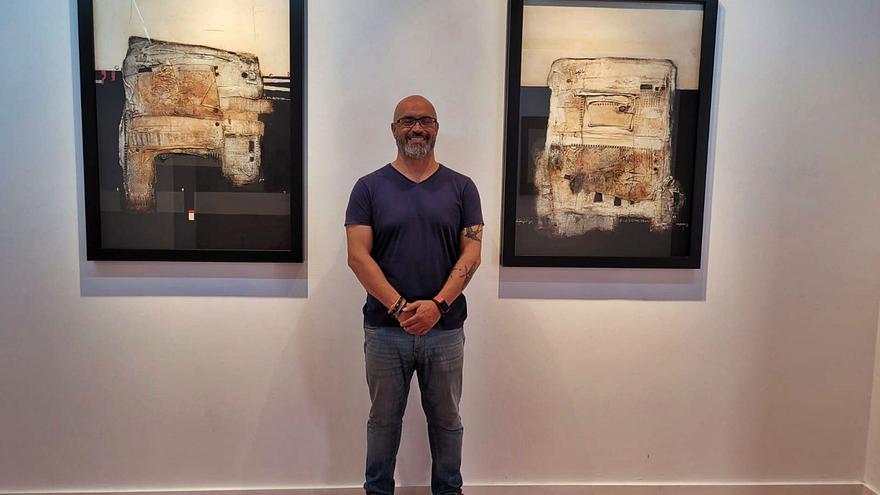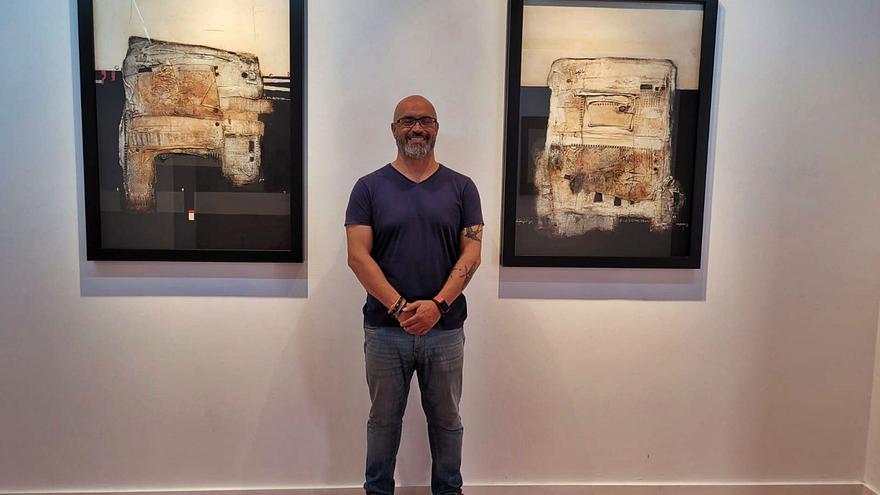 How has the process of making these works that allude to forms of the earth been?
I have tried to transfer to the works the sensation that the matter transmits to me. Its texture, shape and stains, which are often whimsical, but for me they are very inspiring. I like the subject also for the eclectic transformation that it has to do in some things, because it is unexpected and surprising in some cases. I like to play at transforming it while it is left, since it is a process of kneading it, of spreading it on the canvas, of trying to mold it until it adopts certain shapes that, after the drying process, are transformed. And from there, I make incisions, mark parts, etc.
And what materials do you use?
Plaster, latex, to give plasticity to all matter and I add things. And each painting is different. It is not like baking, you have so many grams of flour, sugar or eggs, you give it some time and you get a cake. And if you do it again with the same amounts and the same baking time, you get another one. Here I do not work with exact measurements, but with what I need for what I want to do on site. I make the matter more or less liquid to be able to handle it in the paintings. Some have more and others less volumes, but all are worked with matter. After drying, these cracks and texture vary. And that gives us a result of a unique and unrepeatable piece, and no matter how much I want to do the same, it will not work, but something different will always come out.
Why are there no titles?
Because I don't like by default suggesting or objectifying the viewer. The work is not finished until the eye interprets it. When I start a painting I never know how I'm going to finish it. The painting and I maintain a dialogue and, as the two of us advance, we are heading for one place or another. In some, which stand out for a black background, I use that color to give a depth and to isolate the element from what is the background. And it can suggest both a landscape seen from above and the sense of loneliness in those forms. The colors serve to highlight those folds, wrinkles and textures that the matter creates. I use color in a certain way because simply the matter, in white, I already like, it transmits me, and I no longer act on it as has happened with the white series.
How would you define your type of painting more specifically?
I have drunk a lot from abstract painting, but with references to the informalism of the middle of the last century, where materials were used to paste the earth into works. References to Tapies, Millares and all that time in which the matter was used.
And I imagine that some of the current volcanic activity will be in his work. And more in your case, that you are from La Palma.
There is something from the penultimate volcano of La Palma, from 1949, the San Juan volcano, which gave a lava flow in Las Manchas, El Paso, La Laguna and Los Llanos. It was a slightly thicker lava, which you can see in the very spiky texture. But there was some lava that ran through Tirimaga that was much more liquid. And that is reflected in some of the whites in my paintings where the folds can suggest lava.
Is La Palma present in your paintings?
Of course. I am from a neighborhood on La Palma, located in the town of Mazo, and called Tirimaga. I started painting there in the 70s, when I was eight or nine years old. It is a cold neighborhood where it rains a lot. They gave me a box of watercolors and, from the age of ten, I started with the hobby of painting, which I have always maintained. And at the beginning of the nineties I entered the Luján Pérez School as a student, training myself in its philosophy and today I am a teacher at this School.
Do your works move between interventions and paintings?
Yes, because the collages are treated with Judean varnish or bitumen. The texture that expressionist paintings can suggest to you, but at the moment I am doing it, I notice what is missing, what is left over, and where it suggests me to put a darker stain, where I have to grate, and I am composing that painting. I can be with music, without music, as if I were playing that instrument. I start with a blank box and forty things can go through my head. But once I start to put the material in, I start to translate those ideas. It can be an inspiration of fire or of a rainy day, but I am on a blank canvas on gray cardboard and when I start to use the material that dialogue begins.
How long does it normally take you to compose a piece?
It takes a first process of preparing the material, of extending it, giving it shape, and trying to mold it. After a drying process that can be one or two days. I leave some of them more or less time drying because of the need I have to act on it or because it attracts me because of the imprint of working on it. The performance can be of a day or of weeks. But it is a very laborious job, in the sense that, when you wear it, many of the predetermined ideas that you brought, they vary. But figurative painting has to interpret reality.
It also includes miniatures in the exhibition.
They symbolize how I start. I really like to make lines and shapes, thinner, thicker, that weigh more or less. But it is the same as the other paintings in terms of relief, because all this is reflected in the subject matter.