José Ojeda: «Our football has a DNA that we must respect but without giving up on growing»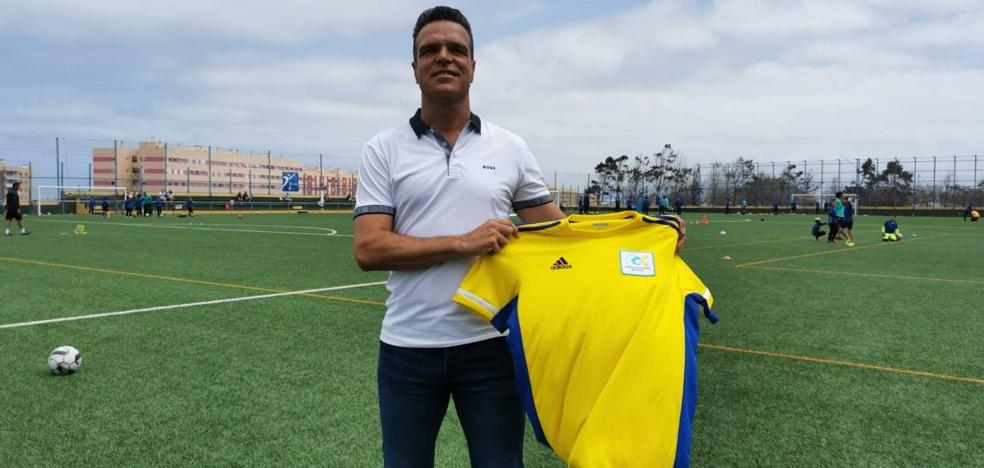 football
The former charismatic footballer now assumes the position of sports director of the Intersinsular Football Federation teams
They run
winds of change in the Inter-island Football Federation of Las Palmas (FIFLP) since the arrival of José Juan Arencibia to the presidency with his entire team. And in order to have bridges to all clubs, regenerate the quarry project and encourage strength and training in the grassroots categories, Arencibia has not hesitated to resort to the figure of
Joseph Ojeda (Las Palmas de Gran Canaria, 1972), known for his extensive professional career, from his cycle in the youth teams at UD to his time at Gáldar and University, for which
and assume the functions of sports director of all the dependent teams of the FIFLP. Ojeda is a national coach and has been developing, for years, a didactic and modernization campus with his name that has been consolidated by its prestige and quality. Now he faces this new stage in football with "pride and enthusiasm" from a position of high responsibility.
-He opens his position but, in reality, he returns to what was his home for a very long time for having been part of the Federation teams when he started in football...
-It's like that. As a youngster, child and youth I played many games with the Canarian national team and I even became captain. I have very nice memories of those years for everything he gave me both on and off the pitch. It helped me a lot in my sporting and personal growth. And, on top of that, I had Ramón Medina as coach, who is the person who called me to take on this position.
-How do you take this trust that they have placed in you?
-For me it has been an honor that someone like Ramón Medina has told me that he considers that I am the right person to lead all the teams in our federation. It is a very nice challenge and it will allow me to dedicate myself to something that I am passionate about, which is football and more specifically the academy. I did not hesitate to accept it.
-What are your guarantees?
-In addition to the confidence of Ramón Medina, which is not a small thing, I think that spending my whole life in this world has allowed me to meet all the presidents, technicians and coordinators of the clubs. Precisely those I have to deal with now. I handle regional football and football from the different islands very well. And that is, apart from my qualifications and experience, what I think has been valued when they think of me for a role as important as the one I am going to carry out.
-That's what I was going for. What will you have to do? What specific functions are implicit in your position as sporting director of the national teams?
-I am in charge of the cadet, children's, junior, women's under-12 and under-17 teams and the beach soccer team. I must appoint the coaches, who have already been chosen, and approach all the clubs so that they know that we are at their disposal to help them and promote the development of the youth academy and all the structures that are necessary. We want to get closer to all the entities and he will have to travel to Fuerteventura and Lanzarote, of course to tour the whole of Gran Canaria, to be in contact with Tenerife because we share planning in cadets and children... An important, very broad task that will require a lot of dedication but that I face full of energy and enthusiasm.
-Training but without losing winning character?
-Canarian football has a marked DNA that must be respected. But we are not going to give up on growing competitively, of course. Taking that step forward is necessary and we will work in that direction.
-Prioritizing goals by age but without losing sight of the importance of winning...
-In sports, in football, educating and training is not at odds with wanting to win, with wanting to be the best. Knowing the moment and the way to do it, it is clear. But, to give a specific example, we want our teams to recover ground on a national scale, to be able to face the different championships with the idea of ​​going for it all, of valuing the work of our clubs.
-He was always very loved and respected in the guild. What reception has he had in these first hours as sports director?
-I have no words to thank the amount of expressions of affection and congratulations that have been sent to me. I have reached more than seven hundred messages on my mobile, many reactions on social networks. I was very moved to feel so much and from so many people. I have not been able to answer everyone but I sincerely thank you for giving me this welcome.
-Another incentive to live up to this wave of affection?
-Definitely. Knowing that they love you, that they value you and that they expect the best from you is something that motivates a lot.