José Luis Garci: "If Galdós had not lost his sight, he would have been a tremendous cinephile"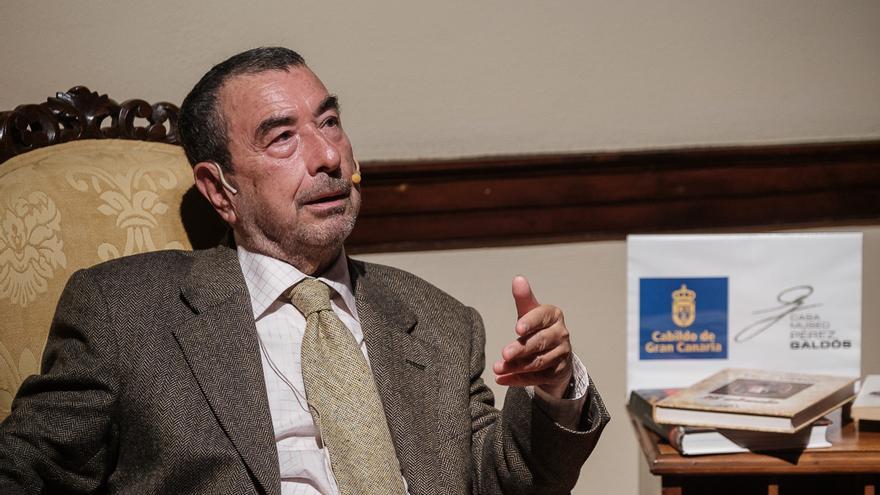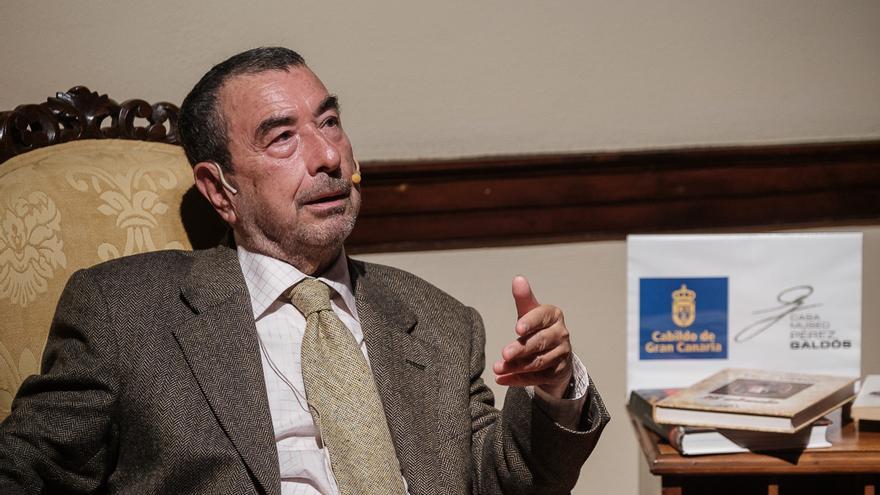 Film director and writer Jose Luis Garci He assured that he is convinced that if Galdós had not lost his sight in the last years of his life he would have been a "tremendous cinephile." The award-winning filmmaker also explained that Don Benito was for him the real grandfather who never had. "I have always had the feeling that that man that I saw with those mustaches in a glass-enclosed library in my house, was someone very close. I have been a Galdosian since I was a child", He detailed.
Garci, winner of the first Oscar for Spain in 1983 and nominated up to four times for the US awards, offered the talk on Thursday night Galdós and modernity in the House-Museum of the famous writer in the capital of Gran Canaria, within the cycle Talking about Galdós. Prior to the talk, he held a meeting with the media next to the portrait of Galdós made by Sorolla, and not only spoke of the writer, but did not refuse to talk about Culture in Spain, the new technologies that allow watching movies anywhere and his step aside as a film director to make room for new generations.
The Minister of Culture of the Cabildo Gran Canaria, Guacimara Medina, welcomed him and assured that the life and work of Galdós continue to be present in other languages, such as film. And that is the objective of this museum center, to spread the work of the writer, promote reading and writing, and give it the place it deserves, which was not given at the time, he explained. In this sense, Garci assured that Galdós "was treated badly" and, in fact, prevented him from winning the Nobel Prize for Literature. "But that is Spain, as he said, something rotten, and it continues to be," he added.
Garci, who visited the House-Museum of the writer for the first time, also assured that "Galdós is an expanding universe because it is not known what the limit will be. That happens with very few authors, and that makes him related to Cervantes or Quevedo, who are expanding galaxies, that's why they are classics, because every time you read them they are the reflection of your modern sensibility, "he explained, while ensuring that he always there is still something to discover from a writer from Gran Canaria.
He also spoke of the duality of Galdós, who being a Canarian was the one who best described Madrid and that is why he showed his surprise at not hearing every time he arrives in Gran Canaria that the plane lands at the Benito Pérez Galdós Airport, and the same when it arrives at the capital of Spain. "I can't quite understand it, because the two cities have been the capital cities of his life and because there are few people so universal, not only from literature, but from Spanish culture. Galdós was a man who began with poetry, continued with the theater, went on to the novel, but to a historical novel, which has nothing to do with the usual one, and he was also a painter and draftsman ", he pointed out.
The filmmaker, who among other works adapted 'El abuelo' to the cinema, explained that when you have good characters it is very easy to adapt Galdós, because everything is given, the most important thing is to "prune". Perhaps the most difficult thing is to adapt them to the moment in which you are going to do it, he explained. "I think he would have liked Fernando Fernán Gómez a lot as a character in 'El abuelo'," he said.
"Culture has not interested any government"
The director of movies like Pending subject and Lullaby He gave his opinion on the state of Culture in Spain and assured that it has never mattered to anyone, to any Government, neither of the left nor of the right. "We are in a world with a slippery terrain, with many changes, and Culture is also noticing it, and there are two possibilities, one to look forward and the other to look back," he said.
Garci also did not refuse to talk about new ways of watching movies, because cinemas have already disappeared, he said, adding that it is still "beautiful" for a person to see. Citizen Kane on your mobile phone while riding the Metro. "I am of the opinion that the screen wars are going to be good because the fabric screens of the cinema can coexist perfectly with the glass screens of the television and now with the touch screens". And he acknowledged that he only talks about the latter because he does not have a mobile or any type of these devices.
"I do not know what the future will hold, but I do not care to see Grandpa on television than watching it on the Metro, because you're seeing what Galdós wanted. The future is there and there will be good things and bad things, like everything, it is about preserving the best of the old and the best of everything that comes out new, "he added.
Garci also assured that we made the mistake of storing video tapes first and then DVDs, and now they are useless because in a few years we will tell Alexia what we want to see. "All the cinema on the planet will be put into a giant computer and we will have it at home on a screen almost as big as that of some minicines," he ventured.
Finally, Garci acknowledged that as a film director he has had many things to do, but that he knows he will not do them because "my time is up." "I think there is a new people and a new generation, and in the same way that I was educated with movies and books, others are being educated with video games and the world of advertising. It is neither better nor worse, it is different, and there are some universal themes such as love, heartbreak, hatred, and those are the ones used by the great geniuses of literature and cinema ", he summarized.
After the talk, the filmmaker signed in the House-Museum guestbook, where he wrote: "Today, November 4, 2021, I pass my pending assignment that I never thought I would do. What a privilege to be here! Thank you and a lot of movie kisses for everyone ".
José Luis Garci's career
José Luis Garci made his directorial debut in 1976 with Pending subject and since then he has made masterpieces such as Lullaby, The Grandfather or Merry-go-round c.1950. His film production has earned him nearly a hundred awards, including the Goya, the National Film Award or the Gold Medal for Fine Arts. He has also been nominated for an Oscar four times, and has won it once, the first for Spain with the film Start over, released in 1982, in the category of Best Foreign Language Film. He is the Spanish director who has been nominated the most times for this award and it has been for the films Continuous session, Approved subject and Grandfather, in addition to Start over.
As a writer, he is in possession of the Clarín Prize, the Silver Pen, the González-Ruano and the Continent of Journalism or the Golden Door for short stories. He has published a dozen books, among which stand out Ray Bradbury, humanist of the future, Drinking from movies or Looking from movies.
In addition, in Garci's film buff, we must highlight the magazine Nickel odeon, of which he was its editor, the program This movie theater is so big!, which for ten years he directed and presented on La 2 de TVE, and Black and White Cinema, another cinematographic space that has been running on Telemadrid since 2009. In addition, he is a member of the Academies of Fine Arts of San Fernando (Madrid) and Granada, of the European Film Academy and of the Hollywood Academy.