José González lowers the temperature | Culture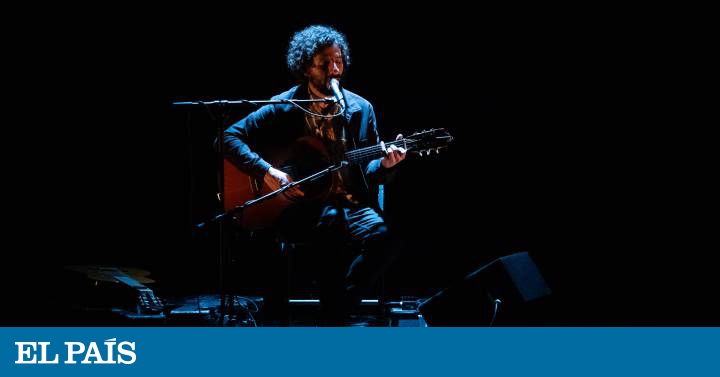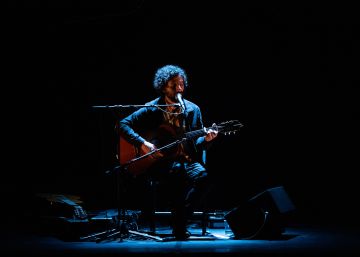 An acoustic guitar and little else: a nineteenth-century theater. In the background, a fabric with some silhouettes cut out. Namely: some mountains, a sun and a planet that changed color at will of light. The minimalism of the scenography was a reflection of the simplicity that the music of José González, a concert of low pulsations suitable for a heat wave that was unleashed this Thursday at the Lara Theater very calm, quite calm. In front of him, the most unusual: the audience sitting.
The Swedish singer-songwriter unfolded before the 500 people who attended 23 songs equal not by identical but by coherent. A base of lysergic chords allowed him to catch the audience and transport him without ups and downs, with a hypnotic rhythm. If anything, the first part of the concert, the section on which he shined Down The Line, reached its peak with the interpretation of What Will Be, an explosion of colors on the stage that resulted in a high voltage performance.
The set and the pedal under the right foot of González marked the tempo of the concert. "In this song I was thinking about the cave of Plato … And the illuminism," the singer-songwriter confessed to present Leaf off / The Cave. Before, he completed The Forest with the closest thing to a solo that contemplates his repertoire, a final guitar monologue dignified and delivered at the ever higher speed with which he plucked the strings. Melodies and structures with a logic of their own that the public can not try to understand.
Hunched in his chair, impassive to some mistake that forced him to resume more than one song, the transitions between themes were the only moment in which the rest was broken that imbued the audience with the intimate folk of the Swedish singer-songwriter of Argentine origin. "I have a daughter, we fell asleep at 21", joked after 23 hours to finish completing the character
After a stretch of captivating songs in which stressed Stories we tell, stories we build, an instrumental section gave way to the pause of rigor. Then, the audience gave the most enthusiastic applause to receive the final arreón: Crosses, Heartbeats Y Teardrops, the version of the English Massive Attack. José González does not give in to the temptation to experiment live; instead, he has delved into a universe of his own that absorbs his followers.