José Andrés: "After all disasters there are opportunities" | Fortune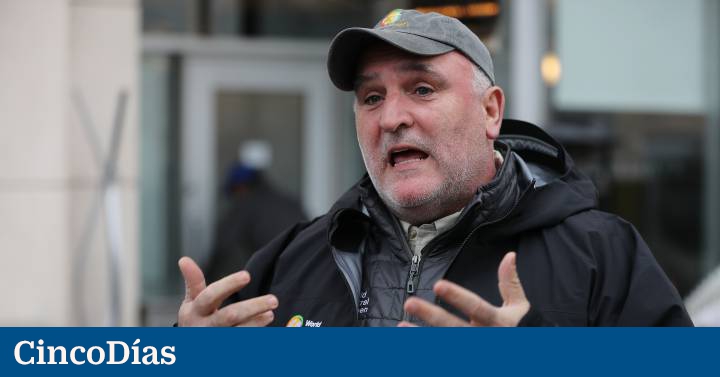 He has brought his concept of solidarity cuisine to Spain, with which he has been helping emergencies and tragedies since 2010. Through World Central Kitchen (WCK), Jose Andres (Mieres, Asturias, 1969) uses the power of food to strengthen communities in times of difficulty, and those that have offered more than 15 million meals to people affected by different natural disasters and other crises in countries such as Albania, Bahamas , Colombia, Guatemala, Haiti, Mexico, Mozambique, Venezuela or the United States.
Now WCK, NGO that is financed with funds and private donations, is responding with a plate of food to people disadvantaged by the pandemic in more than 20 cities around the world. In Spain it works, at the moment, in Madrid, Barcelona and Valencia, and has the collaboration of several chefs, among them, Álvaro Castellanos and Iván Morales, from Taberna Arzábal, the DSTAgE cook, Diego Guerrero; Pepa Muñoz, from El Qüenco de Pepa; or Carles Tejedor, in Barcelona.
Behind all this, in addition to the communication consultant Mateo & Co, Makro and the Food Bank, there is the businessman, based in the United States, where he employs 2,000 people in 31 businesses opened in different countries, invoices around 160 million dollars, and has been recognized as the cook of the pandemic by the magazine Time, who has dedicated the cover of the month of April to him and has recognized him as one of the most influential people in the world.
It is being an example of how to act in emergencies and to attend to one of the first needs, such as food. How can this type of initiative be carried out?
This is something that comes from chefs in restaurants, which is where this initiative comes from. We are a group that is used to feeding not only people on a daily basis, but also doing it in a stressful or emergency situation. The kitchens are very dynamic environments, and in quotes, of orderly chaos, and that skill that is learned in these places is a plus when starting an emergency plan to feed people in a circumstance like the one we are experiencing. .
What do these types of actions mean to you as a professional?
This does not have to do with the professional, this is a commitment as a cook. In the same way that we feed people in ordinary situations as a restaurant, it is that same commitment that is also held when there is an emergency situation like the one we are experiencing. The commitment is, in the end, to feed people and it is the same, in one case as in the other.
From your experience and for others who want to start with solidarity initiatives of this type, what are the main steps to follow?
The principle is social commitment to the community, no more is needed. One of the keys to what we do is work with local communities. Production is very important at the end of the day, which is something for which we have the know how, But just as important as this is knowing which family, which home, or which district has a need. There is no better partner in this whole emergency plan, what we are doing, than those people who live in a neighborhood and know that in their block there are three families who need a plate of food. You don't have to think about a global solution, but how you can help your neighbors, how you can help the people who live in your neighborhood.
How will this crisis change us as a society?
After every disaster, opportunities always arise. And with regard to society, what we hope will come out of this is that we all acquire the social responsibility that we have with each other. It will be important that from all this, on a personal level we see that at the end of the day we are a society, that we understand that there is an interdependence between all, as a society, globally.
The restaurant sector is one of the most affected, how do you think it will recover?
As I said, after all disasters, there are opportunities. Recovering after this requires reinventing yourself and for this you need creativity, and if anything particularly qualifies Spain in the restaurant sector, it is precisely that. As a country, it has been one of the creative engines of restoration in the world, therefore, that creativity is going to be an essential element of recovery and we are sure that Spain has plenty of that.
Many businesses will be lost in this tsunami, which means loss of business fabric, there is a recipe for those who do not know how to get ahead.
It is important to adapt to the new reality and it is true that it will be a reality that will bring opportunities and it is important to know how to identify them. Society is going to change, new consumption habits are going to emerge and the important thing is to anticipate and identify those new businesses that may appear.
You have investments in Spain. Recently, together with the Riberas brothers, from Gonvarri and Gestamp, you launched the Bulbiza project, an initiative with several stores on Calle Ibiza in Madrid. How do you think this crisis will affect them?
Our only priority right now, as a chef and as a group, is to feed the people who are in need, and in due course, when this happens, we will have to attend to the strategy that we will have to follow with the new situation.