Jorge Santana, bronze in the Junior National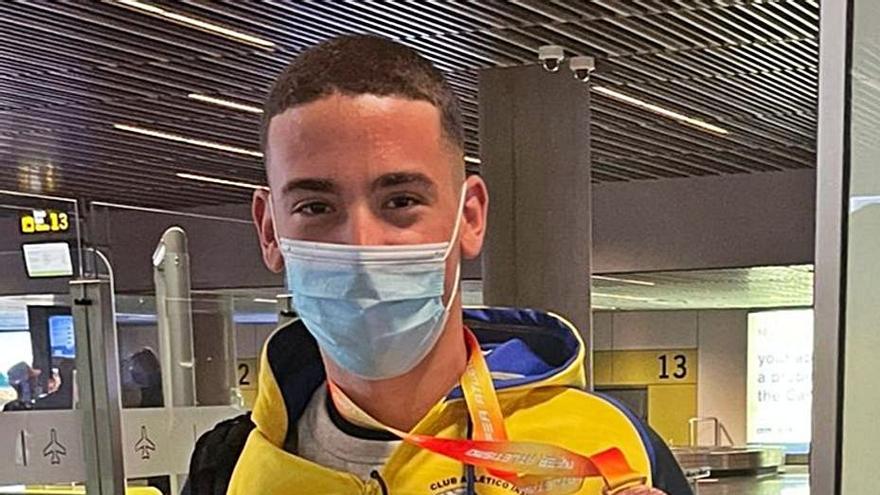 The Palau Sant Jordi in Barcelona hosted this weekend the Spanish Under 18 Indoor Championships. The 16-year-old Jorge Santana, from Gran Canaria, took part in this event. The young athlete, who trains alongside Juan García Barrera and belongs to CAI Gran Canaria, brilliantly won the bronze medal in the 60-meter event. This year, due to the pandemic, only the 16 best national brands in the category could take part.
In the first series of the semifinals, the island sprinter finished in second place signing a mark of seven seconds and 17 hundredths, which led him directly to a final in which he conquered third position on the podium with a time of 7.11, also beating the Canary Islands record for distance.
It should be noted that Jorge Santana's first participation in a Spanish Indoor Championship was in 2020, in the high jump mode. The athlete from Gran Canaria was very happy upon arrival on the island.
Juan García, his trainer, said that the fundamental objective on which they are going to focus now is "speed and long jump". "Especially in the 100-meter test, where we intend for him to drop below 11 seconds and try to make it to the final of the Nacional and opt for the maximum."
Delving into Jorge's future, the coach of this athlete pointed out that, regarding the long jump, "we will try to work on and perfect technical aspects that help us improve and get closer to seven meters."
"This success is the result of the basic work that the CAI Gran Canaria is doing with the different levels in the athletics school," said Juan García.