Jorge Javier abronca Paloma García Pelayo for a question to Pepe Navarro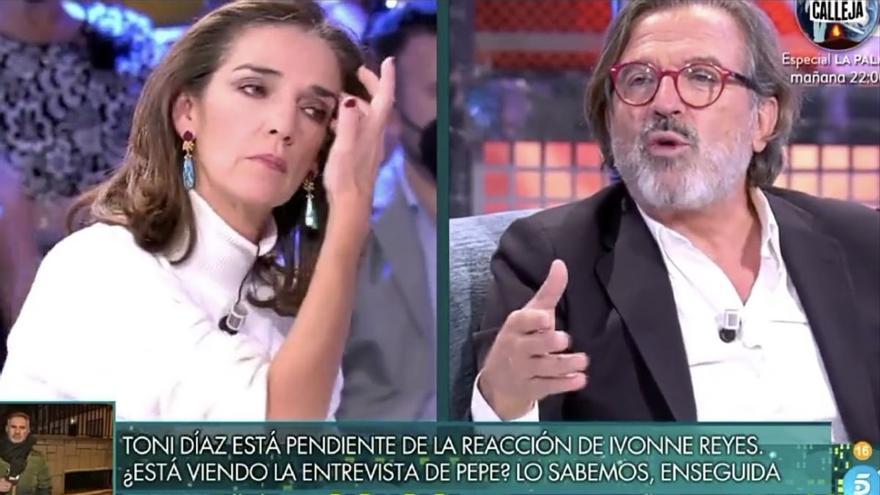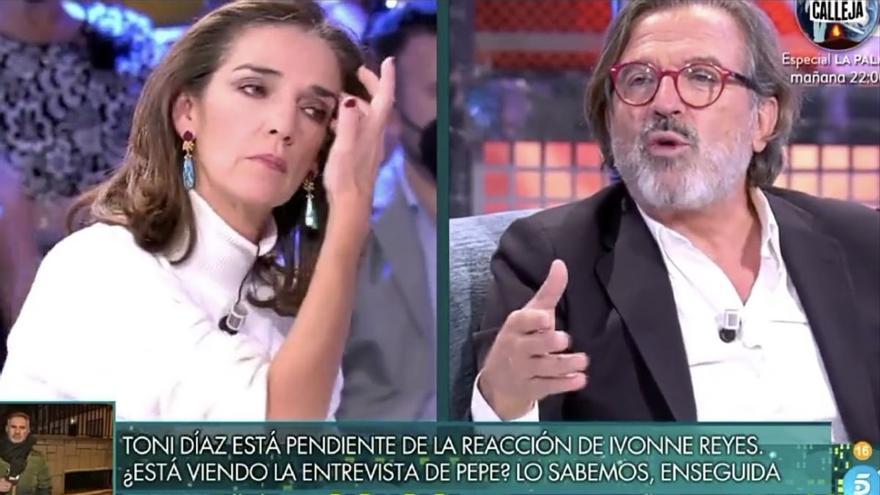 Quarrel on the set of 'Saturday Deluxe'. Pepe Navarro went to the Telecinco program to provide alleged definitive evidence that would completely rule out any type of doubt about his paternity of Ivonne Reyes' son.
Finally, it was a matter of The majority of already known crossed messages and images of the trials that were interposed with the testimony in court of both and of the detectives that they obtained the evidence not accepted by the courts that would show that what the Venezuelan was told was full of lies.
However, the most tense moment of the night came when Paloma García Pelayo skipped the script prepared by the program, which established that the interview would be limited to questions related to Ivonne Reyes and the alleged paternity of her son.
The journalist, who showed a hostile and cutting attitude towards Pepe Navarro From the beginning of his participation, he asked him about his relationship with women and indirectly if he had been denounced for any type of abuse. Navarro quickly caught where he was going: "Do you mean a certain Vanesa who says I hit her? Say it clearly and don't go around. It's completely a lie."
Then Jorge Javier Vázquez intervened and charged against the also collaborator of 'The Ana Rosa Program': "Honestly, I think that what you are doing leaves us all in a very bad place. If you were clear about it, you would not have sat with this man and you would have said that you do not want to sit with an abuser."
"As things are, it seems irresponsible on your part and very advantageous to bring up this issue at 1 in the morning. If you had so much trouble with your conscience, you would have talked to Patricia and you would not have sat here tonight", said the presenter very angry." I am deeply disappointed as a presenter with you. I would not like to coincide with you on various programs. We are in a very delicate moment for you to come now and cause this situation.
Jorge Javier Vázquez wanted to make it clear that Paloma García Pelayo knew in advance that the 'Deluxe' rundown was closed and deliberately skipped it: "This man has come to talk about Ivonne Reyes and we have all accepted it. I do not understand that a matter is raised that has nothing to do with the case. You have contributed to putting us in a deeply delicate situation."
"I'm sorry, but it's what I think and I've always been in this program because I felt free," replied Paloma García Pelayo. "You knew it perfectly from the beginning And I don't understand stubbornness from the start, girl You haven't listened to the person sitting here all night, and you've questioned nonsense. You came from the beginning wanting to provoke this situation, that I have seen you in the corridors and you have told me. "
The presenter of the program concluded the question with force: "Here we do not talk about hiding anything, but the subject of the interview was Ivonne Reyes. If it caused you a pain of conscience to be sitting with this man, the most sensible thing for you to do it would have been not to participate. Obviously all of us here say that with the mistreatment of women, zero tolerance. And since we have not said it, it remains as if you are the only brave one and all the other accomplices. It seems very unfair of you. "
After Jorge Javier's argument, Pepe Navarro took the floor: "I have never mistreated any woman, I have never raised my hand to any. The demagoguery that you practice does not help feminism and what you have done is unbecoming of an honest professional, because if you want to bring up this topic, we bring it up. You tell me before and I come with tests, as I have done with the subject of Ivonne ".