Jordi Hurtado: "The memes are a sign of the good health of 'Know and win'"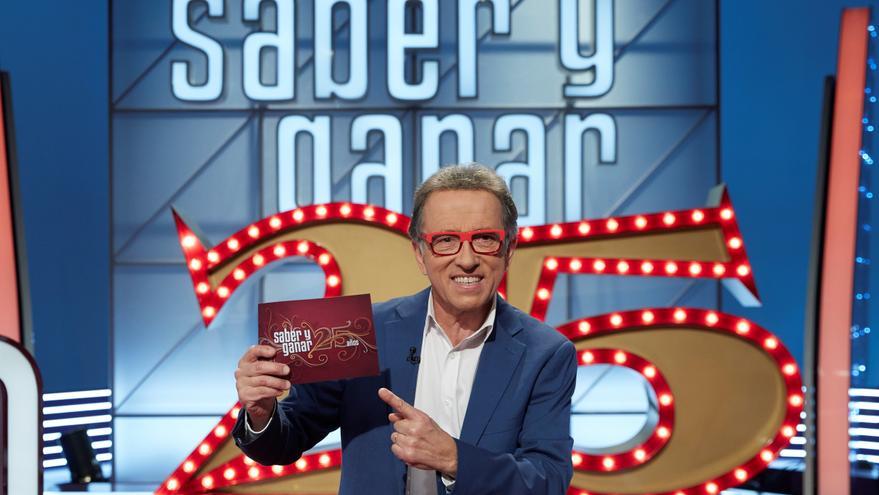 Happy, grateful and proud, so celebrate Jordi Hurtado the 25 years of 'To know and to win', which are due this Thursday. A quarter of a century in which he has been at the helm of one of the oldest contests on Spanish television, which has managed to become a brand of which Hurtado is an indispensable part.
In an interview with Efe, the presenter (San Feliu de Llobregat, Barcelona, ​​1957) rhe recognizes that the contest would not be the same without himbecause his energy and his perennial smile (tricks to keep the viewer awake at siesta time, he confesses) have already become the hallmark of the program created by Barcelonan Sergi Schaaff.
A quarter of a century after starting, Hurtado is satisfied with having managed to "make a mark" with a contest that is broadcast 365 days a year, a milestone in today's wild audiovisual scene. To celebrate, this Thursday La 2 will broadcast a tribute program to the flagship of the public channel at 10:00 p.m.
In addition to resisting 25 years, what would you say 'Know and win' has achieved?
What he has achieved above all is to retain the viewer and create a brand. It is very difficult to create brands on television that last and have a presence. When the program was born I went down the street and there were people who called me "the one with Numbers and Letters" or "the one with Pass word", now everyone knows what 'Know and Win' is. The contestant who is coming very much wants to announce on social networks that she is in "Know and win" and this happens because we have managed to make a mark. RTVE has a brand in this slot every day of the year and this is very difficult. In addition, we have very loyal viewers who are waiting for the program every day and enjoy watching it.
How have you managed not to get bored in 25 years and not want to dedicate yourself to other projects?
Believing in the project and reinventing yourself. Fortunately, there is no closed script in the program, everything is created and spontaneous and forces you to be very fresh mentally. You have to create, invent things, and that forces me to be up to date with information, cinema, theater, music...
So, have you ever been tempted to quit?
No, because it is a program that has come to work so well, that you reach so many viewers every day, you receive so much love, and you also have professional continuity. As it is right now, and has always been, the audiovisual and journalistic world, so difficult, those who have a job continuity are lucky. We depend on them to renew our contract and we have been celebrating for years like this. You have to earn this and you earn it by not letting your guard down and always putting that intention into work.
What does the word magnificent mean to you (given to those contestants who manage to spend more time competing)?
I see them as very special. Here comes a graduate in Chemistry, but then there are questions about Literature or Art that have nothing to do with what she has studied or what she has prepared. Being magnificent means that they have to have a broad culture, that they are very curious people, that they have very diverse knowledge to be able to reach that category and be in the program as the best of each year.
Would 'know and win' be the same without you?
No, it would not be the same because so many years have passed that you leave your personality in that mark, undoubtedly. My figure is closely linked to the program. So, it would be another program, although I think it is a program that will outlive all of us who are doing it.
You will soon be 65… is the word retirement ringing in your head?
Nerd. You don't think about it when you're healthy, you want to continue doing this job, you like it, you enjoy it. So this doesn't fit at all.
There was a time when you confessed that they bothered you a bit, but how do you take the jokes about your eternal youth now?
With a lot of humor. It may be that there is a time when some things may bother, but in general terms I have always taken it well because I think it is a tribute to the program, to the continuity, to the good health of the program. So it's fine that they say all these things and that they play because there is a brutal imagination. I am amazed by the memes that come to me from everywhere and that are made with an admirable level of humor and imagination. And I'm the first to laugh.
Is the smile your main hallmark?
It is a form of communication because I think that at that time of the afternoon, so that we do not fall asleep before the documentaries, we have to reach the viewer and then the look is vital and that smile makes you arrive in a more friendly way because you enter in their homes and without asking permission, of course.