Jordi Évole faints with a faint in 'El Intermedio' due to his cataplexy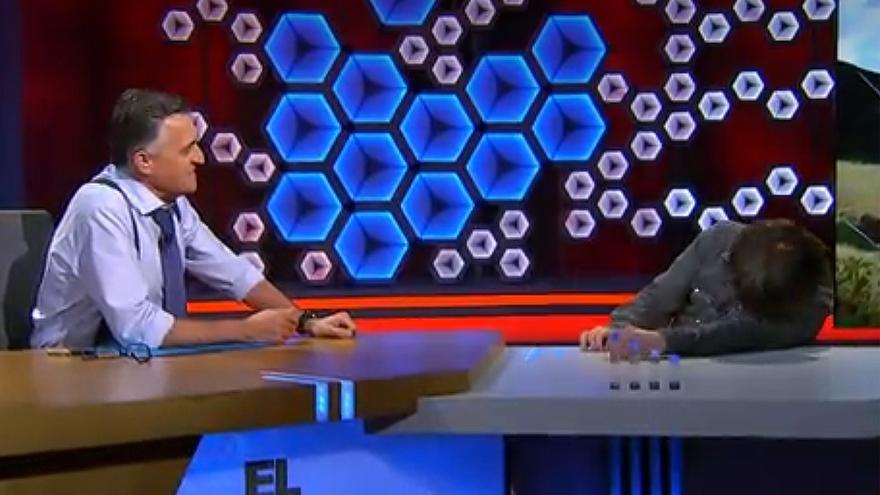 Journalist Jordi Évole starred this Thursday in a moment of bewilderment on the La Sexta program 'The intermediate' when suffering an attack of cataplexy and feint with a faint while conversing with the space conductor, Greater Wyoming.
Évole had come to the program to talk about 'That you give me, the documentary in which he interviews the singer Pau Donés several days before the artist's death, a production that has passed through movie theaters and will be broadcast on Sunday on La Sexta.
During the conversation between El Gran Wyoming and Évole, however, other topics of conversation emerged, and the humorist's jokes about some of them provoked the journalist's laughter, until he began to lean in a strange way and put his head on the table . The situation did not alter the presenter excessively, although he did ask: "But what is wrong with this man?" Évole, meanwhile, continued to laugh, although he was unable to sit up. until they spent a few confused seconds to explain that he suffers from cataplexy, a disease that at specific moments makes you lose muscle tone.
Greater Wyoming then preferred to joke, trying to encourage the journalist: "Do you want to fucking orient yourself?"
As Évole later stated, cataplexy is a narcolepsy-related condition that he has to take medication against. "It is a disease that when you laugh sometimes you lose muscle tone", explained the journalist, who did not want to frivolize and stressed that there are" much more serious cases. "
It is not the first time that the popular journalist suffers an attack of this type in full direct on television, since last year it happened during 'El Hormiguero'.