Jonathan Viera wants to play the playoff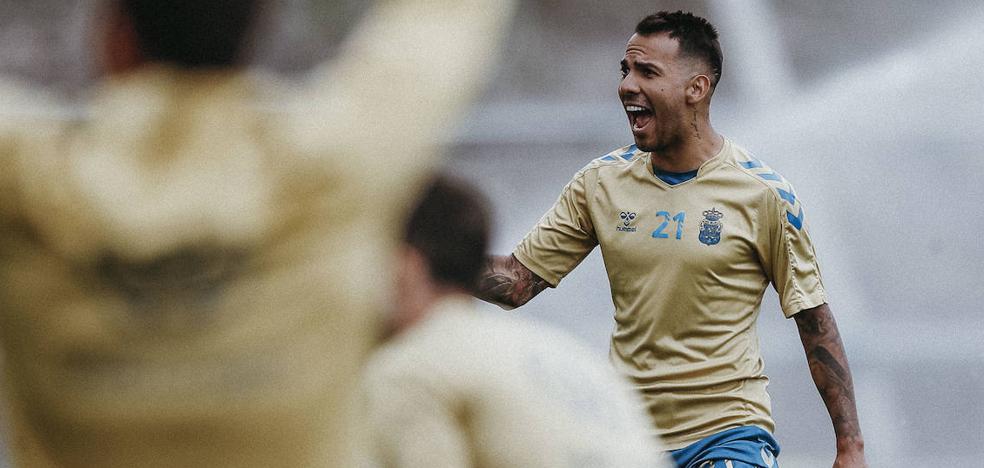 soccer
The winner of the CANARIAS7-Germán Dévora Award analyzes this Saturday's final against Oviedo in the fight for the promotion playoff
If someone shows his face in transcendental moments, it is the captain. And if, in addition, the one who wears the bracelet is
Jonathan Vera, you can trust the words that come out of your mouth. The one from La Feria analyzes
the battle against Oviedo (Saturday, 9:00 p.m.) as a life or death match in the fight for a place in the promotion playoffs. The victory will stay at home.
Las Palmas arrives in an imperial streak and wants to continue adding wins like crazy. «The week has to be the same. Things are going well and there is no need to change them. We know that
It is an important game to enjoy and make the fans happy", began Jonathan Viera.
The fans will respond, well
a full to the flag is expected, and the team must notice your breath. "It's a nice meeting.
I knew that the fans were not going to fail because they never fail. We will go out to win, "said the captain.
So the
recent winner of the CANARIAS7-Germán Dévora Award He anxiously awaits the match against Real Oviedo.
«When you have many games on you, you tell the kids who have less experience that it is only football. That nothing more will happen than what has already happened. We must have peace of mind and those of us who are lucky enough to play it, do what we do: play football, compete and win.
«If I get the fifth yellow card, another teammate will play.
The matches are given as they are given and if there is a foul to be done, I get a cardit will have to be done, "he commented on the fact of being prepared and being able to miss the appointment in El Molinón.
«I imagine an intense game and in which we will have to do things very well. But
we must leave from the tranquility, because it will be long. It will be 94 or 95 minutes, we cannot believe that we are going to win it from minute 1, neither we nor the fans", commented the UD Las Palmas player.
«We must leave from the tranquility, it will be long»

«I have lived many important parties here, but
Now I have a feeling of illusion that I haven't lived for a long time. People are seeing that the kids are making a tremendous effort and it makes me very happy to see everyone's illusion", said the footballer.
«
I have more and more responsibility, but I still enjoy. I am no longer 18 years old or that head. I'm still having fun, it's clear, don't misunderstand my words, "she clarified.
«I am happy for the award, the fans vote and it is very nice. Hopefully we can dedicate the award and the victory to the fans this Saturday", praised Viera after winning his second Canarias7-Germán Dévora Award.
«Valerón is unique and unrepeatable. No one is going to come with that talent and that quality. It was an honor for me to be by his side. The years I was with him helped me to have a head », she said about the figure of Valerón as a leader and the role now that Viera himself has in the locker room.
«
If we don't get into the playoffs it would be disappointing. Failure no, because we have not failed, if we do not succeed, we will do it next year, "he asserted about the possibility of not entering promotion promotion.
«We have worked more than ever and we are more together than ever. There is a lot of camaraderie in the team and it shows on the pitch.
There is sacrifice. The people behind us have done a tremendous job. We cannot miss this opportunity on Saturday", continued the professional, always full of calm.
«I talk a lot with the kids, like everyone. There are many games and I know what this is about.
If I'm nervous, imagine the 18-year-olds. I know what they think because the weeks seemed eternal for me too », he indicated about the advice he gives to the youth squad.
"There is little to say to people. They are always there.
After what I experienced in Alcorcón the other day, it was incredible. We have to go out and enjoy. It's going to be nice. We have to win and make them enjoy it, that's why they go to the field, "said Viera.
«Fear no one has, respect yes. When I was 18 or 19 they didn't fit me like they do today. Even
I think they hit me more than anyone. But I do notice the respect I've earned. It is a pleasure to see the words that are dedicated to me many times. It is not easy, when you lose a game, for someone to come and dedicate words to you like the ones they have said to me in the last few games », he continued.
«The coaching staff we have is spectacular and I said it when the results were not good. They work very well, they are upright and very good people and that is very important.
I do not renew, I am not the president, but I hope they are here for many years. They are worth a lot», praised García Pimienta and his coaching staff.
love for colors

«I am where I want to be and I hope my legs last a long time to give joy to my people. We will never be able to get out of doubt as to whether or not I have the level to play for Barça », he asserted.
«
It's hard to get used to winning. There are few who get used to it. Winning and winning is fucked up if you have to think about winning again later. People relax. The team must be prepared for what is coming. I trust. We are prepared », she confessed.
«
Jesé knows what we are risking. It will be a very good match. We're all on the same page and I'm sure he's going to score goals", concluded the UD Las Palmas captain.