Joane Somarriba, the historical rose of an emigrant | sports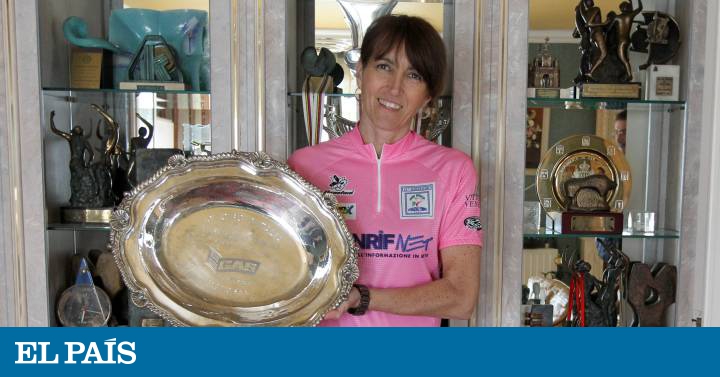 Joane Somarriba (Gernika, 1972) is a smile. He never loses it. His eyes shine. She left cycling years ago, but she is still surrounded, in her house in Gatika (Bizkaia), by trophies, jerseys and bicycles that remind her that she was the best Spanish cyclist of all time; and even, for some years, of the world. But he has no nostalgia, he says. This Thursday they are met 20 years of his first great success, the Giro d'Italia of 1999. Then he won another (2000), three editions of the Tour (2000, 2001 and 2003) and a world championship against the clock (2003).
"I had not even realized that so much time had passed, but yes, it's 20 years."
When Joane won the Giro, she was an emigrant. In Spain you could not live by cycling. "I went to Italy because here there was no team, to earn a small salary. I arrived as a gregarious for Luperini, Capellotto and the great cyclists who were there, but after doing good results, a director called me and told me that a team was going out, the Alfa Lum, who wanted me as one of the leaders. I was very surprised when he spoke to me like that. I knew the name of the team because it had been that of Marino Lejarreta, but nothing more. They sent me a plane ticket to go talk. "
They convinced him of the project, remember. "They told me about their idea, the signings they were going to make, and what they wanted to be a powerful team. It seemed very fanciful to me to be told that I could win something, but they believed more in me than I did. I had already run the Giro four times. In 1996 it had been fourth. "
Joane went to live in Italy. "We started to concentrate very soon. We shared a house, and in our case joined the runners a lot. We got to the Giro because there was a wonderful training, sometimes we did it with the Pantani group, with Fontanelli and the Mercatone Uno riders ".
The race started on June 30. "The surprise was that, in the fifth stage, which ended at Monte Serra, we got Daniela Veronesi, who won that day, Bouvnenkova, who was third, and me, who finished second. The favorites, Luperini and Punciskaite, entered almost three minutes. That day she became leader Daniela ".
The next day, Veronesi lost time in the stage and Joane dressed in pink, a position that ratified in the time trial of the seventh stage, of 13 kilometers, in Portomaggiore. It was third, 45 seconds behind Zabirova, the winner. "Then I got nervous, I realized that I could lose the first place by any detail, by a mistake or a fall. She was not used to". But nothing unusual happened. I would not abandon the leader's jersey until the end. He ratified it with his solo victory between Chiuppano and Ponte di Campiello, where he surpassed Veronesi by 55 seconds. I was already the virtual winner of the race.
On July 11 he took the podium to collect the trophy. Joane Somarriba took 3m23s to Boubnenkova, three more seconds to Veronesi, and more than six minutes to Edita Punciskaite. "We had a great party, but it was more beautiful day by day. I would go to the podium dressed in pink and enjoy, people would come to say hello. I could not believe it. For me it was a gift, I was very proud. I have a very nice memory. In addition, my mother came with my sisters and they were waiting for me at the finish, it was very exciting ".
Somarriba made headlines, but then the emptiness came. When she retired, because she wanted to be a mother, female cycling in Spain disappeared from the media. "After it was left by our generation, Dori Ruano's, mine, there was a downturn because there were not many women who dedicated themselves to cycling." But there is hope. "Now it is getting better, there are more helps, more sponsors. Fortunately, things have improved a lot and good men's races are also organizing for women. That makes the level rise and professional teams bet on women's cycling. It is also seen in soccer and other sports. Equality will be difficult, but our dedication begins to be taken into account more ".
It is unthinkable that what happened in Hamilton (Canada) will happen, where he won the World and where, by hierarchy, he dared to raise his voice. "The selection had a chef, but it made special meals only for men." Planted face: "I told them there was no right to such discrimination."
"We are not batallitas"
In spite of everything, "it is a time that I enjoyed. I would be a cyclist again because it was a tremendous learning for life, but I have no nostalgia, although I was very happy. Now I enjoy my life as a mother. " His three children do not miss cycling for the time being, despite the fact that her husband, Ramón González ArrietaHe was a professional cyclist. "We are not about battles with them. None of the three has been given the bicycle. Once the little girl came and told me that the gym teacher had told her that I had been a champion and that I had asked her to see if she was going to be a cyclist, but nothing … "
Joane has another battle to fight. "I have Crohn's disease. My father has it and it is hereditary. I was diagnosed in the little girl's pregnancy. It is an inflammatory disease that affects the entire intestine. The bad things are the outbreaks. The disease is activated and you lose quality of life, because you have a fever, diarrhea and it leaves you in dust. When I had the girl, I was admitted for a long time, quite badly. " But he smiles, as always, and his eyes sparkle. "They are tripping that puts you life and that you have to overcome. The worst part is that I have to go to the hospital every six weeks. It is what I have worst, it is the hardest, but not because of that servitude, but because I am surrounded by people who are receiving oncological treatment, much harder than mine. For empathy, for the pain I see around me. I think I have nothing to complain about when I see others who are suffering. "
"They put me immunosuppressants to lower my body's defenses and keep the disease asleep. I see people with the same thing as me who is afraid to sunbathe, or to take an infection and that leads to pneumonia for not having defenses, but I forget what I have. The only thing that reminds me is having to go to the hospital. " He prefers to see life in pink, like maglia that he dressed 20 years ago. "Ramón is still involved in cycling, and we follow him a lot at home. We love both of you. "
Joaner Somarriba's winners
-Two Tour of Italy (1999 and 2000), its second position (2005) and a third (2003).
-Three Tour de France (2000, 2001 and 2003) and a third place (2002).
-A World Time Trial (2003) and a second place (2005).
-A third place in the World Road (2002).
You can follow EL PAÍS Sports in Facebook, Twitter or subscribe here to the Newsletter.