Joan Manuel Serrat: Greatest hits on stage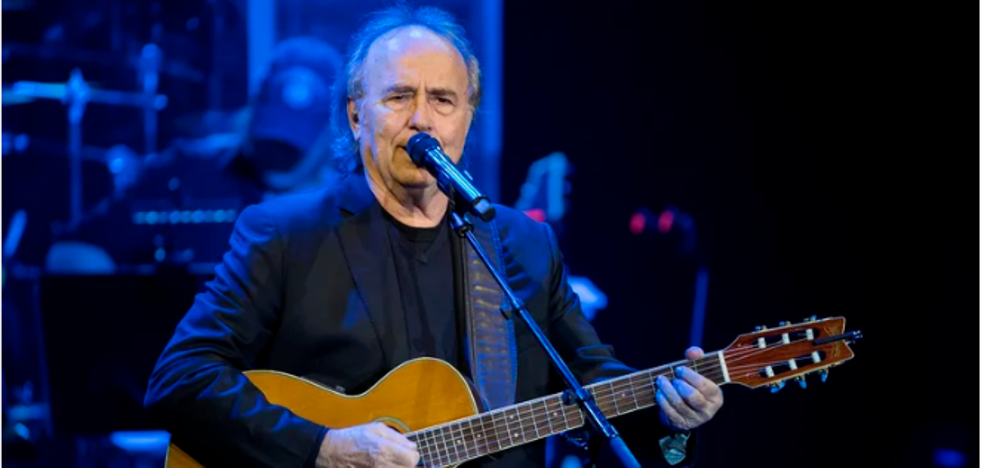 music
The Catalan artist will step on the Canarian stages for the last time this second half of June
Joan Manuel Serratat 78 years old, will start
his farewell tour on the Canarian stages after almost a lifetime -56 years- dedicated to live music.
It will do so this Thursday, June 16, in Lazarote, at 8:30 p.m., in Los Jameos del Agua, this Saturday, June 18, at 8:00 p.m., at the Alfredo Kraus in the city of Gran Canaria and next Tuesday 21, at 9:00 p.m. , in the Tenerife Auditorium, in the capital of Tenerife.
"I have decided to say goodbye in person. I didn't like feeling fired by a plague," said the singer in an interview published in El País, referring to these last two years of "coexistence" with the pandemic.
A stage on stage ends, in which he consolidated his career as a master of great successes. A farewell world tour that goes by the name '
Singing Vice (1965-2022)' that began last April in New York, and will end in December in Barcelona, ​​the city that gave him life.
Poster for Serrat's last tour 'El Vicio de Cantar (1965-2022)'.

Considered one of the most important Spanish musicians of recent decades, as a composer, poet and singer, without forgetting that fleeting opportunity to participate in Eurovision at the end of the 1960s, this illustrious creator of hymns bids farewell to live music, where he was accompanied by as many professional friends as
Joaquín Sabina, Ana Belén, Víctor Manuel or Miguel Ríosamong others.
'Vicio de Cantar (1965-2022)' in Spain in June and July
Thursday June 16 - 8:30 p.m. - Los Jameos del Agua - Lanzarote

Saturday June 18 - 8:00 p.m. - Alfredo Kraus Auditorium - Las Palmas de Gran Canaria

Tuesday, June 21 - 9:00 p.m. - Tenerife Auditorium - Santa Cruz de Tenerife

Sunday June 26 - 3:00 p.m. and 10:00 p.m. - Malaga Municipal Auditorium- Malaga

Thursday, June 30 - 10:00 p.m. - Valencia Bullring - Valencia

Friday, July 1 - 10:00 p.m. - Valencia Bullring - Valencia

Sunday, July 3- 8:00 p.m. - Son Fusteret Fairgrounds - Palma de Mallorca

Friday, July 8 - 10:00 p.m. - Coliseum A Coruña - A Coruña

Saturday, July 16 - 10:00 p.m. - Castell de Peralada - Girona

Thursday, July 21 - 10:00 p.m. - Ubeda Fairground Auditorium - Ubeda

Saturday, July 23 - 8:00 p.m. - Starlite Marbella, Marbella - Marbella

Saturday, July 23- 10:00 p.m. - Son Fusteret Fairgrounds- Palma de Mallorca

Monday, July 25 - 10:15 p.m. - Bodegas Gonzalez Las Copas - Jerez de la Frontera

Tuesday, July 26 - 10:15 p.m. - Bodegas Gonzalez Las Copas - Jerez de la Frontera

Friday, July 29 - 10:00 p.m. - Jardins Terramar - Sitges
Goodbye to the stages, but not to the music

The artist will continue to work away from the stage. «I will play and compose at home, it is possible that I will record an album. But
I will not return to the stage», the composer pointed out in the interview.
He has publicly acknowledged that he wants to return the gratitude he has felt throughout his career with this last 2022 tour. «My purpose is not only to say goodbye to all those who
have treated you well over the yearsbut to do it in the places where they are", said the Catalan author.
Awarded in 2009 with the
I National Award for Current Musichas received other high distinctions, such as his appointment as Knight of the Legion of Honor of the French Republic or the award of the Gold Medal for Merit in Fine Arts, the Commendation of Civil Merit and the Honor Award of the Awards of Music, among others.
Greatest hits on stage

Pioneer of what was called 'Nova Cançó', Joan Manuel Serrat has published, throughout his musical career, 32 studio albums, six live, thirteen compilations and seven tribute albums.
It is the most important and well-known song of the singer. In 2004 it was chosen, by popular vote, as the best song in the history of Spanish popular music. To this day it is still covered by many artists.
Although he began his musical career singing in Catalan, he would release this song in Spanish for the first time.
It was part of his first EP. Generation after generation, it has become a hymn to love.
A song considered one of his greatest hits. It is inspired by the myth of 'Ulysses and Penelope', narrated by Homer in 'The Odyssey'.
5. Your name tastes like grass to me (1969)
He was part of the movie 'Palabras de amor', the first feature film that the artist played.
It is part of the album 'Dedicado a Antonio Machado, poeta'. The song is a musicalized version of a work by Machado.
A very famous song, still, in the Holy Week processions.
The lyrics of this single bring to life memories and the importance of the little things in life and the things that make us happy.
It is part of his album 'Mediterráneo'. A poem to first love, that impossible to forget in time. As if it were a letter, the artist sends his letters «nowhere, to no mailbox».
Although there are many songs by the artist that could enter this list, we include this one to finish, which recalls his vindictive and fighting nature, in search of freedom and social justice.