Joan Laporta: "Messi's new contract is going well, but it is not done yet"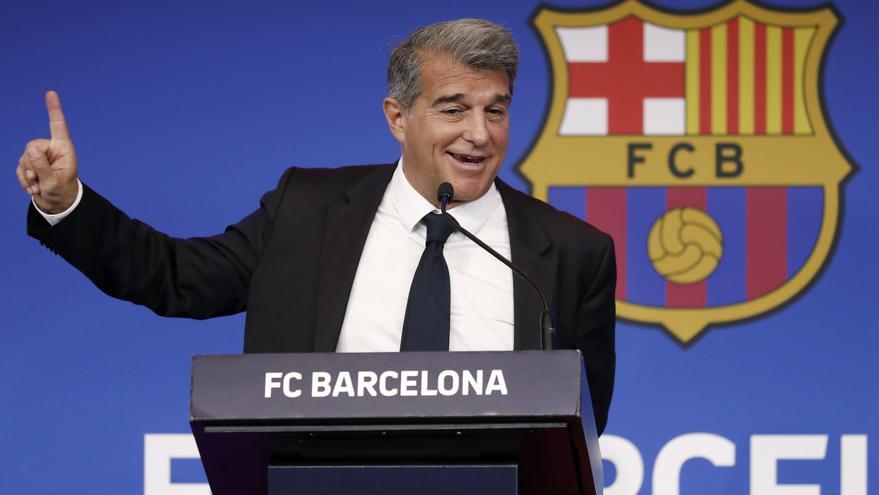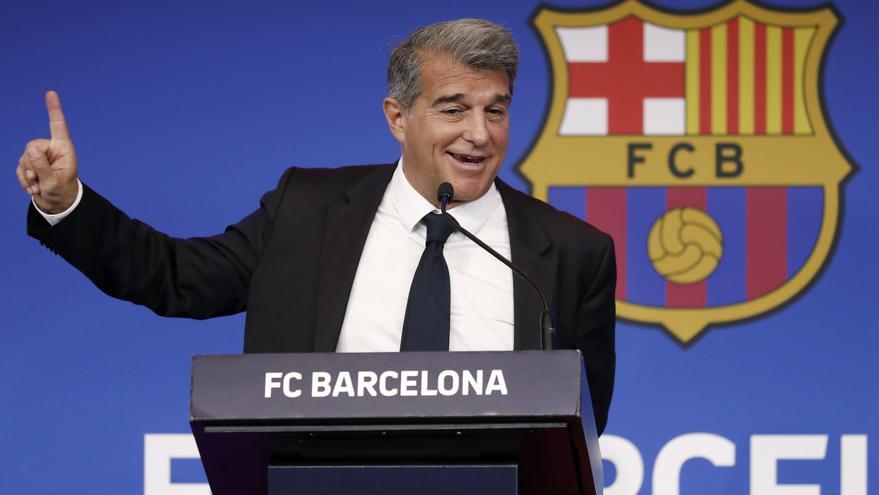 The president of the FC Barcelona, Joan Laporta, affirmed that the new contract of the Barcelona star, the Argentine Lionel messi, "It is going well, but it is not done yet", and it was shown "moderately optimistic" about the continuity of the crack of Rosario.
"U.S we have made you an offer within the possibilities of the club. I'm sure Leo deserves much more and can achieve much more, but because of his desire to make Barça great, I am convinced that he is greatly appreciating the effort we are making. I think he is very excited to continue and is very excited about the project, "Laporta explained.
The continuity of Messi was one of the many issues that the maximum representative of the Barça entity dealt with in a long press conference that he gave in the 1899 Auditorium of the Camp Nou to review the current situation of the Catalan club.
On the '10', Laporta insisted that he is putting "a lot on his part" to continue, but that "we have to keep working" to convince him completely.
"The first thing Leo asks for is affection, affection, esteem. Feel comfortable, be at ease, smile again and have a good time. And to have fun, he has to win and see that he can win. And that is the only thing that he has in mind. a process of reflection, "he argued.
"See that there is conformity, it is Leo's turn, because he gives everything"
In any case, Joan Laporta understands that "the perception" of the player has changed since he is in charge: "Before there was a president who was disappointed, and now he has one who really wants him to continue at Barça, and also to tell him I show him. "
For Laporta, the key for Messi to continue is to return the ambition that he believes was lost under Josep Maria Bartomeu. "See that there is conformity, it is Leo's turn, because he gives everything. Leo wants Barça to think big. When we talk about a competitive team, we talk about him wanting proven experience, proven success. Another motivation, another demand. And with me as president and this board of directors has it, "concluded Laporta about the Argentine star.
"With Koeman we are in the process of reflection"
As for the continuity of Ronald Koeman, the Barça president assured that are "in the process of reflection", and that "next week" will resolve "the issues" that still have pending with the coach of the Barça team in a new meeting between the two.
"He is a coach who was already there when we arrived and we are in talks"
"There was a certain stir in the environment and in the press, but there is always a lot of respect for Ronald Koeman and we have a lot of admiration for him for what he gave us as a player at Wembley. We already said that at the end of the season we would meet and talk about what could happen in the future, "insisted Laporta, at a press conference held at the 1899 Auditorium of the Camp Nou.
The president recalled that Koeman is a technician inherited from the previous project, and that makes making a decision about his continuity not so easy: "He is a coach who was already there when we arrived and we are in talks."
Laporta, who recognized thate "there are football things" that this season they have not liked about the team – "Although there have also been moments that I liked, like in Paris," he clarified – he insisted that the Dutch coach "has a valid contract" and asked the press not to rule out his continuity.
Laporta avoided commenting on the options of other coaches, such as Pep Guardiola or Xavi Hernández, to occupy the Barcelona bench next season.
"I have not come here to explain my low passions," he replied smiling when asked about Guardiola, whom he wished "this Saturday to win the Champions League with Manchester City, because it would be wonderful."
And neither did he want to value Xavi's figure as a possible Barça coach. "Xavi will be a great coach, but we cannot say so yet. Besides, he is a friend," he concluded.
"The audit is uncovering worrisome things"
On the other hand, Laporta also revealed that the audit, which is scheduled to end in July, "is discovering worrisome things", at his first press conference as the new Barça president, which was held at the 1899 Auditorium of the Camp Nou.
"Things are appearing that are worrying, others that are surprising and other complicated that we will have to solve. But they all have a solution. The Assembly of Committees will be held on June 20 and the audit will end in July, "he explained.
In addition, he said that "in the media there have appeared information about the audit that is quite close to reality", although he clarified that "the moment" will come to delve into them.
The European Super League project
On the other hand, Laporta also referred to the European Super League project. "When we arrived, the project was already well advanced, there were eleven clubs and it was important that Barça were in this new competition. We will not turn our backs on the new movements in the world of football and even less if the best clubs are in them," he argued .
In any case, he pointed out that Barça was "the only club that made a reservation, submitting the decision to the Assembly of Compromisarios".
"Barça's position is very clear: defend the interests of the club, help make football sustainable and have dialogue with UEFA and other institutions, such as LaLiga and the Spanish Football Federation," explained Laporta, who admitted having a good relationship with both Javier Tebas, president of the Professional Football League, and Luis Rubiales, president of the Royal Spanish Football Federation.
New additions
Regarding the sports section, he announced that "next week" will be announced "new additions for the first team", making it clear that the new board he heads is already taking measures to reinforce the workforce.
"What cannot be is what has happened in other years, which has been lost and nothing has happened. In this term, losing will have consequences," he stressed.
Finally, Laporta insisted, respecting Espai Barça, that "when the cover of the Nou Camp Nou has to be done" the first football team must travel to Montjuïc. But he pointed out that "the period" of exile "may be less than what was expected" at first.