Jim Dine reviews his creative process at the Center Pompidou in Málaga | Culture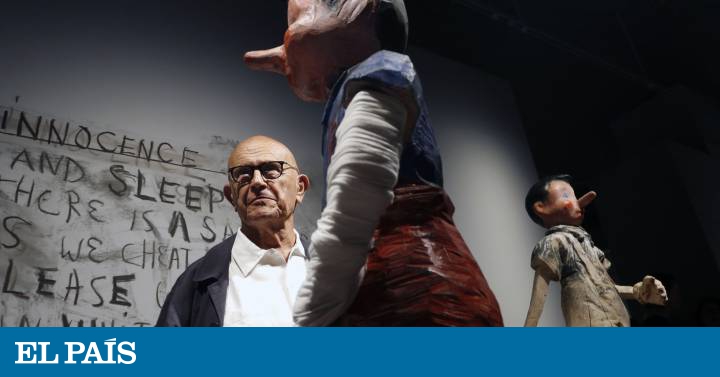 Jim Dine (Cincinnati, Ohio, 84) has spent his entire life representing himself immersed in his creative process. No matter the channel you use to get it – paint, sculpture, engraving or poetry – or the materials – a bathrobe, an ax, straw, steel, bronze, acrylic … – what really worries you is the power of evocation of the objects and how they transport you to different stages of their existence. Some thirty of his works, made between 1961 and 2016, illustrate this process in the retrospective that was inaugurated this Wednesday in the Center Pompidou Málaga and that can be seen until October 6.
The works are part of the donation that Dine made to the Musée National d'Art Moderne, which houses the Center Pompidou in Paris, between 2017 and 2018, paintings and sculptures to which have been added four unpublished poems that the artist has written with charcoal in the rooms of the Malaga space. Poems with erasures and a composition with aesthetic qualities, as if it were a painting. "I've always drunk, I was not an alcoholic, but I've done it for 70 years and I think it's enough alcohol." He associated writing with drink and feared that if he stopped drinking, he would lose the ability to make poetry, but that's nonsense. I am fully aware of what I write and I express myself more clearly, my language was being simplified because of drinking, "he explained. Jim Dine after touring the show where you can read poems like Innocence next to his wooden Pinocchio sculptures.
"I've known Pinocchio since I was five years old, he's a sad boy, and after so many years I can know how he feels," the artist told the press. Dine uses the figure of the child whose nose grows every time he lies and who is alone in the world as a metaphor of creation, of the feeling that the artist experiences when undertaking each work.
Since he began his career at the end of the fifties, with the happenings that he performed together Claes Oldenburg, Jim Dine has worked with everyday objects that he has been transforming and adding to his works, commented Annalisa Rimaudo, curator of the exhibition titled Jim Dine in the collection of the Center Pompidou. First it was the clothes, clothes like bathrobes, suits, shoes, gloves … that represent the extension of the body of the artist. Then came tools of all kinds, with which the artist refers to his childhood because his grandparents had a hardware store, and can be seen in pieces such as The wind and tools (glossary), of 2009, three oak wood torsos inspired by the famous Venus de Milo, another of the recurring pieces in the production of Dine.
(tagsToTranslate) jim dine (t) review (t) process (t) creative (t) center pompidou de málaga (t) artist (t) American (t) gather (t) thirty (t) work (t) retrospective ( t) include (t) poem (t) unpublished (t) paint (t) room



Source link