Jim Carrey sweeps his Joe Biden parody in which he mocks "loser" Trump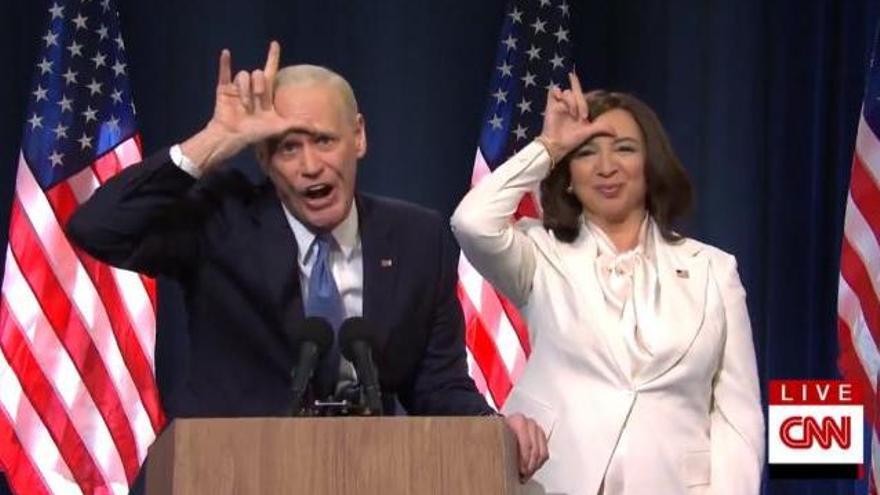 Jim Carrey has once again succeeded in one of his imitations on the show 'Saturday night Live'. The interpreter of 'The Truman Show' imitated Joe Biden again, coinciding with the day of his triumph over Donald Trump in the US presidential elections.
Carrey, characterized as the president-elect, has climbed on a lectern with the actress Maya rudolph, who has returned to interpret the vice president-elect Kamala Harris. They both parodied the victory speech that Democrats made earlier in Delaware.
"There are situations in life, and this is one of them, in which there must be a winner and a loser. Perdedoooor! ", Has pronounced the 'Biden' of SNL, taking the ovation of the public. Both he and Rudolph finished the video taking the hand to the head forming an 'L' of "loser".
For its part, Donald trump He also didn't miss his date with 'Saturday Night Live'. The actor Alec baldwin He returned to reprise the role of the Republican, who this time sat at the piano to play the song that has sounded so many times at his campaign rallies: 'Macho Man' by Village People. "This is not goodbye, America. I'm just going to say we'll meet in court", warned the 'Trump' of the American format.