Jiaping, contestant of Masterchef 9, visits Gran Canaria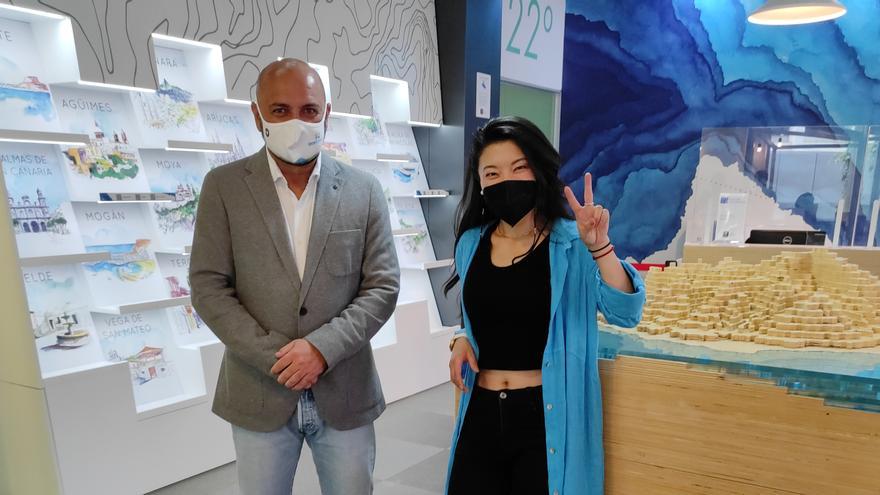 Jiaping, Masterchef 9 contestant, cooking contest broadcast by TVE, and a native of Shanghai, is in the Gran Canaria island with interest, in addition to visiting friends and getting to know the Ruta de Sanmao -main attraction of the tourist destination of Gran Canaria for the Chinese client-, to know the gastronomy and products of Gran Canaria and, in the long term, the possibilities of business and fusion with the gastronomy of the Asian giant.
Last Tuesday she was received by the Minister of Tourism of the Cabildo of Gran Canaria, Carlos Álamo, in the offices of the Board of Triana Street, who explained that "it is important that professionals in the sector know our gastronomy, since our intention is to become a benchmark in tourism
The counselor added that "we are very interested in attracting customers from China, which has great potential and a very high percentage of tourists with a high purchasing power, and for this we must rely on people who know our products well and who have a certain influence on the market and on social media in China. "
Know the products of the gastronomy of Gran Canaria
The former contestant of Masterchef 9 is a native of Shanghai, she settled in Spain 12 years ago and works as Chinesse business development Therefore, he is dedicated to finding opportunities for long-term business growth in clients, markets and relationships.
"It is a possibility for the future and for this, the first thing is to know and learn about Gran Canaria and its gastronomy, something that I already know quite a bit because I have great friends on the Island and I have been visiting Gran Canaria frequently for many years".
"I come here like heaven," said Jiaping, with experience with luxury brands such as Mont Blanc, before explaining that "some of my best friends are from Gran Canaria and I consider them part of my Spanish family, so I already know quite a bit. , like its fruits, fish, etc., in addition to the spicy oil that Pepe Oil makes and I have been to his farm in Santa Lucia to learn about the whole process ", explained the cook.
My idea is to know well the products and their possibilities to later present them in their country of origin together with the tourist destination. "I want my people to know this part of Spain and to know that this country is much more than flamenco, which is fine, but there are many things with great value," he explained.
By last, Jiaping pointed out that Gran Canaria is already "quite" known as a tourist destination in China., thanks especially to the presence of Echo Chen, the writer Sanmao, of great prestige in the Asian country and that settled in the municipality of Telde in Gran Canaria. The Sanmao Route is an emotional, cultural and literary route in tribute to this writer and is inspired by "The Olive Tree of my dreams" the poem dedicated to her husband José María Quero.
"When she settled in Gran Canaria few people in China knew what Spain is, so what first began to know Spain, thanks to her, was Gran Canaria. She was the one who generated the interest in knowing Spain and what I was talking about Gran Canaria. For me it is a way of knowing my own roots and people. Spain is fashionable in China and many of them want to come and will come to know Gran Canaria ", he concluded.