JFK assassination resurfaces at the hands of Rudy Mercado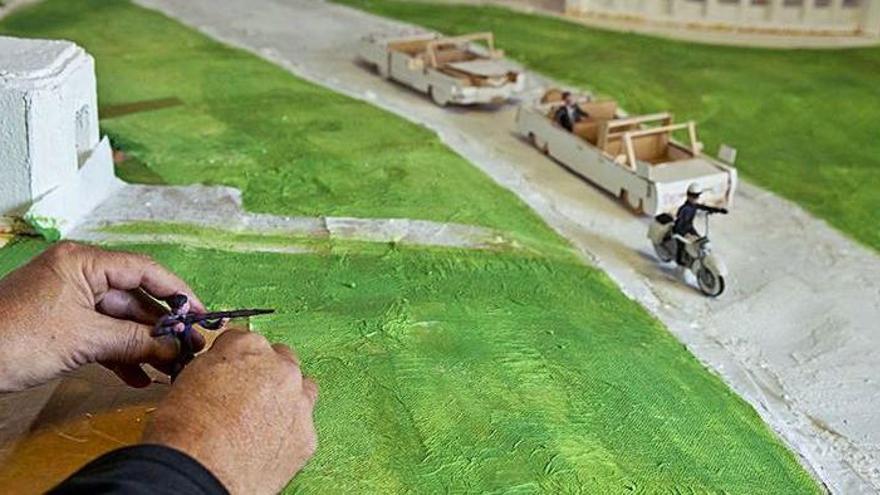 The artist Rudy Mercado was one year old when on November 22, 1963, John Fitgerald Kennedy, the youngest president of the United States, whose death shocked the world, was assassinated "and the concept of democracy stopped", says the Californian living in Alicante. Fifty-seven years after the event, this specialist in cinematographic set design, who has worked on some thirty films, proposes rescue "the crime of the century not counted and unsolved" through art on the anniversary day.
To this end, next Sunday he will perform a streaming performance -through a channel yet to be determined, either on Instagram or YouTube- in which he will offer a "artistic recreation" of the fateful journey that JFK made by car in the Dealy Plaza in Dallas, Texas, and that ended his life.
On a model of more than two square meters made with papier-mâché; some backdrops painted on the wall of his studio with perspective, like a trompe l'oeil, that convey the real scene of that moment; and more of two hundred plasticine figures that will be distributed throughout the space, Rudy Mercado plans to finish his "live diorama" on Sunday to recover that moment in history.
With the help of five students from his drawing school (Vlad Ivanovskii, Marco Dela Pola, Mariola Jordá Casado, Laura Pirs Arechavala and Alec Wilcox Cano, the latter also a director, who will be in charge of filming and mounting the installation documentary), Mercado has been working for three months in this project.
"It is not animation, it is a performance with three scenes, a primitive way of making cinema, based on the three bursts of fire that occurred at that time, which did not arrive for a minute. We will stop at each scene, we will explain what that happened and we will move all the characters to the next scene, "says the person in charge, who adds that" once it is finished, everything will be recycled. It's pure ephemeral art".
Idea during confinement
The idea of ​​creating a large model with plasticine figures was conceived by Rudy Mercado during confinement, "it was a change of cycle and I thought of it as a quarantine project. At first I was going to recreate a battle, because I really like history, but the students were more interested in this matter and I saw that the theme was perfect for this moment in which to be able to show a sinister and bitter part behind the American dream, "he explains.
The representation of the event does not follow the official story told for years about three shots fired from a building and the authorship of Lee Harvey Oswald, murdered two days later by Jack Ruby, but rather allies with the conspiracy and maintains that it was all a plot studied by the US intelligence center. "Oswald was just a scapegoat, he didn't even shoot. There were eight snipers, we know the names of the gunmen and they fired 16 bullets at the caravan until the final shot that killed it, probably from a sewer. It was a coup, but the investigation was a botch and what all the witnesses saw was not taken into account, "the artist considers.
On that basis, Rudy Mercado has rediscovered a form of creation in which he began with his parents since he was a child. "Plasticine models are my first love as an artist, my first art form. My parents transmitted that passion to me and when we were little each year we made 2 or 3 models with historical battles ", he relates, after indicating that, also in this case, it is" an artistic vision with figuration on a well documented historical event ".
Another unsolved death
Rudy Mercado's latest project, still pending, is wrap up an animated movie on the history of the 1960s American group The Bobby Fuller Four, whose success was cut short by the death of its leader under strange circumstances.