Jesús Monzón: "The show harmonizes Canarian music in a modern way"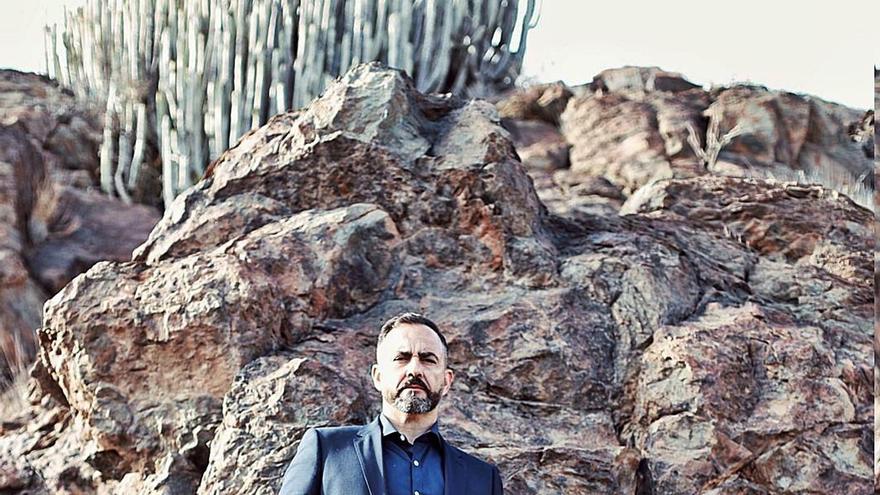 With Acervo Canario what do you intend?
This is a new show that premiered on November 27 at the Federico García Lorca Theater in Ingenio in streaming due to the pandemic conditions in which we find ourselves and due to the protocol system. Furthermore, the permits from the Canary Islands Government did not arrive on time. We now intend to perpetuate it in a physical CD type format. Acervo Canario is a reharmonization of a part of Canarian popular music with a more contemporary concept. The important thing is the acoustic instrumentation composed by a quartet that includes the musical director, pianist and arranger Rayco León, the drummer Osvaldo Hernández, the saxophonist José Ángel Vera and the bassist Fofi Lusson. This instrumentation brings another sound to popular music.
What, then, would be the more contemporary harmonic concept that you want to give to Canarian music?
The repertoire is made up of a different sound because there are overtones or hints, from the point of view of the arrangements, to bossa nova, North American music or even some touches of jazz or swing.
Why do you want to bring an external air with arrangements of bossa nova, etc …?
As a producer, I have used the following criteria: perpetuate our popular music, our musical heritage, our roots and traditions; It is also aimed at tourism, which is very important, also in these times when it has diminished due to the pandemic; and the priority objective is to create synergies or exchanges with other types of music so that it is consumed in our land, but also in other parts of the continent or the world.
"The show has a different sound, with nods to bossa nova, jazz or swing"
Won't this sound blur the island idiosyncrasy?
In no case. It is about renew or die. If a young man of today had to listen to popular music to keep our roots alive, would he become more hooked by going to the popular music matrix or listening to this new one? We must not lose the essence, but as a starting point I can hook them like this.
What do you plan to do for Tamadaba, El Camellero or Palmero goes up to La Palma?
For example, Maspalomas y tú has an air of bossa nova and Tamadaba and El Camellero, more of swing or jazz.
What does José María Valido contribute with his videos about love and heartbreak?
When we present a physical show in a theater, it must be filled with content. Our initial idea was a staging with actors and actresses simulating a jazz bar where different stories happen at each table that could connect with this repertoire. We reinvented ourselves and created a story with the three videos of José María about dreaming love, underground and heartbreak.
"The intention is to take the songs to different municipalities although things are now very stopped"
How was the premiere of the streaming show in your municipality, Ingenio?
Pretty good, with good reviews and plenty of visualizations. The idea now is to take it to different corners of the island panorama. The Sombra del Nublo is not distorted by doing it our way in relation to what a folk group would do, for example.
Is it the same to present in streaming than to an audience?
Not at all. It's very cold. Not having the warmth of the public that day or the applause that envelops you and elevates you to continue forward was missed. Also transmit. In this sense, I want to clarify that I am a teacher by profession and I have to transmit, but it is difficult for me with my emotions. Music is the vehicle for this, so by not seeing the spectators you have to imagine that they are listening to you from their homes to be able to give everything.
What contribution does the eclectic pianist, arranger and composer Rayco León make?
Of quite a quality. Based on the repertoire that I chose, he made the harmony of the musical arrangements and has been the musical director, the alma mater of the show.
"Popular Canarian music has been included, but also two songs with Cuban influence"
Tell me about your professional career in the world of music and how you have chosen to release this album …
We want to take the repertoire and perpetuate it on an album in physical format that will be released in May. We are taking it to the recording studio to compile the songs with a criteria of future success. My father, when I was 11 years old, put a bandurria in my hand. I was a student of Manolo Sánchez, brother of the international classical guitarist Blas Sánchez. Later I was in different folk groups and I began to collaborate with different groups. I participated in television galas, in literary presentations, and in lyrical or popular music shows. I was also part of the zarzuela La hija del Mestre at the Pérez Galdós Theater. Two years ago I was lucky enough to be the opening act for Carlos Marín, the Spanish component of Il Divo at Alfredo Kraus. In 2019 I released my first album, Desnudiendola… Voz.
Is there a topic included in With Canarian heritage that is not of Canarian popular music?
Two songs with Cuban influence have been included, the bilongo La negra Tomasa and Lágrimas negros.
Are you planning to perform a live concert or are these moments of pandemic preventing you from doing so?
We know that things have stopped now, but the intention is that, to take the show to different municipalities.