Jesús Gómez destroys Cacho's mark in the 1,000 meters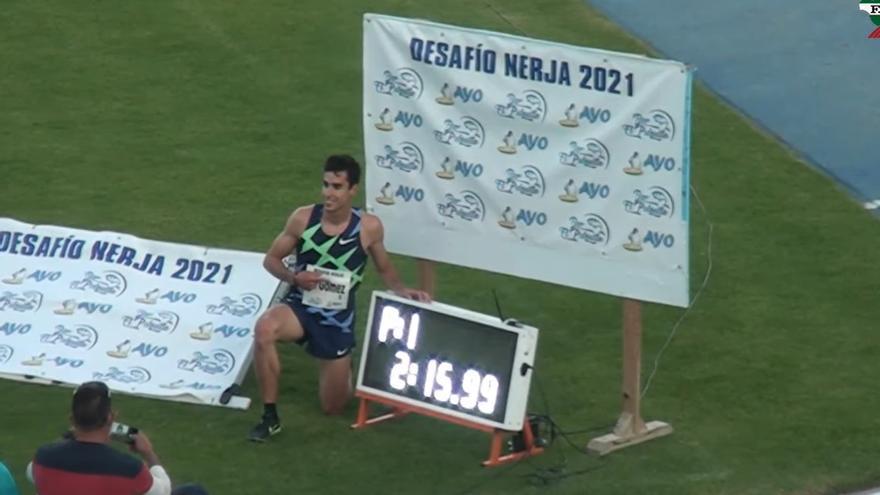 Triumphal afternoon in the second edition of the Nerja Challenge 2021 held this Wednesday with three national records beaten by Jesús Gómez in the 1,000 meters, Daniela García in 1,000 sub-23s and Carla Domínguez in 2,000 sub-20s and sub-23s.
The athlete from Burgos Jesús Gómez beat the Spanish record with a time of 2: 15.99, a mark almost 28 years ago and that it was in the possession of Fermín Cacho from Soria with a record of 2: 16.15 obtained on September 16, 1993 at the Francisco Ramón Higueras Memorial in Andújar (Jaén). Gómez took the lead in the middle of the test, at 500 meters, and took over from Mariano García, who had followed Saúl Martínez, the distance shooter, until that moment, and was victorious in the test.
Previously, the Balearic athlete Daniela García beat the national record of 1,000 meters in the sub 23 category by setting a record of 2: 39.66 at the finish line, in a test in which she was second. The previous record was Jacqueline Martín with 2: 44.22 achieved in 1996.
The Catalan Esther Guerrero won in the distance, with 2: 38.56, but failed to break the record held by Mayte Martínez of 2: 33.06, achieved on September 13, 2007 in Huelva. The test was launched by Paula Clavero up to 600 meters and then Guerrero went alone, but he stayed far from Martinez's mark.
Carla Domínguez, meanwhile, achieved the national record of 2,000 meters in the sub 20 and 23 categories with a time of 5: 56.63 and the record was held by Angelines Rodríguez, who achieved it in 1988, with 6: 01.94.
The day in Malaga, with about 500 fans at the Enrique López Cuenca stadium, ended with Mohamed Katir's Olympic minimum, who crossed the finish line in 3: 33.62, a personal best. The podium was completed by Qatari Saedd Hassan (3: 34.24) and Ouassim Oumaiz, with 3: 36.83.