Javier Ruiz reacts to Abascal's words in Ceuta: "It embarrasses me. It's Trump's speech"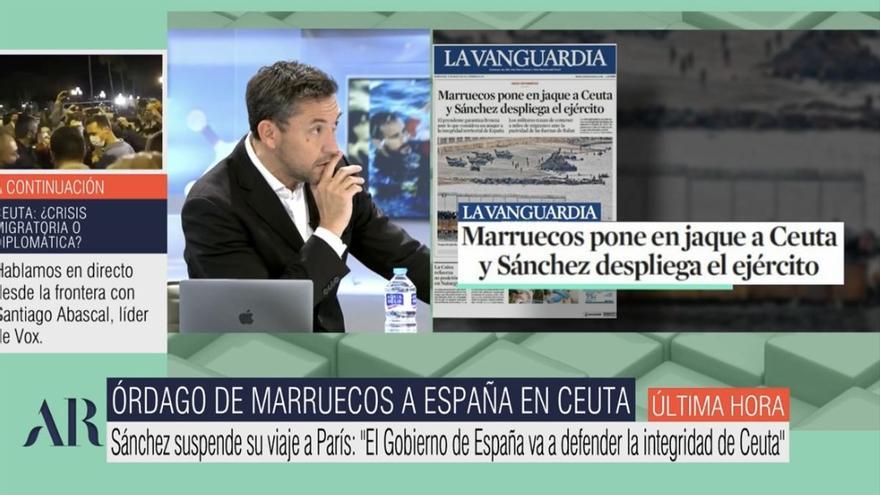 A very common face on television has strongly charged against Santiago Abascal by his words on the migration crisis in Ceuta. Javier Ruiz, a regular contributor to formats such as 'Four a day', wanted to comment in the latest installment of 'The Ana Rosa Program' about the speech of Vox.
Specifically, the leader of the far-right formation charged harshly against the Government for what happened in the autonomous city: "You have to militarize our borders permanently and systematically, perfect your defense by building higher walls, with more means. "" Whoever enters illegally will never be able to regularize or receive social assistance, "added the politician.
The deputy went further in his speech: "The 30 million that the Government has given to Morocco are needed by the Spanish to make an insurmountable wall, so that the police and guards have the technical means and for the Spaniards who are having a hard time in Ceuta and the rest of the peninsula ".
These words made Javier Ruiz explode, who emphatically showed his opposition to this allegation: "I'm ashamed of what I just heard on Vox. First, because it's a lie. No, we do not pay illegal immigrants. No, we are not doing what they say. No, nothing they say is true. "
The journalist assured that the speech given by the Vox leader resembled that of Donald Trump in the controversy with the Mexican wall: "It is not original. Everything we have heard is Trump's speech. Militarizing the borders is what was proposed in Mexico. He has forgotten to say that they were rapists, it is the only thing that he has needed to repeat something that he has not even written. I am ashamed because try to win votes on the backs of weak people. "